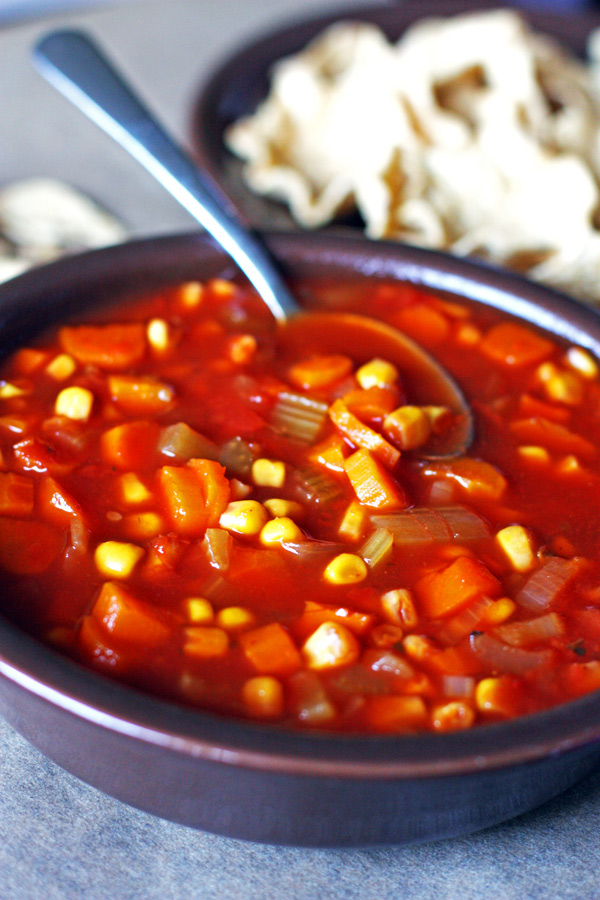 This is such a yummy soup and so good for you! Plus it is easy to make so that is always a good thing to. When we were in Colombia they made a tomato soup with add ins on the side. They had corn, shredded chicken, avocado and homemade tortilla strips. It was so delicious! This is very similar to that soup.
We prefer to leave it vegetarian but if you like, you can add cooked, shredded chicken to it. We buy multi-grain tortilla chips but someday would like to find a good recipe to make homemade ones like in Colombia.
So, making this is very easy. Cut up the carrots and celery thin so that they cook well. If they are cut thicker they might not cook all the way and won't be as soft as you would like them to be. This is also why I cook the soup on high to make sure they are cooked until soft. Chop the onion also small and add it to the carrots and celery. Mix in the corn. Place all the veggies in the crockpot. Add the garlic powder and give everything a good stir.
Pour the veggie broth into the crockpot over the veggies. Next add the crushed tomatoes. I have used both plain and fire roasted. The fire roasted gives it a bit of a zing so I like to use this one. Stir all the ingredients together, cover the crockpot and cook on high for 6-8 hours.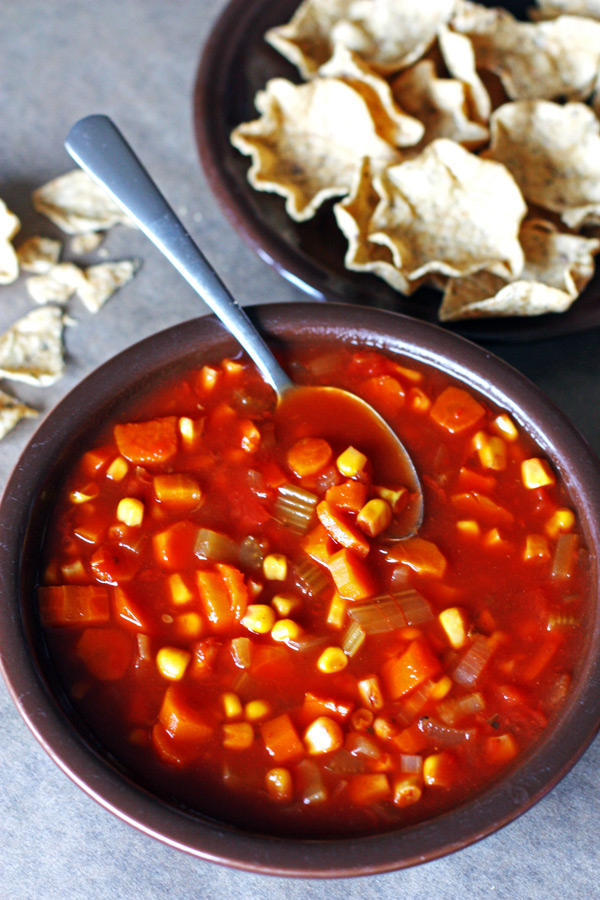 Once cooked, pour the soup into your bowls and sprinkle shredded mozzarella cheese over if you like. It will melt over the hot soup. Also, if you choose, you can crush up tortilla chips and put in the bowl before pouring the soup. This makes it a bit thicker. We have this soup with tortilla chips on the side. Yummy! This is one of my favorite recipes!
Crockpot Tomato Vegetable Soup
2015-02-22 16:46:21
A hearty soup full of vegetables
Ingredients
1 can crushed tomatoes, fire roasted (28oz.)
32 oz. vegetable broth
½ bag of frozen corn (about 2 cups)
8-10 carrots (about 2 ½ cups)
1 stalk celery (about 1½ - 2 cups)
¾ tsp. garlic powder
Mozzarella cheese
Tortilla chips
Instructions
Cut up the carrots, celery and onion and place them in the crockpot.
Add the corn and garlic powder.
Pour in the crushed tomatoes and vegetable broth.
Stir ingredients together.
Cover and turn on high for 6 hours.
Jeannie's Tried and True Recipes https://jeanniestriedandtruerecipes.com/