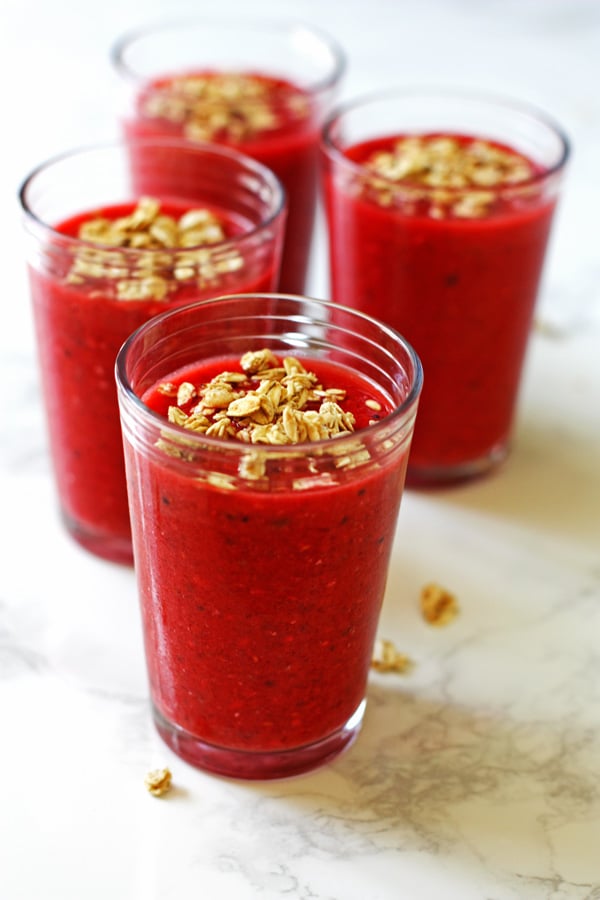 Here is another smoothie that I made for my family that I would like to share with you. This Mixed Fruit and Granola smoothie recipe was a hit with my favorite taste testers…my husband and kids. We really are trying to have a couple of smoothies a week and this one has been requested a few times lately. The smoothies I make are kid friendly since we all love having them. I also like that we are all getting a great boost of good nutrition when having a smoothie.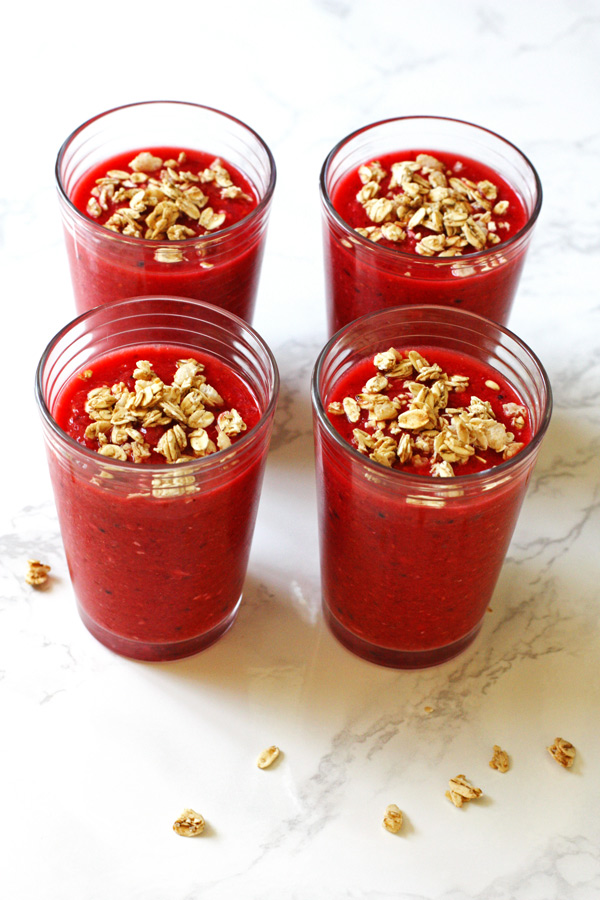 The first time I made this smoothie I started off with a bag of frozen raspberries which equals about two cups. (The bag I bought was two cups, but the size of the bags can vary.) Raspberries are rich in vitamins, antioxidants and fiber and are sooo delicious. This smoothie was going to be mostly raspberries but then I decided to add in more fruit. When I make smoothies for my family, a lot of times it is just whatever fruit we happen to have in the house. It might sound strange but I have fun mixing it up and see how it turns out. So after the raspberries, I added in the kiwis, apple and orange. I had some of those little peach bowls that I bought like these Dole Diced Peaches
that nobody had eaten so I drained two of those and added the peach to the smoothie. Once I made this smoothie without the peaches because I didn't have any in the house at the time. My son thought something was missing…so I next time I made sure I added in the peaches. Once the summer is here and fresh peaches are in season, I would suggest using one to two peaches in instead of the peach bowls. Fresh is always best! Then with all the frozen fruit, you have to make sure you a liquid. Otherwise it will not pour out. I found that out as I was making this one! It was like an April fool's joke where the drink would not pour out. So add one cup of water or Vita Coco Coconut Water
to the smoothie so it is not too thick. If I have coconut water on hand I like to add that instead of plain water.
Lately I have been adding granola into the smoothies. I love granola in my smoothies. It gives it a little bit of a crunchy texture. I use Bob's Red Mill Classic Whole Grain Granola
for my smoothies (which is also delicious just on its own). And there are so many health benefits from granola. I mix some in with the fruit along with the flax seed and then sprinkle some granola on top as well.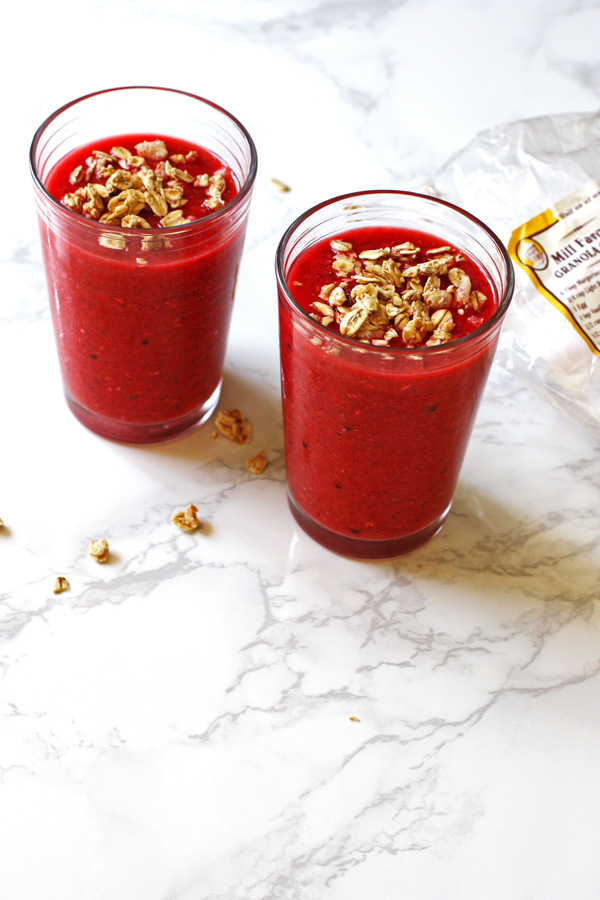 Smoothies can be great for a quick and healthy breakfast, afternoon snack …really any time in the day is a good time for a smoothie! Typically, my smoothie recipes make about 5 cups, which makes a good size serving for each of us in my family.
If you love berry smoothies, you should check out my Triple Berry Smoothie recipe. Check back for more great recipes! Have a great day!
This post is not sponsored, but you will find affiliate links on this page. The price you pay as a consumer does not change, but I may make a small commission based on your purchase. Thank you for supporting Jeannie's Tried and True Recipes!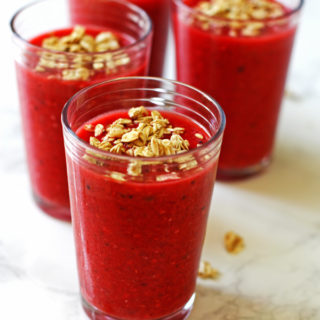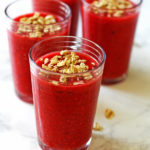 Mixed Fruit and Granola Smoothie
Ingredients
2

cups

frozen raspberries

8

ounces

peach cups, drained (low or no sugar)

3

kiwis

1

apple

1

orange

¼

cup

granola

2

tablespoons

ground flax seed

1

cup

water or coconut water
Instructions
Place all ingredients into your blender.

Blend until smooth and desired consistency.

Sprinkle with granola, optional.
Recipe Notes
Makes about five cups.