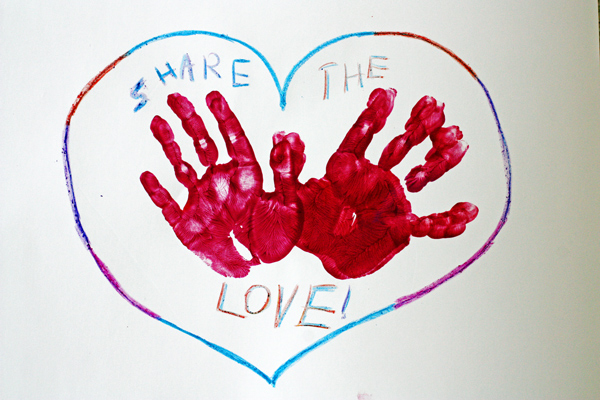 I am a sucker for all of the Random Acts of Kindness stories…I love to hear people doing things for others for no reason at all. Just to be nice. Just to be kind. Hearing these kinds of stories inspires me to do the same. Kindness goes a long way in my book…

So, with Valentine's Day being this weekend, I thought it would be fun to do a Random Acts of Kindness campaign…and am calling it "Share the Love". I am challenging you to do two random acts of kindness this weekend. Since we all love food, why not bake your favorite cookies for a friend or relative that you haven't seen in a while? Or, whip up a nice, warm meal for an elderly neighbor…that neighbor that doesn't get much company. It doesn't have to be fancy. It just matters that it is done.

I know many of us are very busy and might not have much extra time to make something. I understand that. One of my acts of kindness will be to bake cookies and drop them off to someone. The other one I did yesterday which was not planned. I was at the grocery store parking lot, sitting in my warm car listening to a favorite song (Boyz II Men…yes from the 90's…love the music from the 90's). I watched the shoppers assistant take care of the shopping carts in the freezing cold. It was 8 degrees out there with a bitter cold wind. I just wanted to do something for him. So before I started my shopping, I bought him a hot cocoa to warm him up. I think he appreciated it. So, little things matter just as much as the big things.
Need some ideas?! Here are some for you…
Shovel your neighbor's drive
Cut someone's lawn
Bake something sweet and delicious for someone
Cook a meal for an elderly relative or neighbor
Visit someone you haven't seen in a while
Buy the coffee for the person next in line when buying your own coffee
Have your kids do arts and craft project for an elderly neighbor
When going to the store, call a neighbor to see if they need anything
Bake for local volunteer fire department
Buy coffee or hot cocoa for school crossing guard
Pull out an old recipe and go make it with your mother…she'll love the visit!

We all get so busy in our lives; let's not forget to do some good for each other. Kindness goes a long way. So, please take the challenge. Let's all do it…. let's all Share the Love! If you do, let me know what you did. I love hearing stories like this.

Ok, now I better go and bake those cookies I said I was going to drop off to someone…
P.S. Artwork done by my daughter! :o)