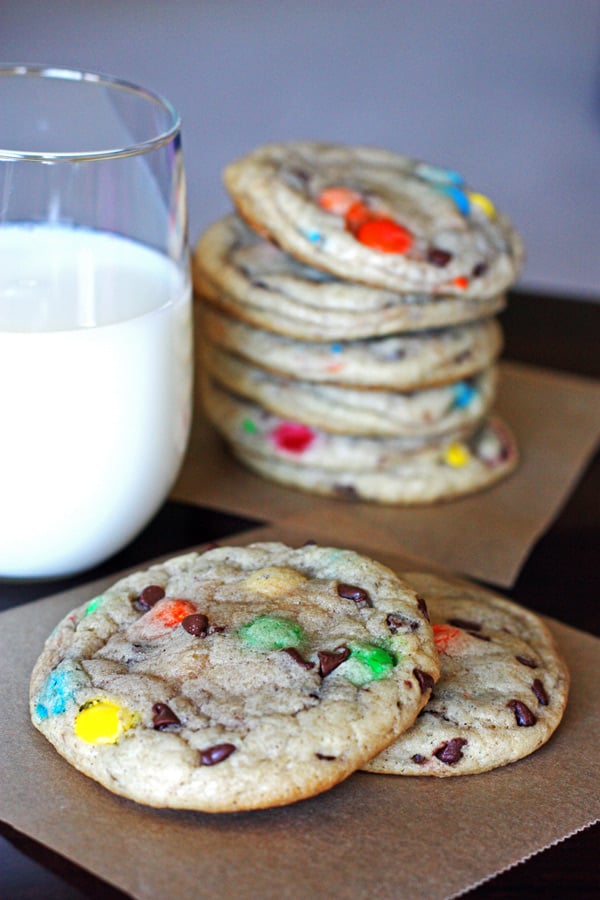 Pin
We love cookies in our house…particularly chocolate chip cookies. This recipe makes the best chocolate chip cookies I have ever had! They are soft, chewy and so delicious! The recipe for Bakery Style Chocolate Chip Cookies has a few interesting differences than the usual chocolate chip cookie recipe…well, at least to me it is interesting. I find that baking and cooking have a lot of science behind them and I love reading and learning about that. How things work together to make an amazing recipe, like this one. Like why put cornstarch in a cookie recipe? I have learned that adding cornstarch makes the cookies softer and thicker. I love this baking tip! I also use cornstarch in my Peanut Butter Chocolate Chip Cookies.
This chocolate chip cookie recipe uses melted butter. All the years I have made cookies and used room temperature butter making sure it was just soft enough but not too soft…you know how that is! Using melted butter increases the chewiness in these cookies. Soft and chewy chocolate chip cookies…yumm!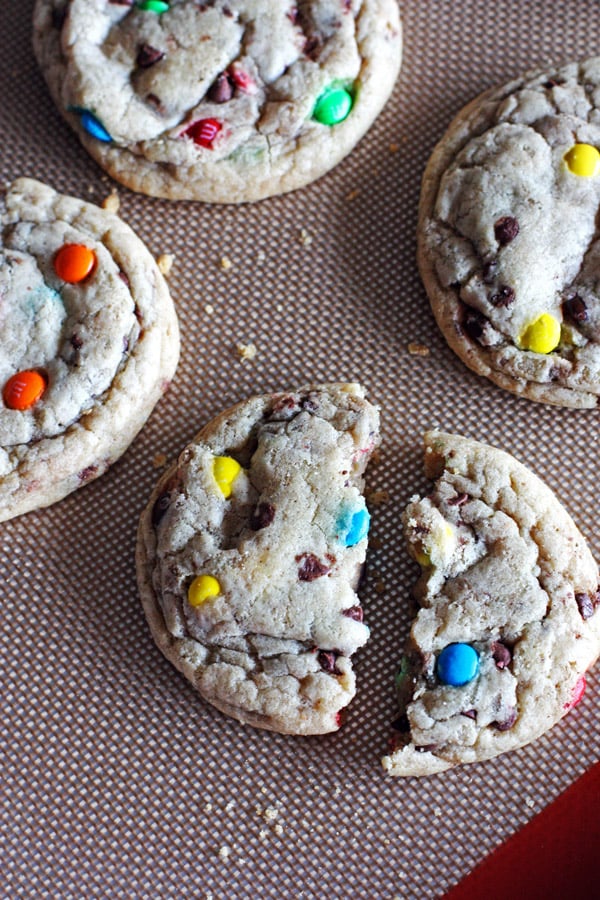 Pin
Let's get started on these cookies, so you can have them too! For this recipe, I did not use my mixer, just a whisk and a spatula. So easy. So delicious! I do have all my ingredients pre-measured and ready to go before I melt the butter so once it is ready I can quickly add in the ingredients. Once I was making frosting and the warm, melted butter sat too long while I measured out the other ingredients and became cold. Not good…but I learn as I go! So, I would recommend having all the ingredients ready to go before you melt the butter….combine the dry ingredients in a bowl. Measure out the sugars, vanilla and have your eggs ready.
Melt the butter in a medium to large sized pot on low heat. (I use a larger size pot because then I just add the ingredients right into it after I have melted the butter.) Don't melt it completely…just heat it until it is just about all melted. Whisk in the sugars, eggs (whisk after each egg is added) and vanilla. Add in the dry ingredients and mix well together. I use my whisk until it gets a bit tougher to whisk, then I use my spatula to continue mixing. Fold in the chocolate chips and M&M's. I like to use the mini chocolate chips and mini M&M's because I think it spreads out the chocolate more. Maybe is it just me?! Feel free to use mini or regular sized...whichever you if you prefer. And sometimes I don't have M&M's in the house, so just using chocolate chips works too!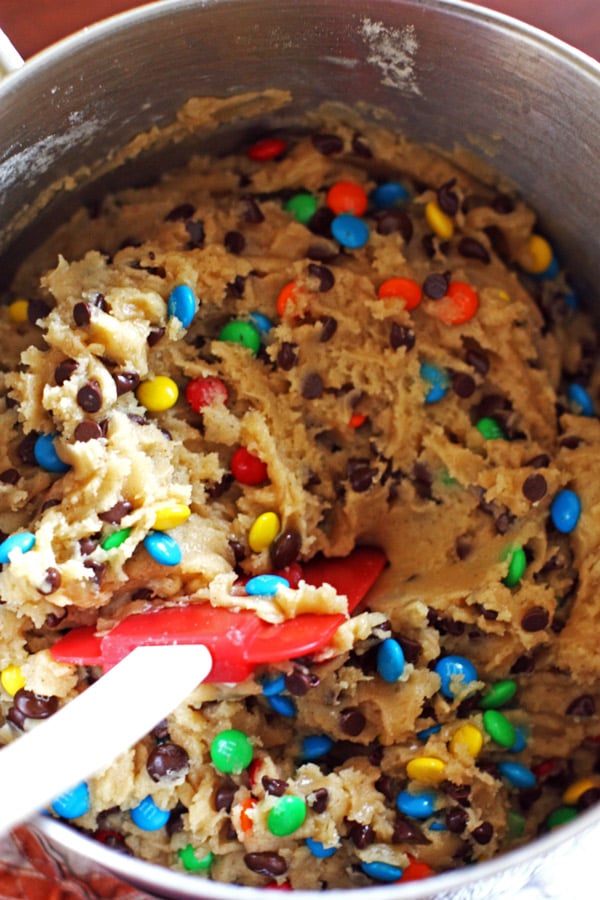 Pin
Preheat your oven to 350 degrees. I like to make these jumbo sized so I use my larger cookie scoop to make these. I have a cookie scoop that measures out ¼ cup of dough. This is what I use for this cookie recipe. If you don't have one, just measure it out with a ¼ measuring cup. Another tip for making the cookies thicker is to roll the cookie balls taller than wider as seen in the photo below. Make sure you give them a flat bottom so they don't tip over. Yes, learned that one from experience!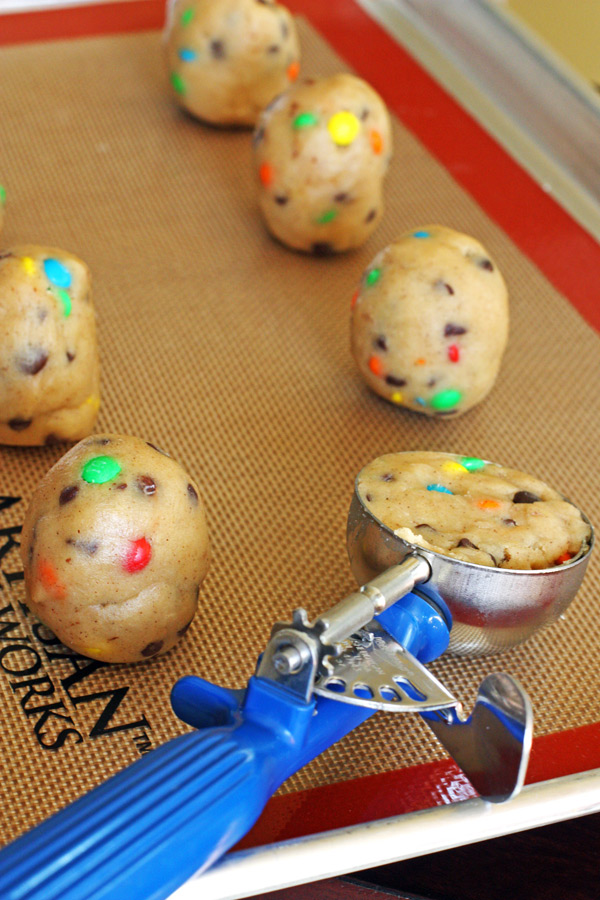 Pin
Line your cookie sheet with parchment paper or a baking mat. With these being jumbo cookies, only place 6 cookies on your cookie sheet with a couple of inches in between so that they don't run into each other. Bake for 12-14 minutes. They may look a little under baked, but that is okay. Once you remove them from the oven, keep them on the pan for 10-15 minutes where they will continue to bake. Let them cool completely on a wire rack before serving.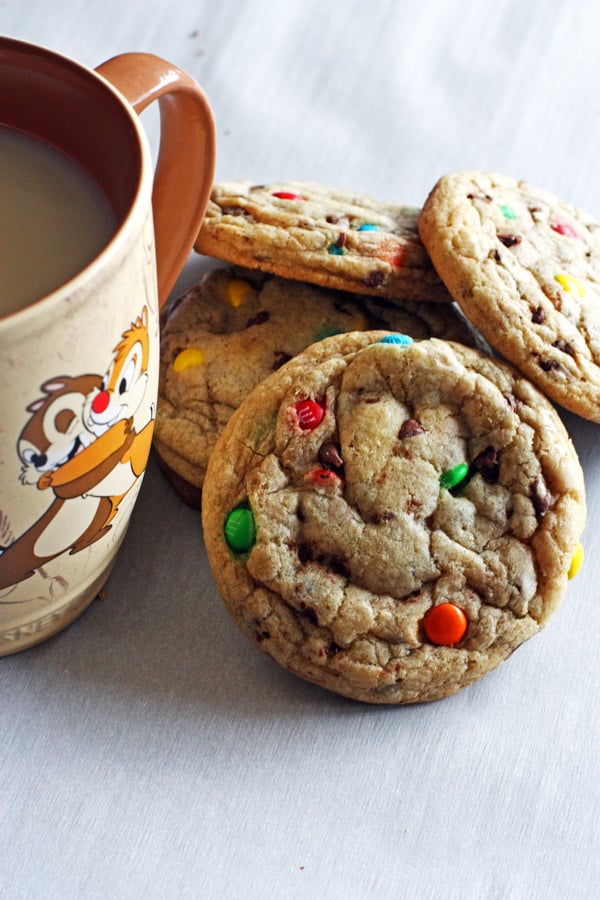 Pin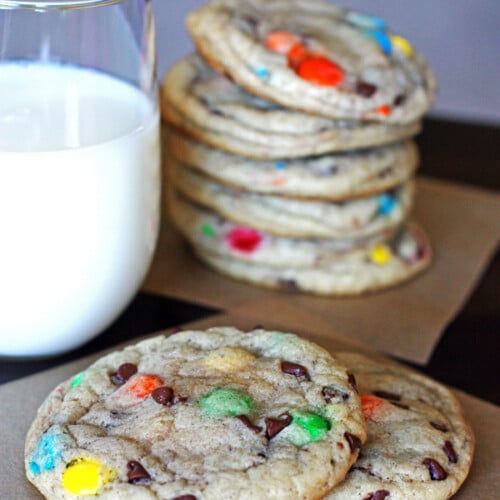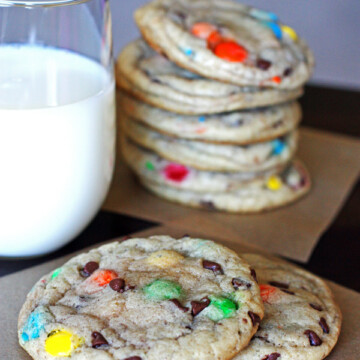 Ingredients
2

sticks of unsalted butter

1 cup

1

cup

granulated sugar

½

cup

brown sugar

2

eggs

room temperature

1

tablespoon

vanilla extract

3

cups

all-purpose flour

1

teaspoon

baking soda

½

teaspoon

salt

1

teaspoon

ground cinnamon

1 ½

teaspoons

cornstarch

1

cup

mini chocolate chips

¾

mini M&M's
Instructions
Preheat oven to 350 degrees.

Combine the flour, baking soda, salt, cinnamon and cornstarch in a bowl. Set aside.

In a medium to large pot, melt the butter on low heat. Do not melt the butter completely…just until it is almost completely melted. Remove from heat.

Whisk into the melted butter the sugars, eggs and vanilla extract until well combined.

Slowly add in the dry ingredients until mixed well together.

Fold in the chocolate chips and M&M's with a spatula or wooden spoon.

Line cookie sheets with parchment paper or baking mat.

Scoop out ¼ cup dough. Roll them into balls and then roll between hands so they are more taller than wide. (See photo)

Place 6-8 cookie dough balls on your cookie sheet, leaving a couple of inches in between each one.

Bake 12-14 minutes. Do not over bake.

Let them sit on cookie sheet 10-15 minutes before removing to cooling rack.
Notes
Using only chocolate chips works well too if you don't have M&M's on hand.