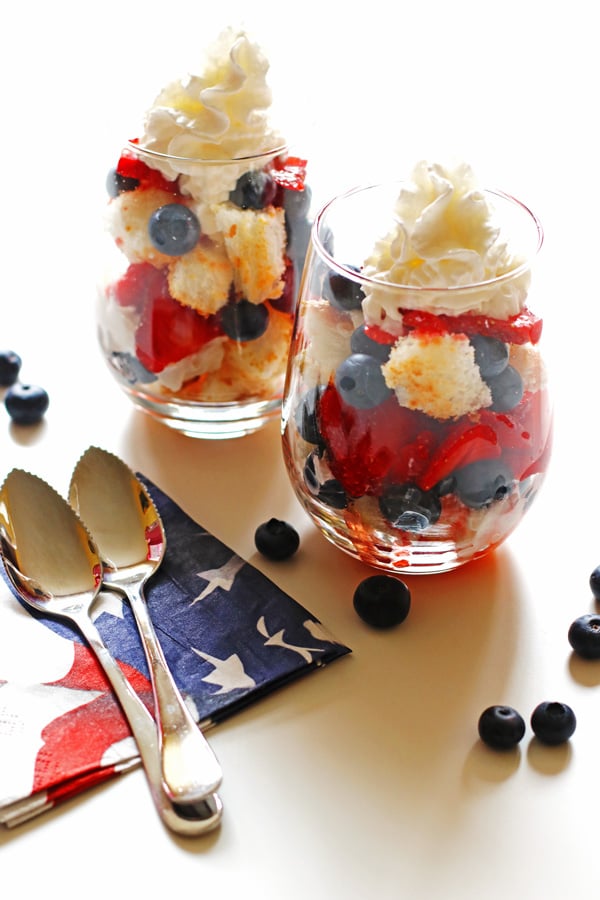 Angel Food Cake. Have you ever tried making it? It is one of my husband's favorite recipes that his grandma would make every summer with fresh strawberries and whipped cream on top. I remember he was always so excited when she made that cake. That cake was delicious! It also is a bit of a tricky cake to make. I have tried making it a few times and I have yet to make it just like hers…but I am still working on it. Once I perfect it "just like Great Grandma's"… I will be happy to share it. Until then…I will buy it made from the local grocery store! It is not the same as homemade, but it still is delicious! And it makes this easy dessert recipe even easier to make. To make this recipe for Berries and Angel Food Cake you will just need five ingredients…store bought angel food cake (unless you prefer to make it yourself), fresh blueberries, fresh strawberries, sugar and whipped cream.
This makes a great dessert for the Fourth of July. I love the colors of the berries together. It looks so patriotic with the whipped cream. And the mix of the fresh strawberries and blueberries…yumm. Another favorite recipe that is fun to make for the Fourth of July is my M&M Kit Kat Cake Recipe! If you are a chocolate lover, this is the dessert for you. I, myself, am a big fan of chocolate. My husband on the other hand is not, and is more of a fan of fruity desserts so this one for Berries and Angel Food Cake is right up his alley.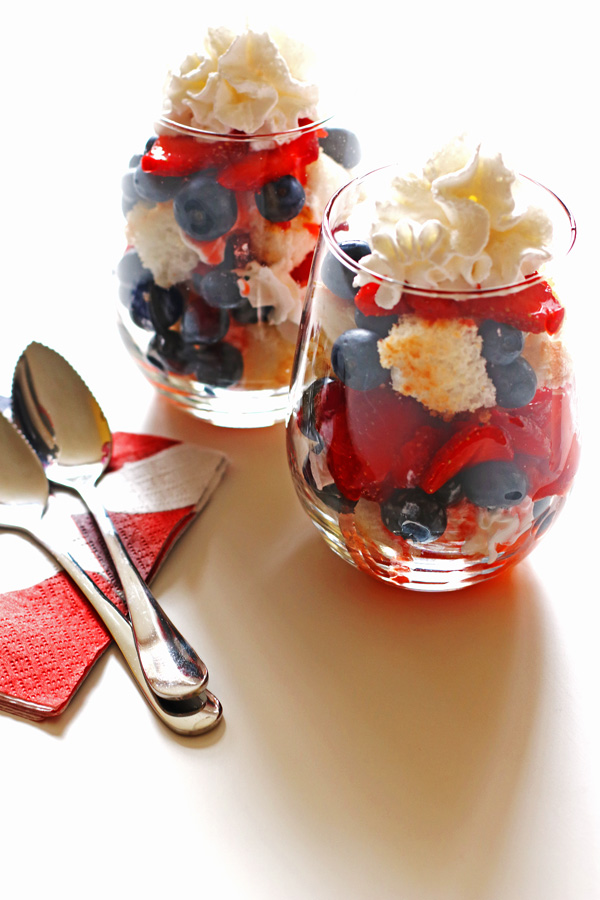 To make this recipe, first cup up the strawberries into slices and measure out two cups of sliced strawberries. Put them into a bowl and gently mix with one tablespoon of sugar. Cover and chill in the refrigerator for two hours. By doing this, you bring out the sweetness of the strawberries, soften them up and also create a sweet strawberry syrup. Strawberries are one of my favorite fruits…which fruit is your favorite? I just wish strawberry season could be a bit longer than just a few weeks around here!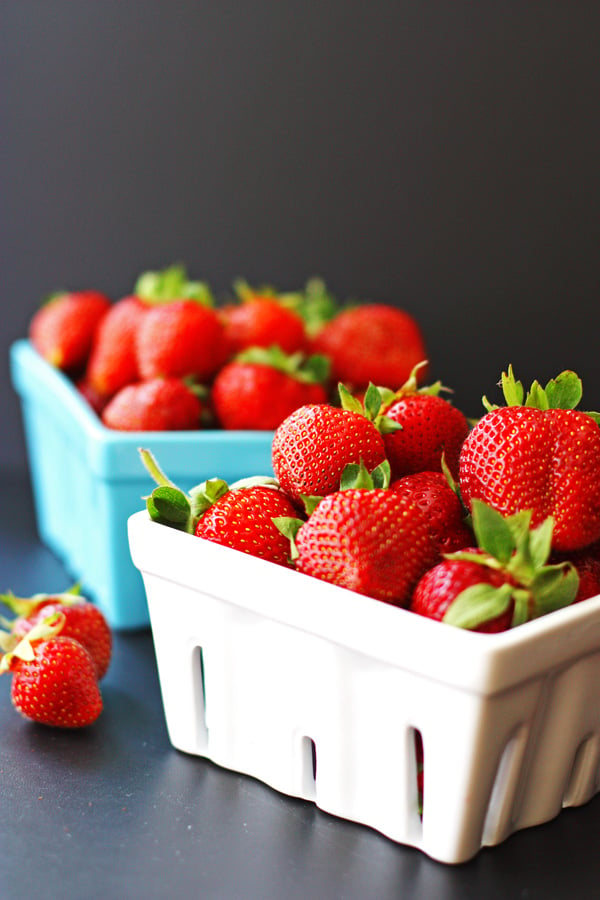 While you wait for your strawberries, preheat you oven to 375 degrees. Slice up the angel food cake into small pieces. Place the pieces on a baking sheet lined with parchment paper and bake them for 8-10 minutes just so they get a bit toasted. This was the first time we had ever had angel food cake toasted and I will tell you we loved it! Once they are baked, set them aside and let them cool.
When you have your strawberries and cake pieces ready to go, get four glasses or bowls out and start layering the toasted cake pieces, whipped cream, strawberries and blueberries. When I make this, I do two layers and that works well. This makes four servings. Serve immediately and enjoy!
I might have to add this recipe to our Fourth of July traditions! What are your favorite Fourth of July traditions? We always love to watch the fireworks in our town… they usually put on an amazing show. Have you ever seen the fireworks in New York City? I have only watched them on TV. They sure do seem amazing! Whatever your plans are, have a safe and happy Fourth of July!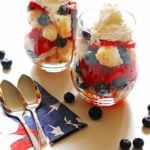 Berries and Angel Food Cake
Ingredients
1

Angel Food Cake

2

cups

strawberries

sliced

1

tablespoon

sugar

1

cup

blueberries

Whipped Cream
Instructions
Slice strawberries and place into a bowl. Add in the sugar and gently stir together. Cover and place in the refrigerator for two hours.

Preheat oven to 375 degrees.

Cut the angel food cake into small pieces and place them onto a baking sheet covered with parchment paper.

Bake for 8-10 minutes until they are slightly toasted.

Remove from oven and cool.

In a glass or bowl, layer the angel food cake, whipped cream, strawberries and blueberries. Repeat layer once again and top with a little more whipped cream.

Serve immediately.
Recipe Notes
Makes four servings.