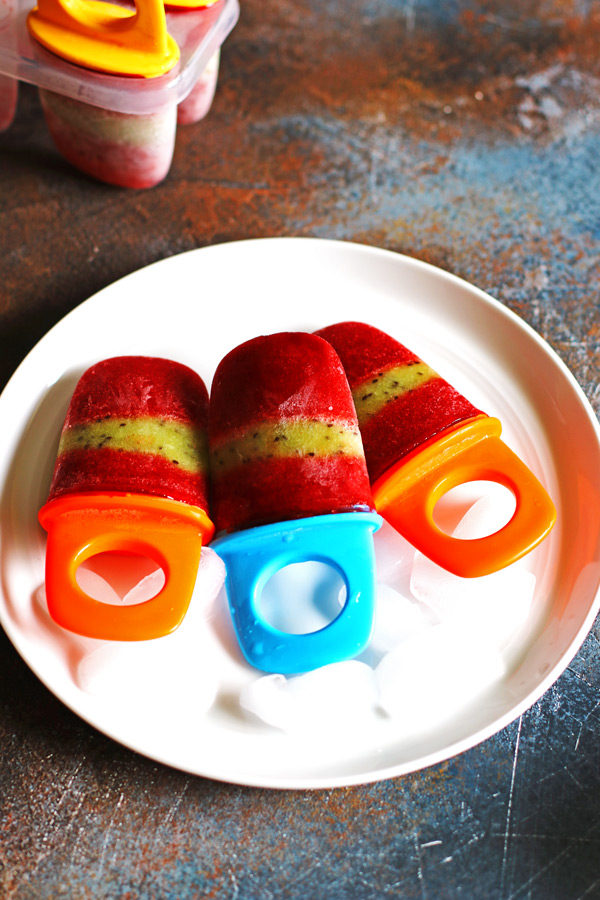 These Strawberry Kiwi Popsicles are perfect for warm summer days. They are great for kids and adults!
Not only are they delicious, but they are good for you too! Strawberries and Kiwis are both high in vitamins and fiber among other great healthy benefits for you. They really taste good together too!
My daughter was the one to come up with this recipe idea. We were out for a walk, talking about summer and making popsicles. As a seven year old, the idea of making popsicles was an amazing one! Those little things… So we talked about what flavors would work and I mentioned mixing strawberries and kiwis together. But it was her idea to make them look pretty with adding a little strawberry, then kiwi and then more strawberry! So she gets the credit for that. They might take a little longer to make them look fun and festive, but it's worth it! And I bet your kids will love it just as much as my little girl does. It really is those little things that make them happy. And that is a good thing. Sometimes as adults, we forget to take the time for those little things in life. And the kids in our life remind us to enjoy them…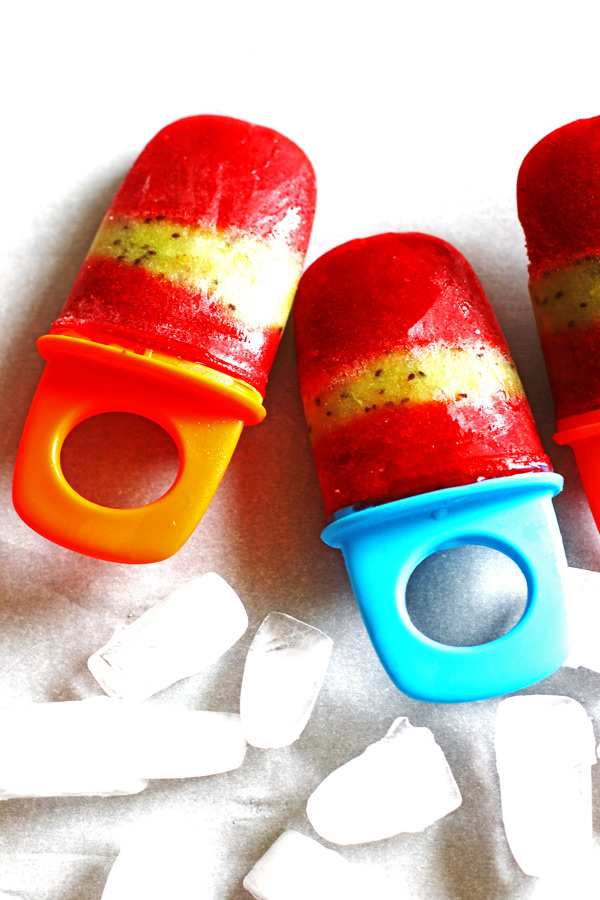 These popsicles are really easy to make. Start by washing your strawberries and discarding the stems. Then slice them up to measure out two cups before you puree them. We have a Ninja Master Prep Blender which works great for this recipe because it comes with a bigger sized blender compartment and a smaller one too. So place your strawberries and 2 tablespoons sugar in there and puree. Set that aside. If you have two blender compartments, then use the second one for the kiwi or just wash your blender so it is clean and you don't mix the strawberries with the kiwis. Then place the kiwi (just the green part of the kiwi) and sugar in the blender and puree. Puree them until the strawberries and kiwi are both all liquid…no pieces of fruit in there.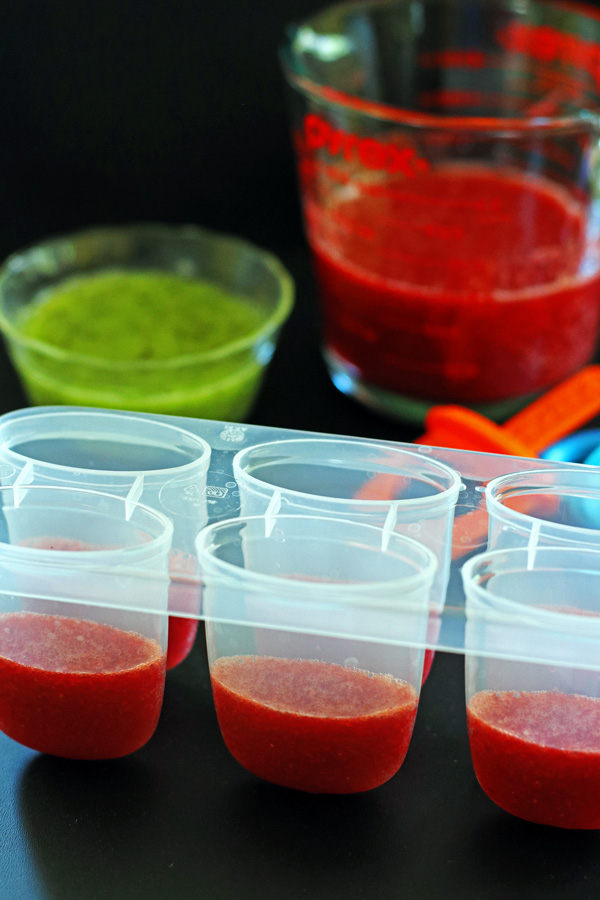 Pour the strawberry puree into the popsicle mold until just below half way. Then place in your freezer for 30 minutes, making sure to place it in there straight.
Then pour in the kiwi puree so it makes a nice stripe across. We made ours to be about a half to one inch stripe. Place them back into the freezer for 20-30 minutes.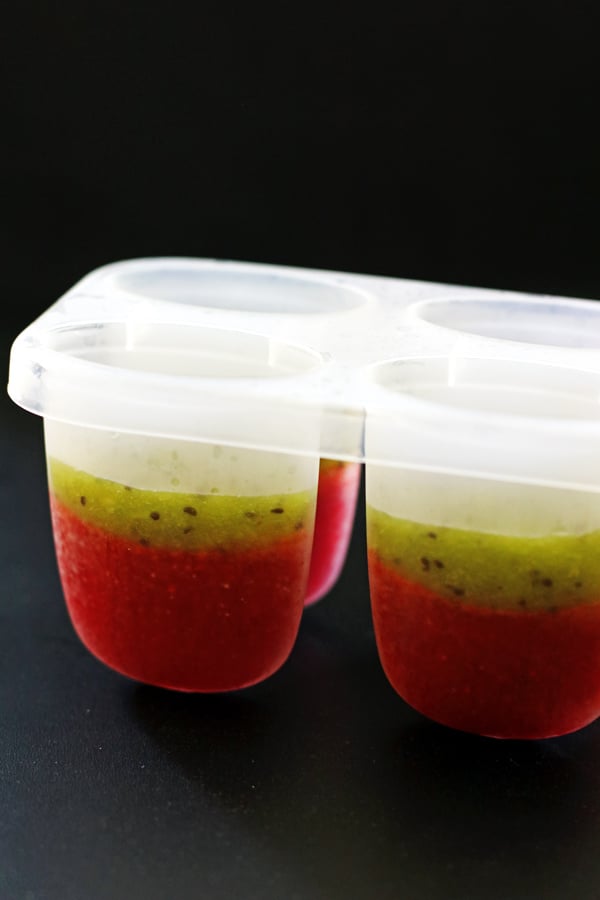 The final step is to fill the popsicle mold to the top line of your mold with the strawberry puree. Place the top of the mold on and freeze for 4-6 hours.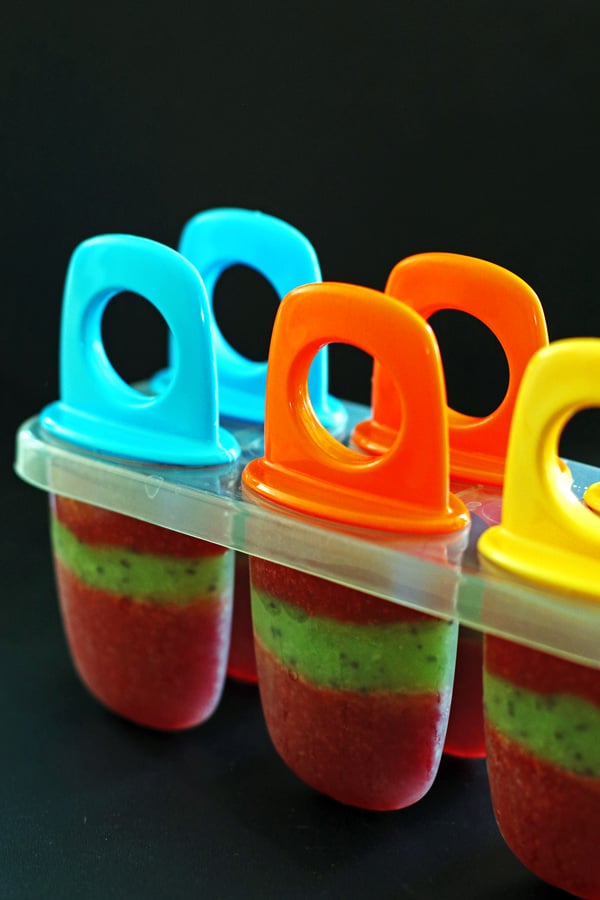 How many popsicles you get really depends on the size of your popsicle molds. The one I used for this recipe and the photos you see here in my post measure about ¼ cup and we were able to fill all six molds…with a little extra. If you have extra puree, you can use any other popsicle mold you might have or use a plastic cup and popsicle sticks. Or just have the extra without freezing it…a little bonus for the popsicle maker!
When you are ready to take them out, a little tip to getting them out easier is to run hot water over the mold for about 10-15 seconds. If you have any extra, put them back in the freezer until next time you are craving a delicious homemade popsicle.
It is so nice to make them. These only have three ingredients and you know what is going in them…unlike many of the store bought ones. We do add a little bit of sugar to them to make them a little sweeter. We tried them with just berries and kiwi first and they just were not sweet enough for us. So we decided to add some sugar and really liked them better that way.
Hope you enjoy them as much as we do… strawberry season in still going strong here in NY. Here are a few more great strawberry recipes for you to try…
Spinach Strawberry Salad ~ This is a great salad recipe that is very simple to make and delicious. There is a homemade dressing that goes with it that takes it over the top!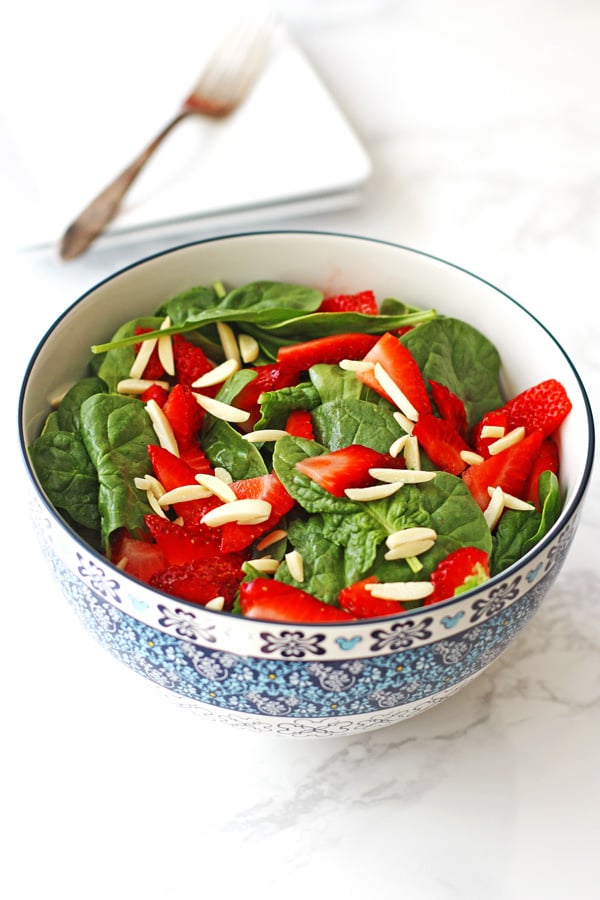 Chocolate and Strawberry Ice Cream Pie ~ If you love chocolate and strawberries together, this is your dessert! Great for summer!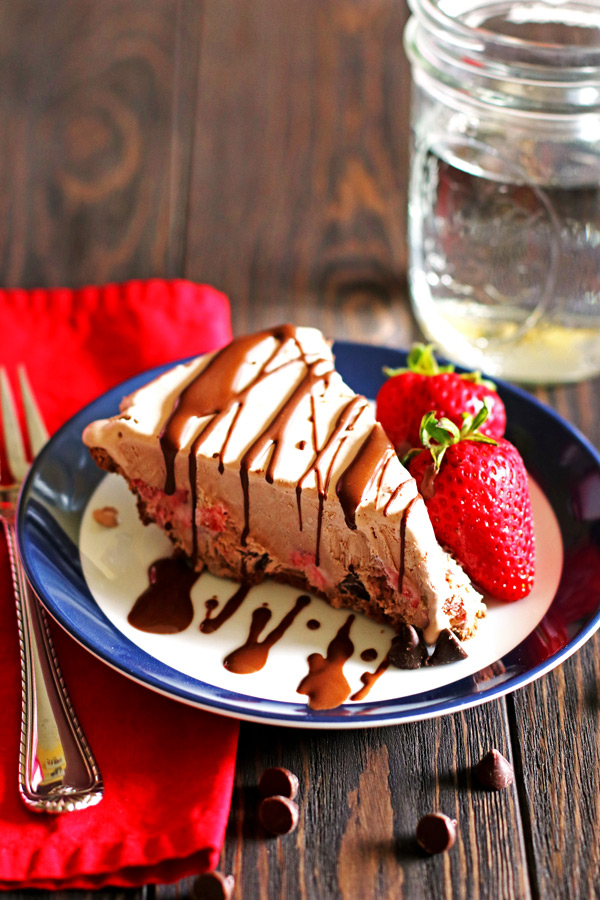 Berries and Angel Food Cake ~ This dessert is perfect for fourth of July! Have you ever toasted angel food cake before? I did it for the first time to use in this recipe. Sooo good on its own, but then mix it with berries and whipped cream! Yumm!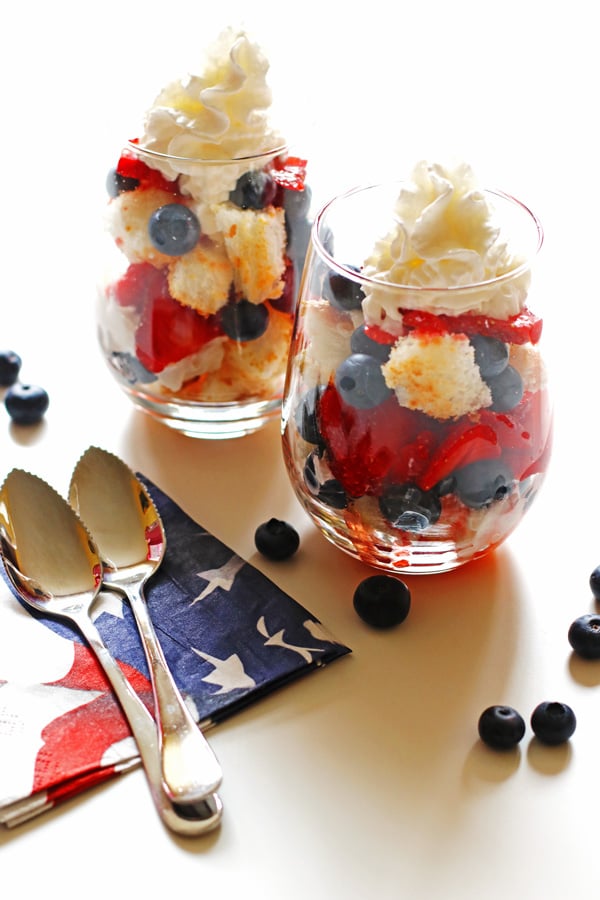 Strawberry Rhubarb Bars ~ These bars remind me of a snack bar we buy sometimes…they are a great bar for a quick snack or dessert. Strawberry and Rhubarb is another great food match, isn't it?!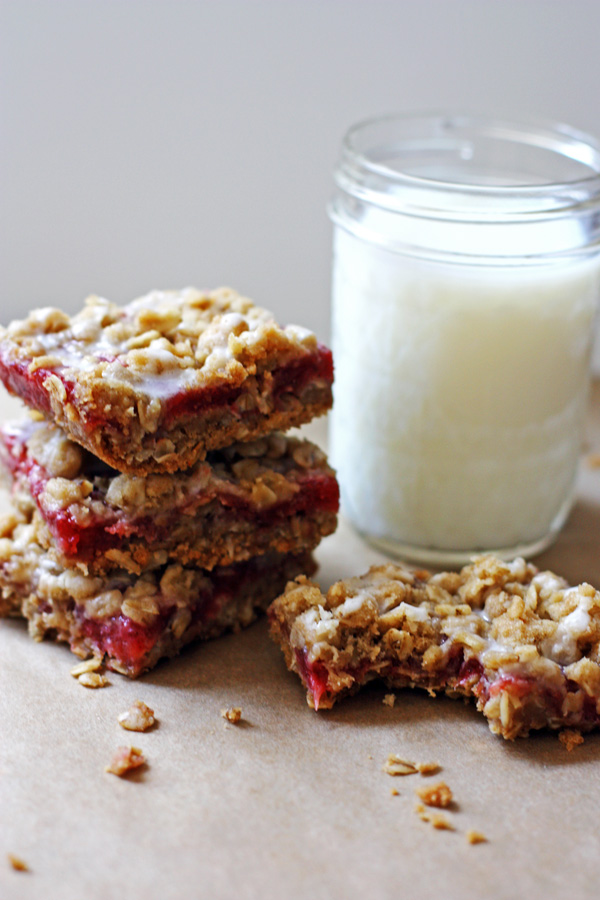 Strawberry Pineapple Smoothie ~ Strawberries make a great addition to smoothies! I have a few smoothies using strawberries. Give this one a try and let me know what you think. It will be so refreshing on a warm summer day.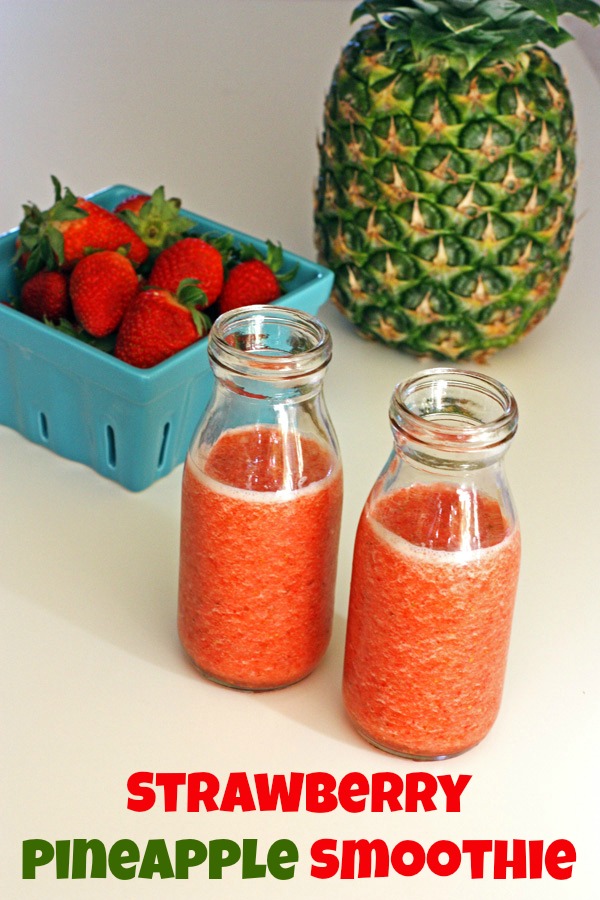 ~Jeannie
This post is not sponsored, but you will find affiliate links on this page. The price you pay as a consumer does not change, but I may make a small commission based on your purchase. Thank you for supporting Jeannie's Tried and True Recipes!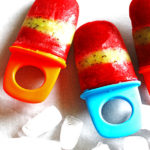 Strawberry Kiwi Popsicles
These homemade popsicles are perfect for summer! They are so easy to make you will have them done in no time.
Ingredients
2

cups

strawberries, sliced

2

kiwis

3

tablespoons

granulated sugar, divided

Popsicle mold with handles
Instructions
Wash strawberries and discard stems. Slice them and measure out two cups.

Place the strawberries and two tablespoons of sugar in your blender and puree. Set aside.


Puree the kiwi with one tablespoon sugar. (Either wash the blender in between steps or use a separate one.)

Pour in strawberry puree to just below the half point of your popsicle mold. Place in the freezer for 30 minutes. Make sure it is placed in the freezer straight.

Then pour in the kiwi puree so it makes a nice stripe across (about a half inch to one inch). Place back into the freezer for 20-30 minutes. Again, make sure it is in there straight.

Finally, fill the popsicle molds to the top line with more of the strawberry puree. Place the top of the mold on and freeze them for 4-6 hours.

To help them get out of the mold easier, run hot water over the molds for 10-15 seconds to help loosen up the popsicles.

Freeze any unused popsicles.
Recipe Notes
How many popsciles you get will depend on the size of your popsicle mold. The one I used for this recipe and in these photos measures about 1/4 cup. I did have a little extra so we made a couple more using another popsicle mold.