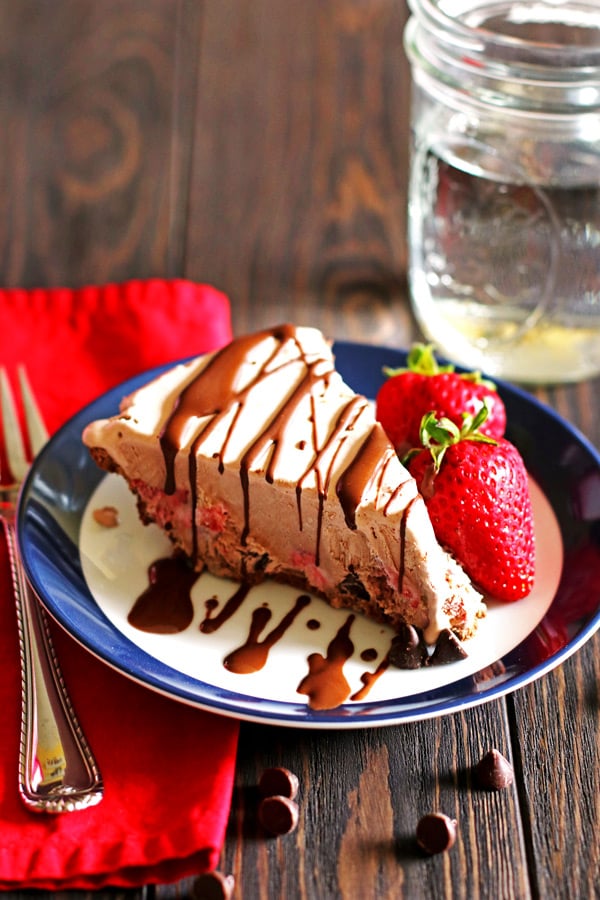 This Chocolate Strawberry Ice Cream Pie is made of some of my favorite foods…chocolate ice cream and strawberries. Chocolate and Strawberries are one of the best food matches, don't ya think?
With the warm weather now here, one of my favorite things to eat is ice cream. It is the perfect way to end a warm summer day.
This recipe for Chocolate Strawberry Ice Cream Pie is made of just a few ingredients and is a cinch to make. Not to mention it also is sooo good and creamy. So let's see…a recipe that is made with ice cream, quick and easy to make…my kind of recipe.
The ice cream for the recipe can be any chocolate ice cream. Pick your favorite chocolate ice cream or one that is on sale. You will need just three other ingredients to make the pie…fresh strawberries, cool whip and chocolate pie crust.
To start, scoop out two and a half cups of your ice cream into a large bowl and let it sit a little while so it can soften up. Softening the ice cream makes it easier to mix with the cool whip. It really depends on the temperature that day as to how long you leave it out for. I would say about 5 to ten minutes. Then once it is softened a little, add in the thawed cool whip. Using a large spoon, mix together until it is blended well. It will look like a chocolate milkshake when all mixed together.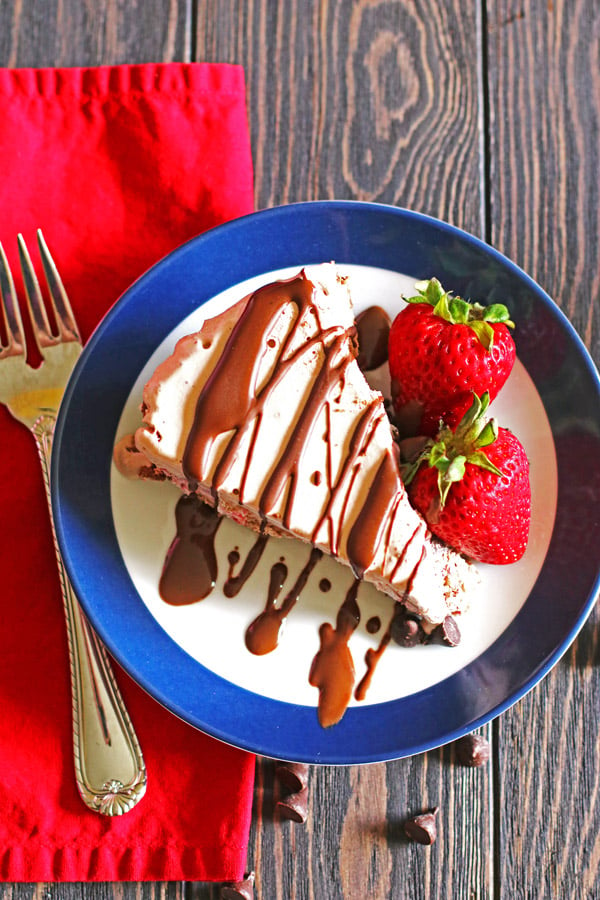 Once you have that ready, gently fold in the diced strawberries. If you LOVE chocolate, then add some chocolate chips to the mix also. I did that the last time I made this pie. I added in about 1/2 cup chocolate chips. Question for you…where do you store your chocolate chips? Recently I put ours in the refrigerator. I am hooked on eating them on their own if they are chilled. I don't sit and eat a whole bunch…just a few at a time. But there is something about eating them chilled. Let me know what you think on that.
Okay, back to the recipe. Pour the ice cream mixture into your chocolate pie crust and spread it out evenly and fill right to the top. (I use a store bought pie crust to save on time.) Since you are working with ice cream, make sure you work quickly. Place the pie onto a dinner plate and put it into the freezer for at least four hours. A little tip…make sure it is placed straight in the freezer so it won't make a mess before it sets. It will be a little runny before it hardens up.
Leave the pie in the freezer until you are ready to serve it. Give it a few minutes to soften, but that is about it. Drizzle a little chocolate Magic Shell or hot fudge over each slice once on a plate to make it look pretty. You can also add a strawberry or two to garnish with.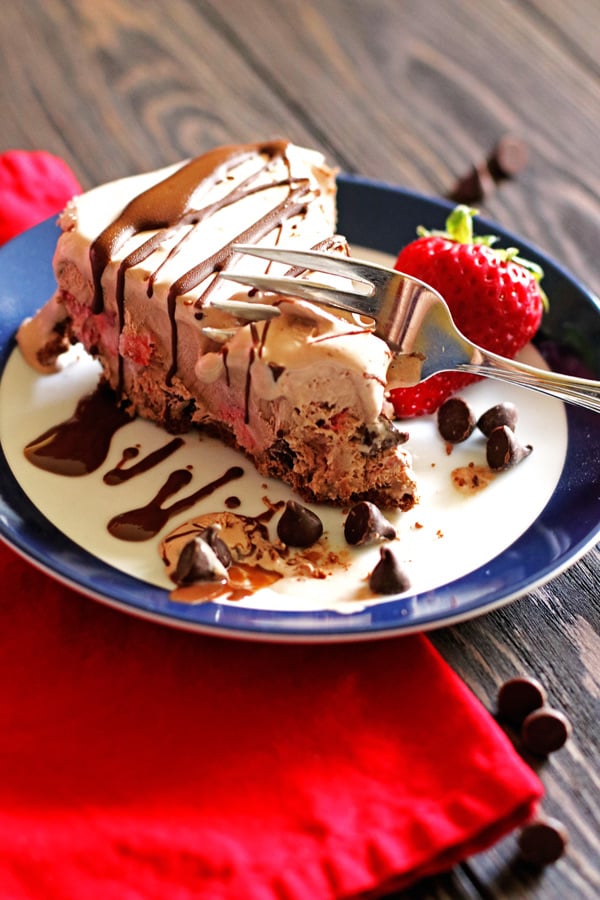 Now, depending on your pie shell size, you may have extra pie filling. Not a bad thing, right? You can either just pour it into a freezer safe bowl and place in the freezer for another time. Or…pour into popsicle molds.
Last time I made this pie I did have some extra so I made some ice cream pops. They were a hit! Just pour any extra pie filling into your popsicle molds and leave them in the freezer for at least four hours. Take out and serve immediately. Here is a little tip for getting these or any popsicle out of the mold if you can't get them out easily. Hold the mold under warm water for a few seconds. Then remove them and enjoy!
With it being strawberry season, you might be looking for some strawberry recipes. Here are a couple of good ones for you to try: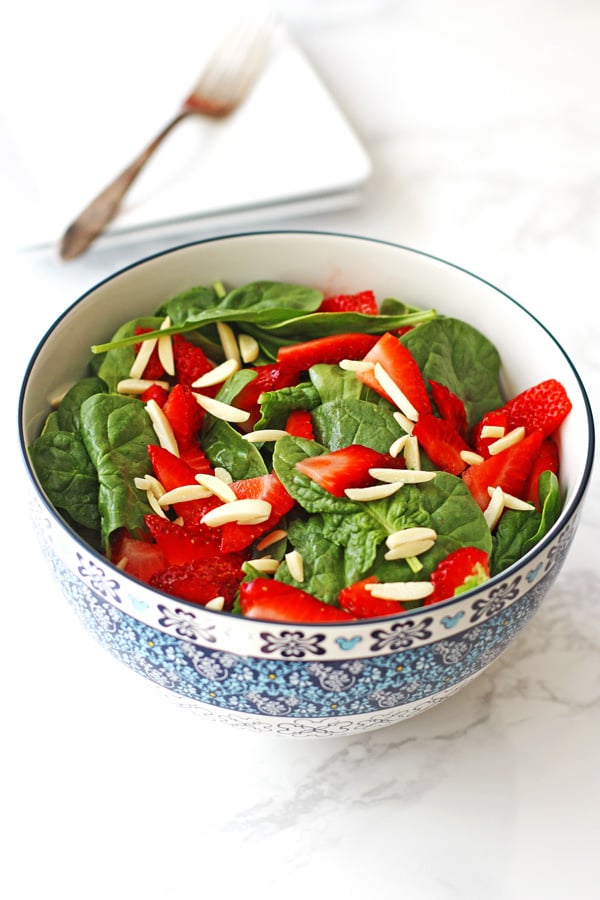 Would love to hear from you! Let me know how you liked this recipe, or any other recipe of mine. Leave me a message below in the comment section. Have a great day!
~Jeannie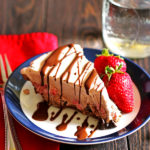 Chocolate Strawberry Ice Cream Pie
This delicious and creamy pie is quick and easy to make. It makes a perfect summer dessert.
Ingredients
2 1/2

cups

your favorite chocolate ice cream

8

ounces

Cool Whip, thawed

1

cup

diced fresh strawberries

1/2

cup

chocolate chips, optional

chocolate pie crust

Magic shell or hot fudge, optional

strawberries to garnish, optional
Instructions
Let your ice cream sit out for a little to soften up (about five to ten minutes...depending on the temperature it is that day). Then mix the softened ice cream and thawed Cool Whip in a large bowl. Using a large spoon, mix until it has all been combined well (will look like a milkshake once done).

Gently fold in the strawberries. Add in the chocolate chips if using them.

Pour into the pie crust. Spread out the pie filling evenly and fill right to the top of the pie crust.

Place the pie crust onto a dinner plate and put in the freezer for at least four hours. Make sure the dish is placed in there straight so the pie filling doesn't spill.

Serve immediately from the freezer. Drizzle with chocolate Magic Shell or hot fudge. Add additional strawberries, optional.
Recipe Notes
Depending on the size of your pie crust, you might have a little extra pie filling. If you do, here are two suggestions for you. Pour into a freezer safe bowl and save for another time. Another suggestion is to pour into popsicle molds and freeze at least four hours.