Fluffy Belgian Waffles are one of the best weekend breakfast recipes to have in your pocket. They are easy to make, quick to come together, and can be customized with everyone's favorite toppings!
Belgian Waffles are one of the best weekend breakfasts that we make in our home, especially at this time of the year when fresh strawberries are in season. We love to sprinkle chocolate chips and sliced strawberries over these easy Belgian waffles to make a delicious weekend breakfast or Sunday brunch. And, of course, top the waffles off with some whipped cream! (Or, we mix in sprinkles to make Funfetti Waffles!)
This simple waffle recipe is a classic breakfast that everyone will love - they have such a great flavor, and when loaded with delicious toppings, they are the perfect weekend breakfast.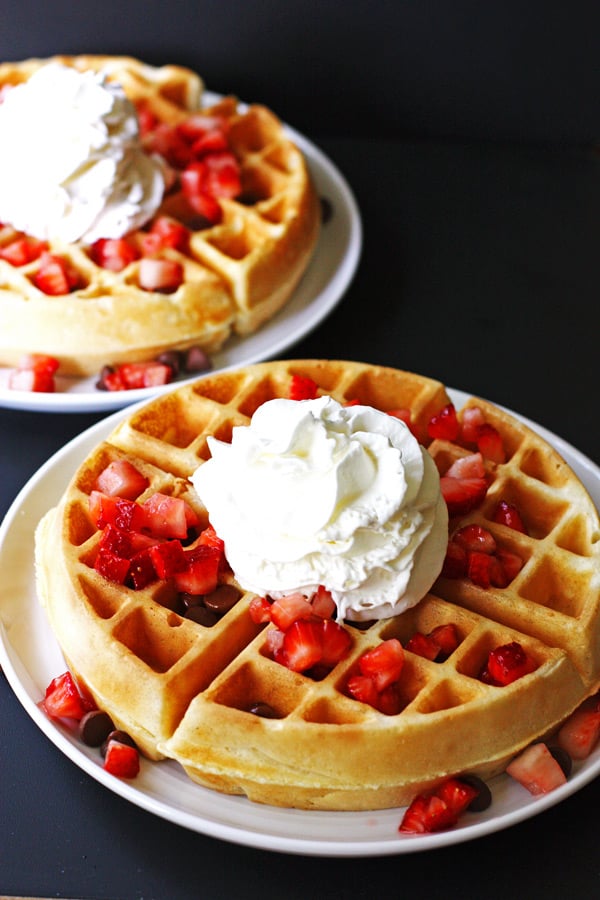 What is a Belgian Waffle?
Belgian waffles are pretty similar to traditional waffles, but they have one big difference. True Belgian waffles have deeper pockets from being made with a Belgian Waffle Maker. Authentic Belgian Waffles are also very light and airy inside with a crisp exterior.
Traditionally this was because of them being made with yeast, but today they are often made with baking powder. In my recipes, I like to beat the egg whites separately from the egg yolks until they are light and fluffy, then gently fold them into the batter at the end.
Because of this major texture difference, you cannot use pancake batter or premade pancake mix to make these fluffy waffles like you can with regular waffles!
Ingredients in Belgian Waffles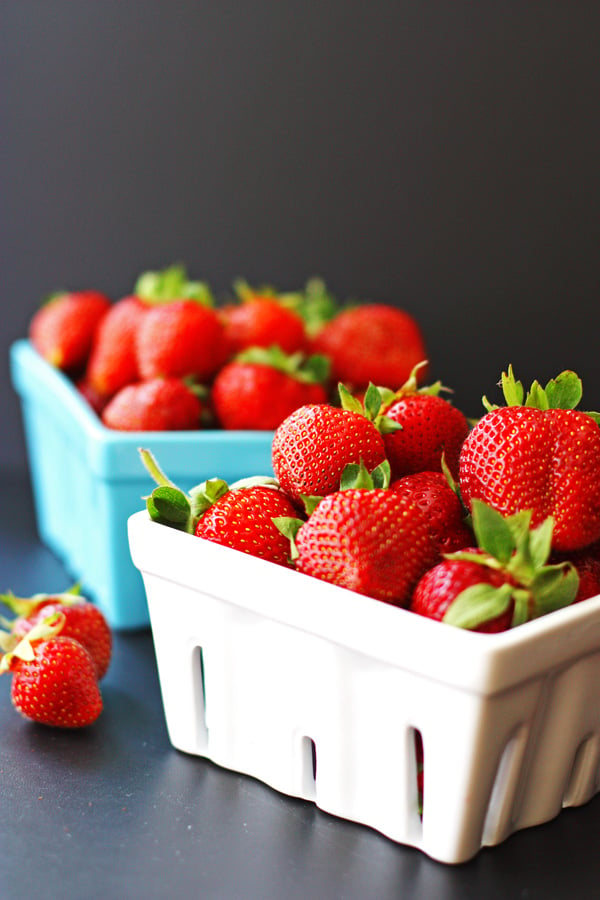 All-Purpose Flour
Sugar
Baking Powder
Salt
Eggs
Vegetable Oil
Milk
Chocolate Chips, optional
Fresh Strawberries, sliced small (optional)
Whipped Cream, optional
These waffles are pretty easy to make. Of course, the most important thing you will need is a Belgian Waffle iron. A Belgian Waffle Maker will allow you to make waffles that have deep pockets to collect all of the syrup and goodies that you serve on top of it. The Presto FlipSide Belgian Waffle Maker is the one we have, and it works great!
How to Make Belgian Waffles
These waffles cook pretty quickly, so you will want those strawberries ready to sprinkle over your warm waffle. When you are ready to start making the waffle batter, turn on your waffle iron and let it heat up while you whip up the simple ingredients.
Before starting, I would suggest slicing up your berries or fresh fruit so that they are ready to go once your waffles are cooked.
Begin preheating your waffle iron.
Combine flour, sugar, baking powder, and salt in a large bowl.
Then, separate your egg whites from the yolks. Whip the egg whites in a second bowl until they are light and fluffy and stiff peaks form. In a third bowl, combine the egg YOLKS, milk, oil, and vanilla extract.
Mix the wet ingredients (excluding the egg whites) into the dry ingredients until mixed well.
Then, use a rubber spatula to fold the whipped egg whites into the waffle batter. Do not overmix the egg whites, or they will lose their fluffiness. It is ok if the batter is a bit lumpy. (If you overmix the batter, you will end up with a tough waffle.)
Pour one cup of batter into one side of the waffle maker. Close and flip the waffle maker. Cook for three minutes or until crisp and golden brown. Make sure the waffle iron is hot so that you get crispy golden waffles - if the waffle iron isn't hot, you will get soggy waffles! (It's okay to let the batter rest while you wait for the waffle iron to get hot.)
For each waffle, you will need about one cup of batter. We measure out a cup - I like to use a rubber spatula to scoop out the contents of the cup to fill up the waffle iron.
This recipe makes four big waffles. Sometimes we make one and a half of the recipe or even double, so we can have a little more because they are so delicious!
Recipe Tip: To keep cooked waffles warm, keep them in a single layer on a wire rack on a cookie sheet in the oven at 250°F to keep them warm.
Serve the waffles while warm.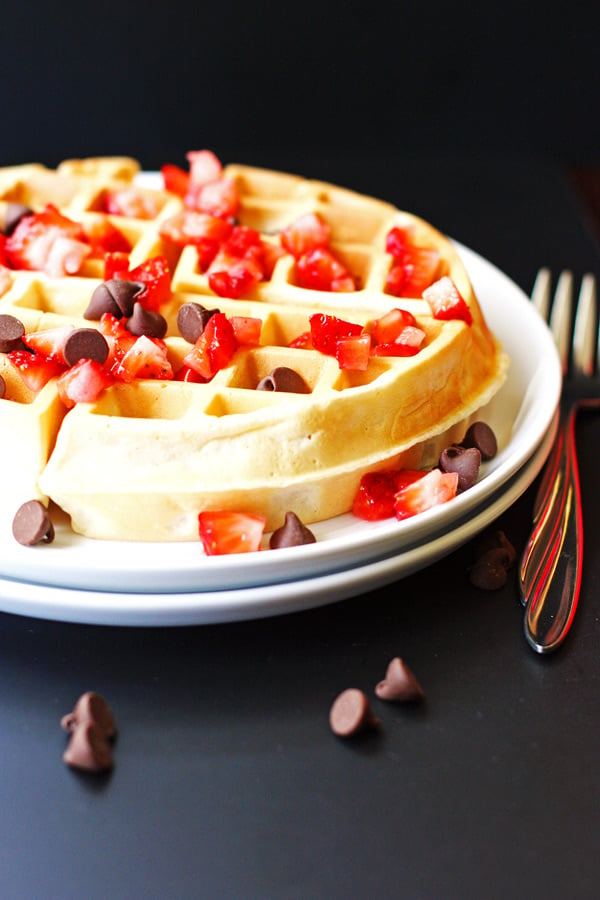 What Goes on Top of Belgian Waffles?
You can top Belgian Waffles with whatever you like. My kids and I like to sprinkle chocolate chips and strawberries over our waffles and top it off with some whipped cream. My husband prefers to skip the chocolate chips and just sprinkle some strawberries and top them with whipped cream.
Syrup and powdered sugar are also great options for these waffles! I actually think you could eat these plain and still love them. But of course, if you are a chocolate lover like me… you go for the chocolate chips and strawberries!
Strawberries or other Fresh Berries or Fresh Fruit
Whipped Cream
Powdered Sugar or Pearl Sugar
Maple Syrup
Honey
Peanut Butter and Chocolate Chips
Melted Butter or Honey Butter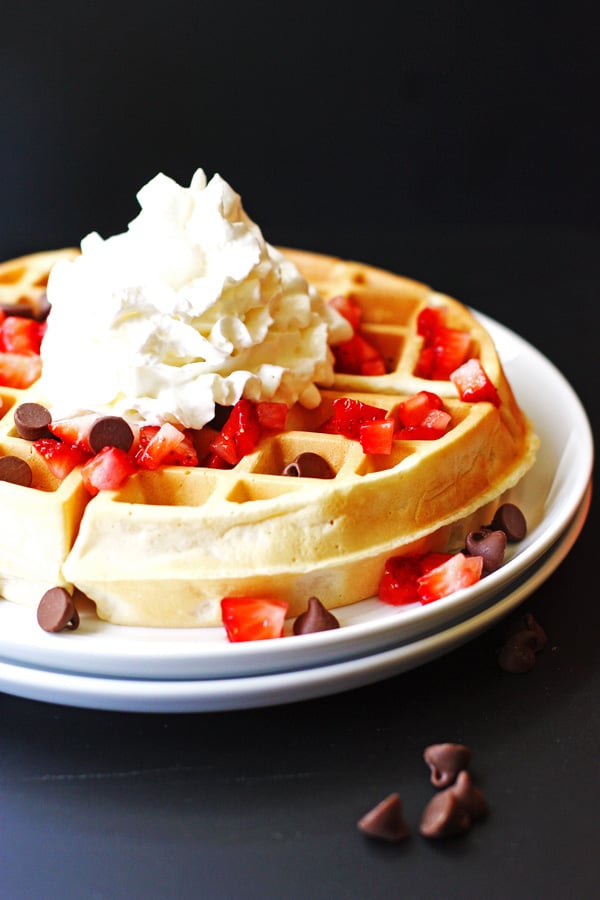 How to Reheat Leftover Waffles
I you want to save some of these homemade waffles for later, I recommend refrigerating them in an airtight container, but only for a couple of days. If you want to save them for longer, you can freeze them in a freezer bag. I like to freeze them flat on a baking sheet and then vacuum seal them if I want to make a lot of waffles for Christmas morning or to bring them on a trip for an easy breakfast. (Much better than a box of Eggo waffles!)
I like to pop them in the microwave for about 30 seconds, then reheat them in the oven, toaster oven, or air fryer to ensure that the inside warms up, but they still have a crisp exterior! I recommend placing them on a wire rack on a baking sheet (to allow the air to circulate all around them) or directly on the oven rack at 300°F for 7-10 minutes.
Did you make this recipe? If so, please leave a comment and rating below. I love hearing from you.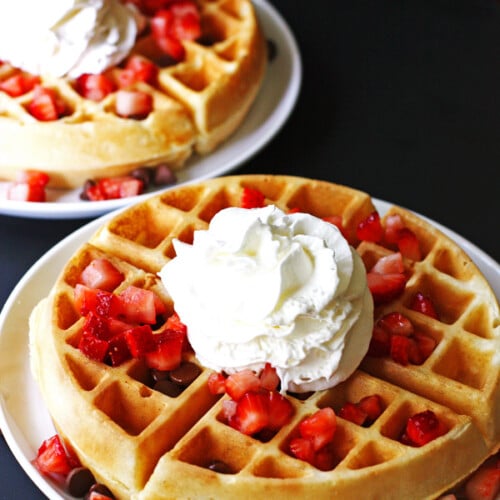 Homemade Belgian Waffles
Fluffy Homemade Belgian Waffles are one of the best weekend breakfast recipes to have in your pocket. They are easy to make, quick to come together, and can be customized with everyone's favorite toppings!
Print
Pin
Save
Saved!
Ingredients
2

cups

all-purpose flour

1

tablespoon

granulated sugar

1

tablespoon

baking powder

¼

teaspoon

salt

2

large eggs

2

tablespoons

vegetable oil

1 ¾

cups

milk

1

tablespoon

vanilla extract
Instructions
Slice up the strawberries and set aside.

Preheat your waffle iron.

Combine flour, sugar, baking powder, and salt in a large bowl.

2 cups all-purpose flour,

1 tablespoon baking powder,

¼ teaspoon salt,

1 tablespoon granulated sugar

In a second bowl, whip the egg whites until they are fluffy with stiff peaks.

In a third bowl, combine the milk, oil, egg YOLKS, and vanilla extract.

2 large eggs,

2 tablespoons vegetable oil,

1 ¾ cups milk,

1 tablespoon vanilla extract

Combine the wet ingredients (excluding the egg WHITES) with the dry ingredients until mixed well.

Gently fold the egg whites into the waffle batter, but do not overmix.

When the waffle iron is hot, pour one cup of batter into one side of the waffle maker.

Close and flip the waffle maker and cook for three minutes or until the exterior is crispy.

Serve the waffles while they are warm.

Sprinkle with chocolate chips, strawberries and whip cream. (optional)

semisweet chocolate chips,

strawberries,

whipped cream,

sprinkles
Nutrition
Serving:
1
waffle
|
Calories:
402
kcal
|
Carbohydrates:
57
g
|
Protein:
13
g
|
Fat:
13
g
|
Saturated Fat:
4
g
|
Polyunsaturated Fat:
3
g
|
Monounsaturated Fat:
4
g
|
Trans Fat:
1
g
|
Cholesterol:
95
mg
|
Sodium:
537
mg
|
Potassium:
263
mg
|
Fiber:
2
g
|
Sugar:
9
g
|
Vitamin A:
292
IU
|
Calcium:
330
mg
|
Iron:
4
mg