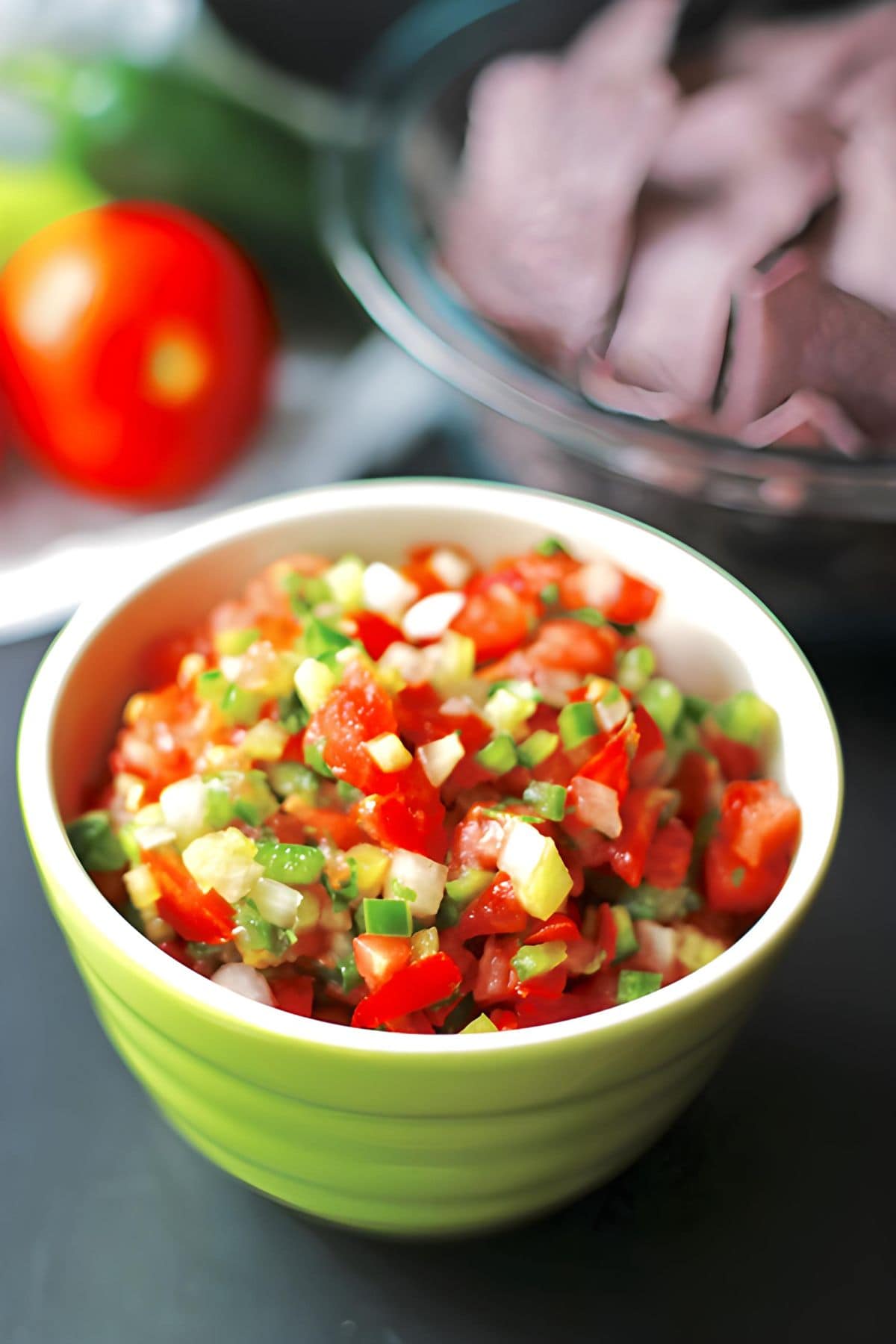 Salsa…fresh tomatoes, peppers and cilantro! What a great summer time snack! And, so easy to make. If you have never made fresh salsa, you really should give it a try. We make this during the summer and early fall when we can get fresh tomatoes and peppers from our local farmers market.
This recipe is one that you can make in a snap. It will probably take you about a half an hour to have your peppers, onion, and tomatoes cut up and mixed all together. Not too bad, right?!
Just finely dice the tomatoes, green pepper, banana pepper and onion and place them in a medium sized bowl. Dice up the jalapeno a bit smaller than the other veggies so it blends in better and also so that you don't get too much flavor in one bite. Mix it in with the other veggies. Add in the chopped cilantro and drizzle with the lime juice. Gently mix all the ingredients together. And that's it!
Not a fan of dicing up the peppers, tomatoes and onion so small? Then grab your blender and let the blender do the work. I happen to have a husband that likes to cut up veggies so to him it is not that bad. But I know not everyone is like that so that is where a nice blender comes in handy.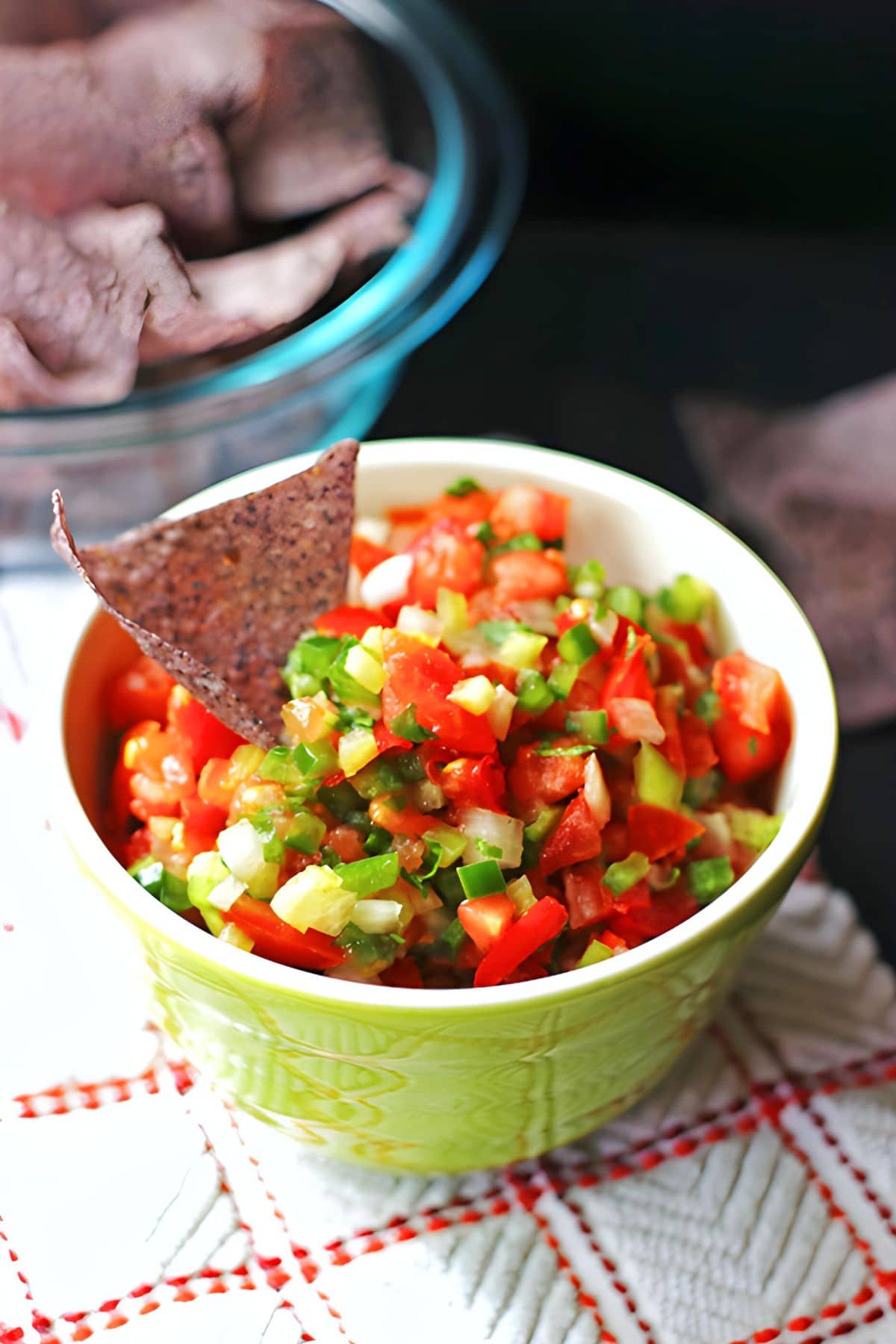 So, if using your blender like this Ninja Master Prep Blender, cut up the tomatoes, peppers and onion into small pieces. and place the tomatoes in a medium sized bowl and set aside. I would suggest pulsing the jalapeno pepper first on its own so that there are no big chunks and it blends more into the salsa. Then add in the rest of the peppers and the chopped cilantro. Squeeze some juice from the lime until you have one tablespoon of the juice and drizzle that over the veggies. Pulse everything until desired consistency. That is everything that goes into the blender.
Once that is mixed well, pour the pepper mixture into the bowl with the tomatoes. Gently stir everything together. And…there is your delicious fresh salsa!
I would recommend chilling it so the flavors can mix together more. Chilling is not necessary but if you decide to chill the salsa, I would suggest covering the salsa tightly and chill it for a couple of hours. Sometimes you just don't want to wait to chill it and that is okay…that has happened with my family…just too good to wait.
Now the best part, get your salsa and chips ready, grab a cold drink and park yourself in a favorite place (mine happens to be by our pool) and enjoy! :o)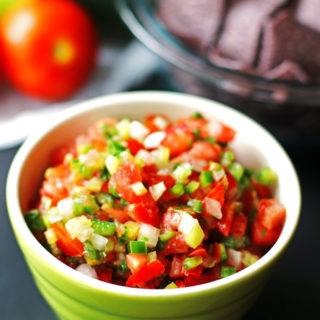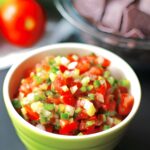 Fresh Salsa
Ingredients
2-3 to

matoes

medium sized

1

green pepper

diced

1

banana pepper

diced

¼

cup

onion

diced

½

jalapeno pepper

diced, about 1 tablespoon

¼

cup

fresh cilantro

chopped

1

tablespoon

lime juice
Instructions
Finely dice up the tomatoes, peppers and onion. Dice up the jalapeno pepper a bit smaller.

Chop up the cilantro.

Drizzle in the lime juice and gently mix all ingredients together.

Chill for two hours, optional.
Directions if you prefer to use a blender
Dice up the tomato and onion.

Cut up the peppers, removing the seeds.

Chop up the fresh cilantro.

Using a blender, pulse the peppers, onion and cilantro.

Add the lime juice to the mix.

Once the ingredients are mixed well, pour into a medium size bowl.

Add in the tomatoes and gently mix together.

If making without a blender, just finely dice the peppers, onion and tomatoes. Add in the cilantro and drizzle with the lime juice. Gently mix all ingredients together in a bowl.

Chill, if desired, for two hours before serving.
Recipe Notes
Recipe makes about 2 cups salsa.