So Easter was just the other day and I have four baskets here with delicious chocolate candy, jelly beans and Peeps! How about you…are you in candy overload too? It is a fun time of the year though. The Easter Bunny hid 62 Easter eggs in our house this year…at my kid's request. I think each year we leave out more and more eggs to be hidden. They love looking for them. Funny thing is that my son said they were not hidden too hard last year. So I think the Easter Bunny heard that and hid some a little bit harder this year. ;o) Three hours later, they found all the Easter eggs! Of course, during that time looking for the eggs, they were snacking on their Easter candy.
Peeps are one of those things that just have to make it in the Easter baskets. They are so colorful and if you love marshmallow, you love them. So why not add them into a good old classic recipe like Rice Krispies Treats, right?
Have you had Rice Krispies Treats before? If not, you are missing out. I remember them back to when I was a kid and my mom would make them. They are just as big of a hit now as they were back then. They are a classic. And you can't just have one. The gooey snack bars are just that good!
And they are so easy to make. I love quick and easy recipes and this one is just about as quick and easy as they come. You just need to melt the butter, add in the peeps and mix. Then add in the Rice Krispies cereal. I usually only add half of the Rice Krispies at a time. Why? Because I am a messy cook and if I add in the whole 6 cups at a time, they will spill out of the pan. So that's a little tip I want to share. Once all the cereal is coated with the yummy peeps marshmallow, spoon the mixture into a 13×9 buttered pan and spread out evenly. Let it cool and then cut into squares. And that is it! Pretty easy. The hard part is having just one Rice Krispies Treat!
They should be kept covered tightly and are the best eaten within two days. Enjoy and I hope you had a wonderful Easter!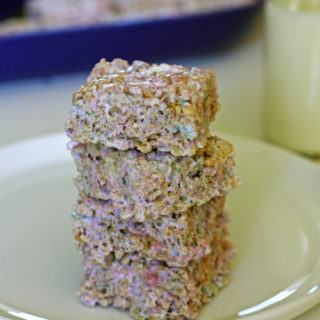 Peeps Rice Krispies Treats
Ingredients
3

tablespoons

butter

3

packages of Peeps

(different colors are best)

6

cups

Rice Krispies cereal
Instructions
Melt butter in medium sized pan over low heat.

Add in the peeps and mix well.

Remove from heat.

Add in the half of the Rice Krispies cereal and mix together. Pour in the remaining three cups and mix until all the cereal in mixed well with the peeps marshmallow.

Spoon mixture into a buttered 13x9 pan and spread out evenly using the back of the spoon or spatula.

Let cool and cut into squares.
Recipe Notes
It helps to butter your spoon or spatula when spreading out the Rice Krispies mixture.