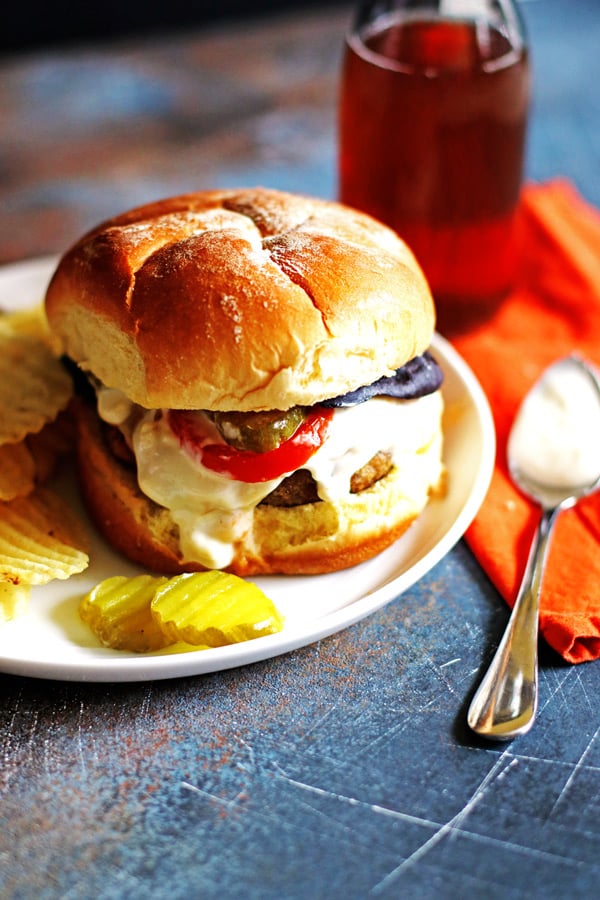 Summer is officially here now! You can tell that by the summer heat, sunshine, longer days, swimming in the pool and of course, grilling season. These Blue Cheese Burgers are a new grilling recipe that we made this year. They are so delicious!
As I have mentioned before, I am not the one who grills in our house. The master of the grill is my wonderful husband. He has fun trying new recipes too and this one is a keeper.
We added some blue cheese dressing to add some flavor to the burgers. You can always add more on top of the hamburger once it is cooked if you want more blue cheese flavor… that is what I do sometimes. I am a fan of blue cheese. How about you? I am guessing if this recipe caught your eye, you are too.
To make these delicious Blue Cheese burgers, beat the egg in a large bowl. Add in the garlic powder, salt and pepper. Then add in blue cheese, beef and bread crumbs. Mix all ingredients together well. Form into four equal sized hamburger patties.
A great tip to keep them from falling apart is to use this hamburger press
. My husband uses it each time he makes burgers and loves it.
Rub each side of the hamburger patties with olive oil. This step prevents them from sticking to the grill. Place them on the grill and cook 8 to 10 minutes for each side. If you are adding cheese slices, add them to the burgers at the last two minutes so they can melt nicely.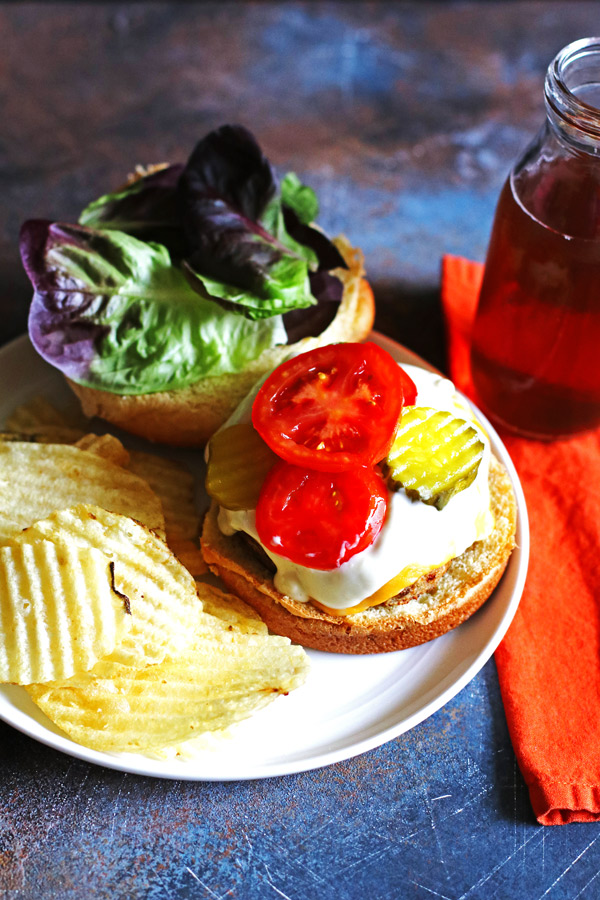 Once cooked, place each burger on a bun. If you are looking for more blue cheese, because you love blue cheese and well, why not…drizzle a little more over your burger. That part is optional depending on how much blue cheese you would like on it. Then we usually add some lettuce, tomato and pickles and you have yourself one delicious grilled hamburger! Do you put pickles on your hamburgers? I don't know why but we are all loving them on our burgers this summer. If you haven't, give it a try!
If you are looking for a side dish to have with these, here are a couple of great side recipes that I am sure you will love…
Grilled Potatoes with Hot Sauce ~ a family favorite for us! Simple and easy to make too …which makes it that much better of a recipe!
Oven Roasted Rosemary Potatoes ~ these potatoes are also a family favorite. They can be cooked in the oven or on the grill. They use fresh rosemary…fresh herbs…another great part of summer weather!
Spinach Strawberry Salad ~ this recipe is great to mix in fresh summer strawberries. And, there is a delicious homemade dressing recipe that is simple to make.
Are you are on Instagram? If you are, follow me…I share all of my recipes there! Enjoy your day and happy grilling!
~Jeannie
This post is not sponsored, but you will find affiliate links on this page. The price you pay as a consumer does not change, but I may make a small commission based on your purchase. Thank you for supporting Jeannie's Tried and True Recipes!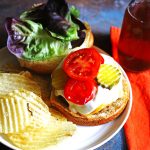 Blue Cheese Burgers
These Blue Cheese Burgers are so tasty and perfect for grilling season!
Ingredients
1

egg, beaten

1/4

teaspoon

garlic powder

1/4

teaspoon

salt

1/8

teaspoon

pepper

1/4

cup

blue cheese dressing

1

lb.

ground beef

3/4

cup

whole wheat bread crumbs

olive oil, to coat hamburger patties

cheese slices (we use mozzarella or colby jack)

additional blue cheese dressing to drizzle, optional

hamburger rolls

lettuce, tomatoes, pickles (optional)
Instructions
Preheat the grill to medium heat (about 350 degrees).

In a large bowl, add in the egg, seasonings, blue cheese dressing, beef and bread crumbs.

Mix all ingredients together well. Form into four equal sized hamburger patties.

Rub each hamburger patty with olive oil to prevent sticking to the grill.

Cook on grill 8 to 10 minutes, then flip and cook an additional 8 to 10 minutes.

Add cheese slices at the last two minutes, optional.

Place hamburgers on rolls. Drizzle with additional blue cheese, optional. Garnish lettuce, tomatoes and pickles, optional.