This Tomato Vegetable Crockpot Soup warms you up on a chilly day! It is so delicious and nutritious for you and your family.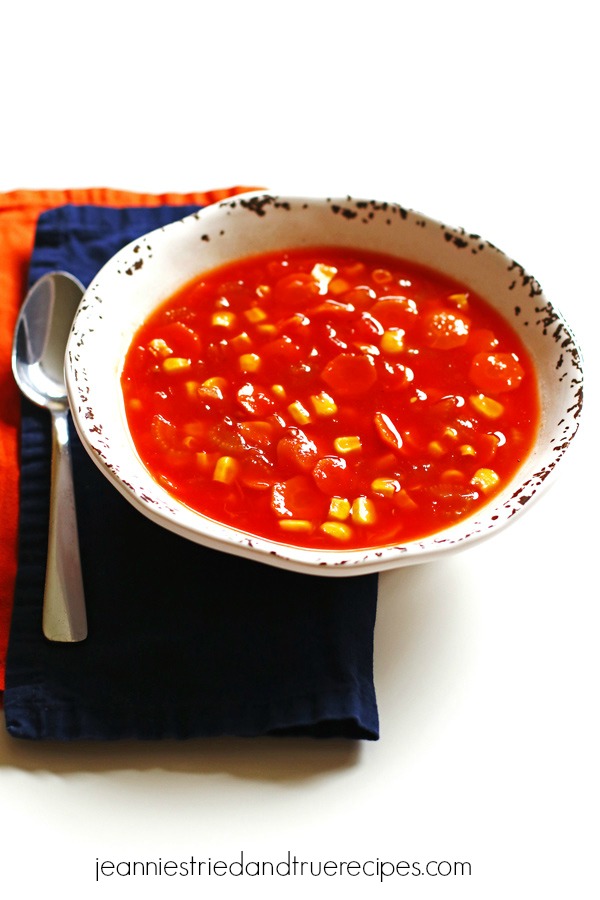 My family spent about six weeks in Colombia when we were there to adopt our daughter. At one of the places we stayed at, they made a tomato soup with add ins on the side. They had corn, shredded chicken, avocado and homemade tortilla strips. It was so delicious! This is very similar to that and brings back some warm, wonderful memories of our time there.
We prefer to make this soup recipe vegetarian, but if you like, you can add cooked, shredded chicken to it. To keep it simple, you could buy a rotisserie chicken and add in the cooked shredded chicken.
How to make this soup recipe:
Cut up the carrots and celery thin. The thinner they are the quicker they cook. We use this mandoline slicer
to cut up the veggies. I love using it because it cuts them uniform in size and nice and thin.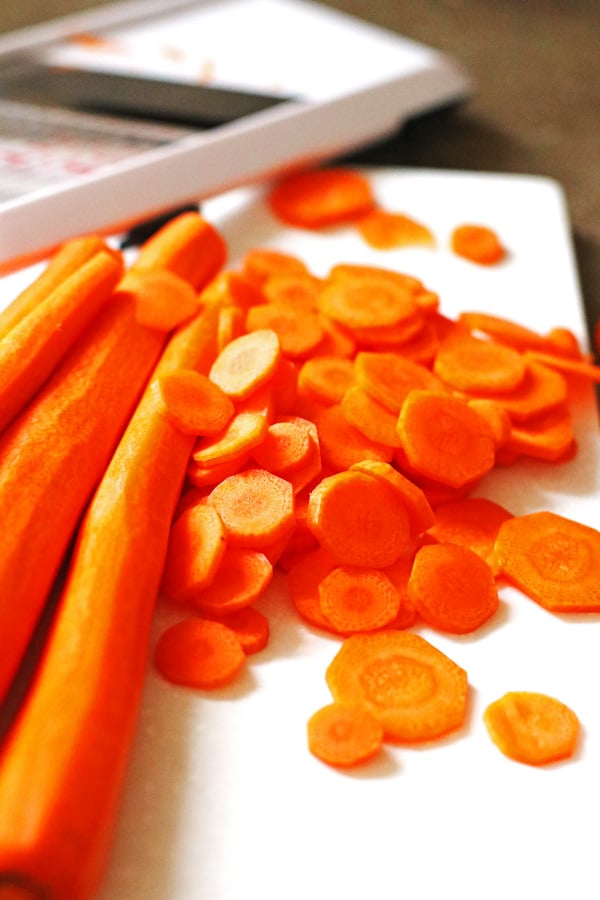 Chop the onion small and add it to the carrots and celery. Next, mix in the frozen corn. Place all the veggies in the crockpot and give everything a good stir.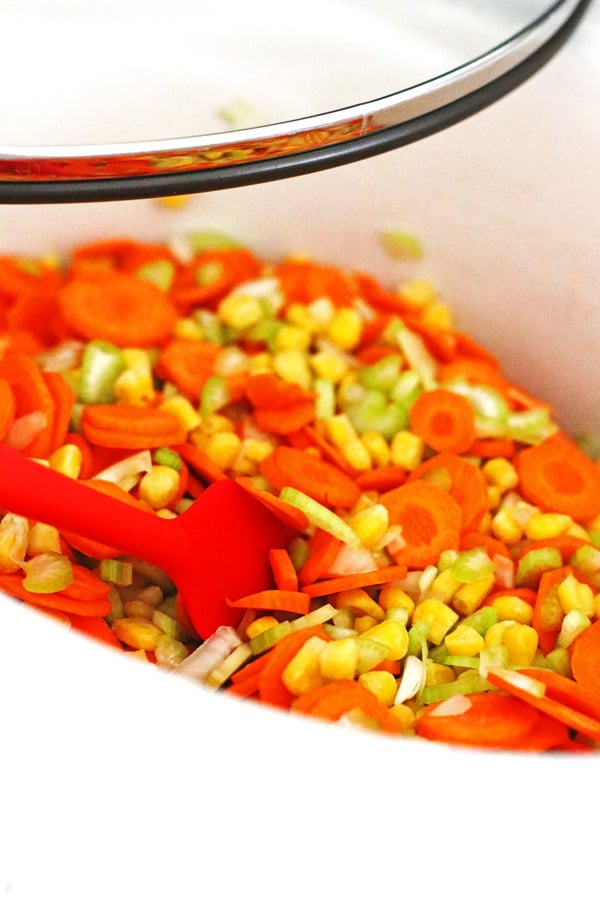 Then pour in the vegetable broth and crushed tomatoes and garlic powder. Give everything a good stir again. Almost done…
Next, cover your crockpot, set it to high and you are good to go. Your delicious and nutritious soup will be ready in 4-6 hours. A good way to tell if the soup is done is if the vegetables are soft and tender (especially the carrots because they take the longest to cook!).
Tip: Short on time? You can cut up the vegetables the night before, store them in the refrigerator in a covered container and just add them into your crockpot with the rest of the ingredients the next morning!
Why this soup recipe works:
It is filled with vegetables. This soup makes a great "meatless Monday"…or any day of the week…dinner.
It is so easy to prepare.
With it cooking in your crockpot, it cooks all day while you do whatever you need to do. And when you walk into your house, the smell of it cooking will make you excited for dinner!
Kids love it. Especially when you add some shredded mozzarella cheese to it. Another great tip to get kids happy to eat this for dinner is to serve it with whole grain tortilla chips. My daughter loves to dip her chips into the soup and eat it that way!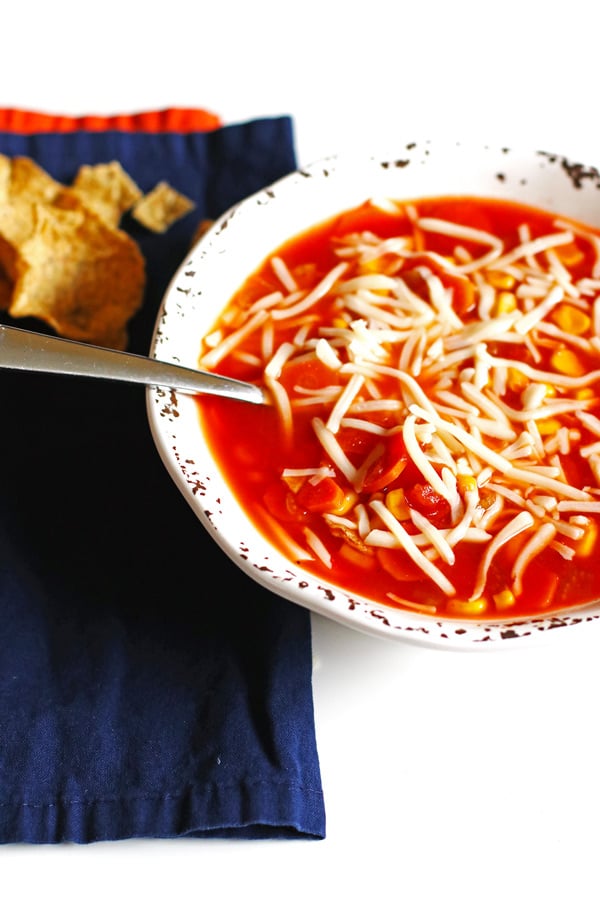 Once cooked, pour the soup into your bowls and sprinkle shredded mozzarella cheese over if you like. It will melt over the hot soup. This is totally optional…the soup tastes great either way. If you like cheese, you will probably love it over this soup like I do!
We have this soup with tortilla chips on the side. We use multi-grain tortilla chips to have with this recipe, but someday I would love to find a good recipe to make homemade ones like in Colombia. They were amazing!
This soup is one of my favorite cold weather dinners to make. I could have it every week during the winter!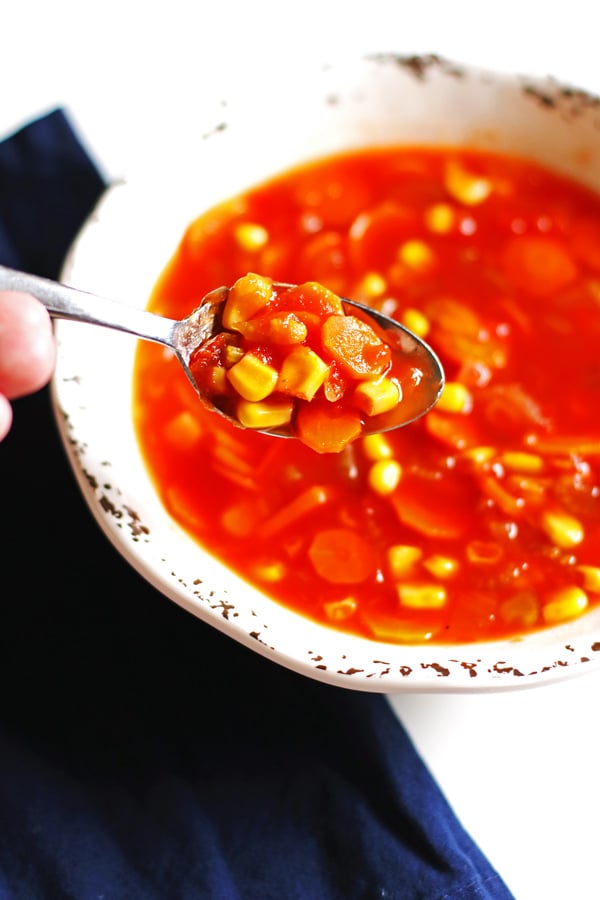 Another soup I make often in the colder months is Crockpot Chicken Soup. I love making soup in my crockpot because they are simple recipes and cook all day long in there!
It is so nice to come home on a chilly day to soup cooking in the crockpot…the smell fills up your home. And, with using your crockpot, the soup is pretty much ready to go at dinner time…what a great feeling that is!
Are you on Pinterest? If so, follow me on there for all of my recipes. If you made this recipe, let me know below how you liked it. I would love to hear from you!
Have a great day!
This post is not sponsored, but you will find affiliate links on this page. The price you pay as a consumer does not change, but I may make a small commission based on your purchase. Thank you for supporting Jeannie's Tried and True Recipes!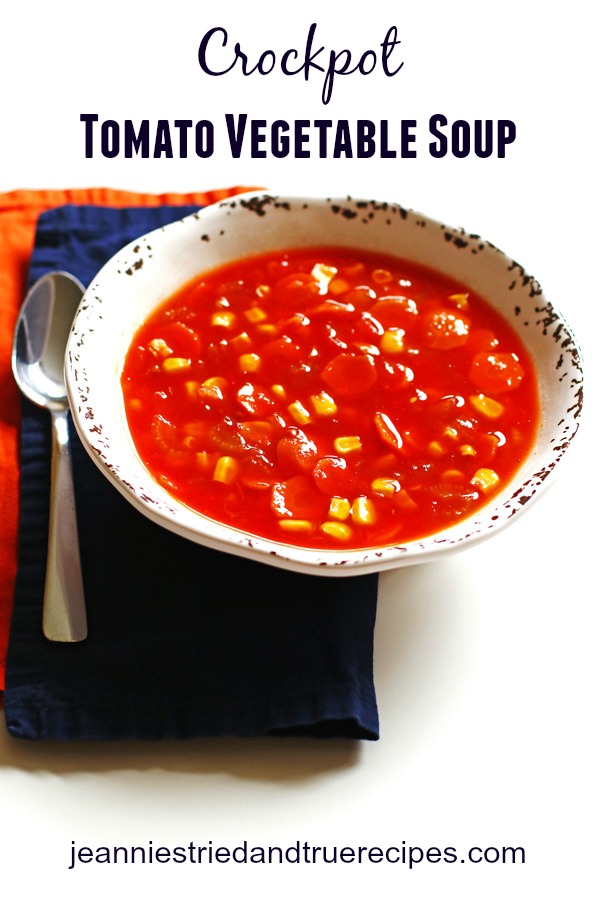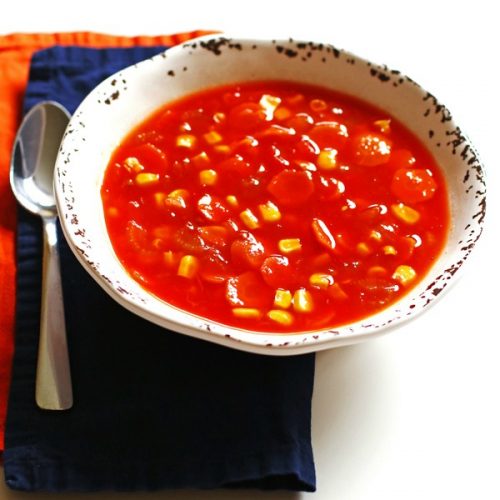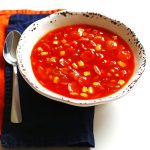 Crockpot Tomato Vegetable Soup
This soup will warm you up on a cold day. It is delicious, easy to make and is filled with healthy ingredients for you!
Total Time
6
hours
30
minutes
Ingredients
2 1/2

cups

thinly sliced carrots (about 6-7 carrots, depending on the size of the carrots)

2

cups

thinly sliced celery (about 1 stalk)

1

small

onion, diced small

2

cups

frozen corn, unthawed

1

container

vegetable broth, 32 ounces

1

can

crushed tomatoes, 28 ounces

3/4

teaspoon

garlic powder

mozzarella cheese, shredded

(optional)

tortilla chips

(optional)
Instructions
Cut up the carrots, celery and onion and place them into the crockpot.

Add the corn in with the other vegetables.

Pour the vegetable broth and crushed tomatoes into the crockpot over the vegetables.

Add in the garlic powder.

Stir ingredients together.

Cover and turn on high for 4-6 hours.
Recipe Notes
Slicing the vegetables thin will ensure that they are cooked thru and soft.
If you are short on time, you can cut up the vegetables the day before. Keep them in a covered container in the refrigerator until ready to use.