Salted Potatoes is a traditional Colombian side dish that we had while we were in Colombia to adopt our daughter.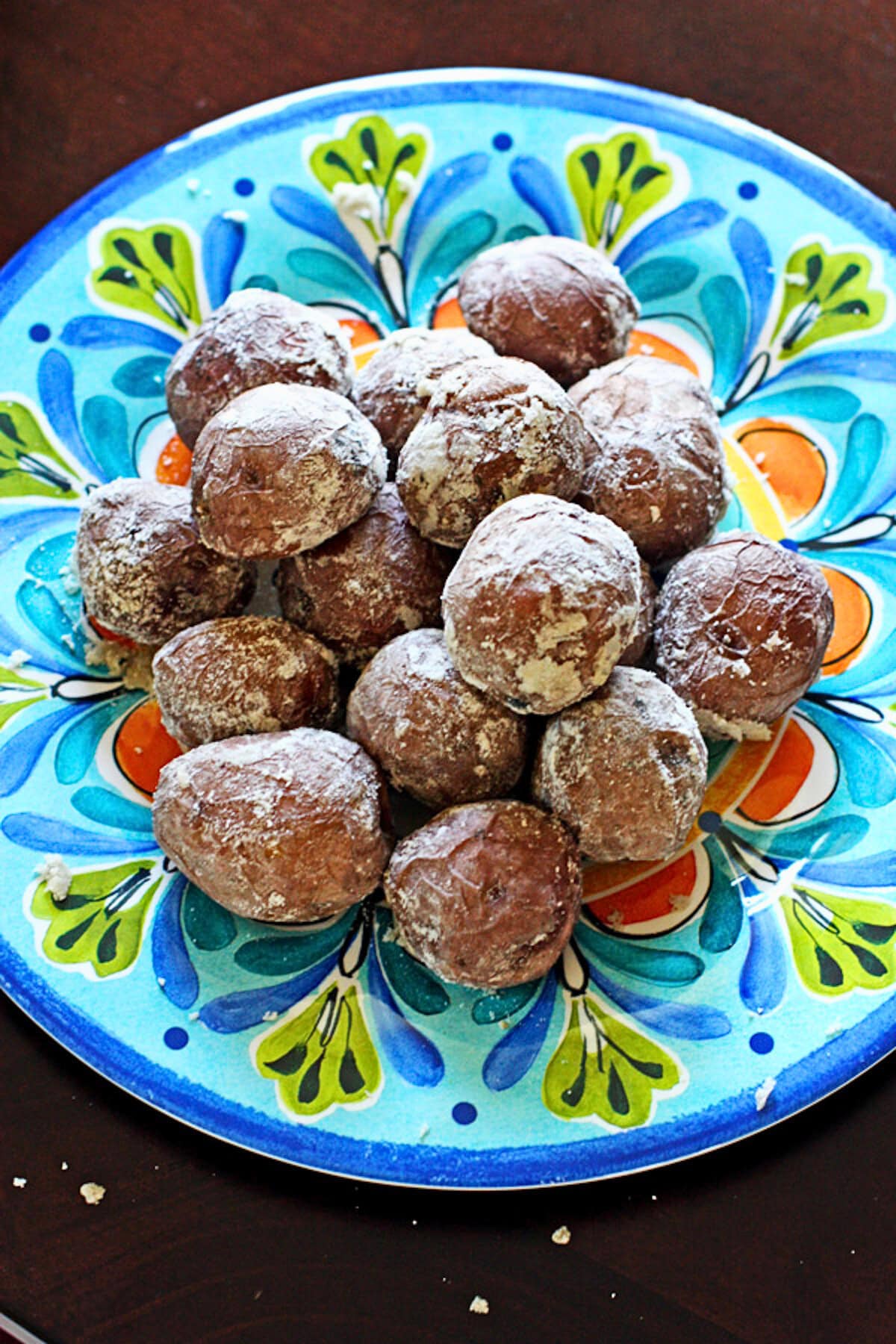 We were there for just about six weeks and were able to take in the sights, sounds and tastes of the beautiful country. We stayed with wonderful people that became our friends. They would serve breakfast and lunch for us each day unless we went out…but with having a five-month-old baby and limited Spanish, we usually stayed in to eat. 
Although, we did make several trips to a place called Crepes and Waffles for their ice cream…the best ice cream we have ever had! One reason right there for us to go back to Colombia for a visit…one of the many reasons. 
Even though we didn't speak much Spanish, had never been to Colombia, had no familiar face to meet us there…it was a trip that we will never forget for so many wonderful reasons.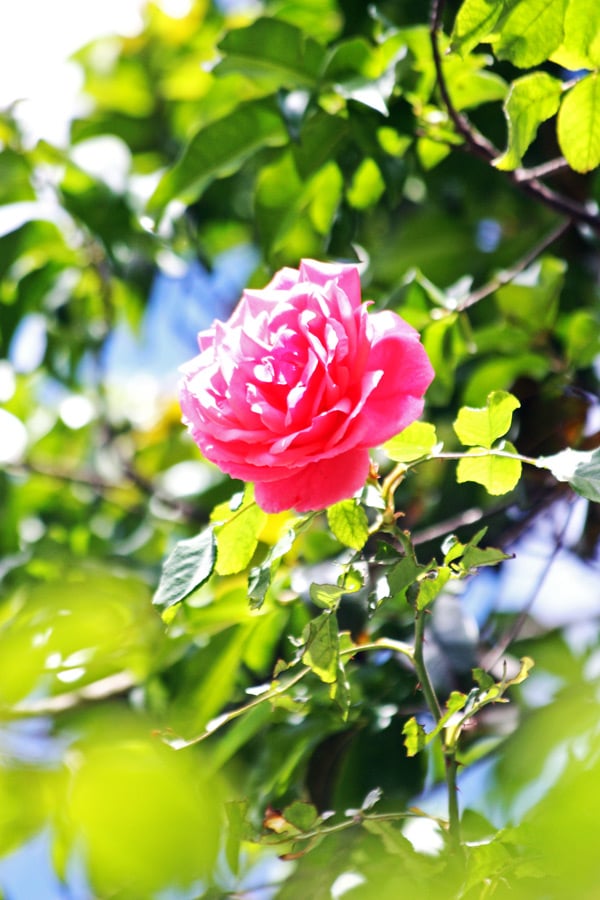 I remember being at the Orlando airport getting ready to board the plane to go to Colombia…it had hit me.  What the heck are we doing?  Flying to Colombia, taking our son out of school and going there for an unknown amount of time?!  At that time, it depended on the adoption judge and paperwork flow as to how long your stay would be there.  We had been waiting 15 months for our daughter and never had I felt this way.  I guess because all I thought of was the baby we were waiting for while going through all the paperwork, etc.  But once we were on our way, it hit me. 
We arrived in Colombia very late at night and got to our destination around midnight...our son wasn't feeling so well.  Maybe it was nerves.  Maybe it was after a long day of travel.  Who knows?  But the next day when we woke up in this unfamiliar country, his first words were "Today is the day we get her" with such a happy look on his face. All three of us were so very excited, and a bit nervous.  It was the day we would be given our beautiful baby girl.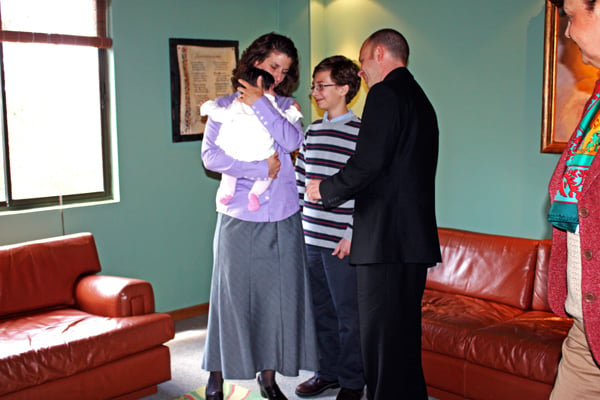 Her beautiful brown hair, big brown eyes and chubby cheeks!  Our little girl was with us.  They gave her to my husband first.  I could not wait to hold her.  After a few minutes, she started to cry a little so the mom in me just wanted to hold her and console her.  My husband must have felt that because he handed her to me…and she stopped crying. 
I remember that moment like it was just the other day, not five years ago.  That moment in my life was one of the best moments in my life.  I felt so happy and so lucky to be given such a beautiful gift and to be her mom.  On the ride back to our place to stay, I remember thinking it didn't matter where we were, as long as the four of us were together.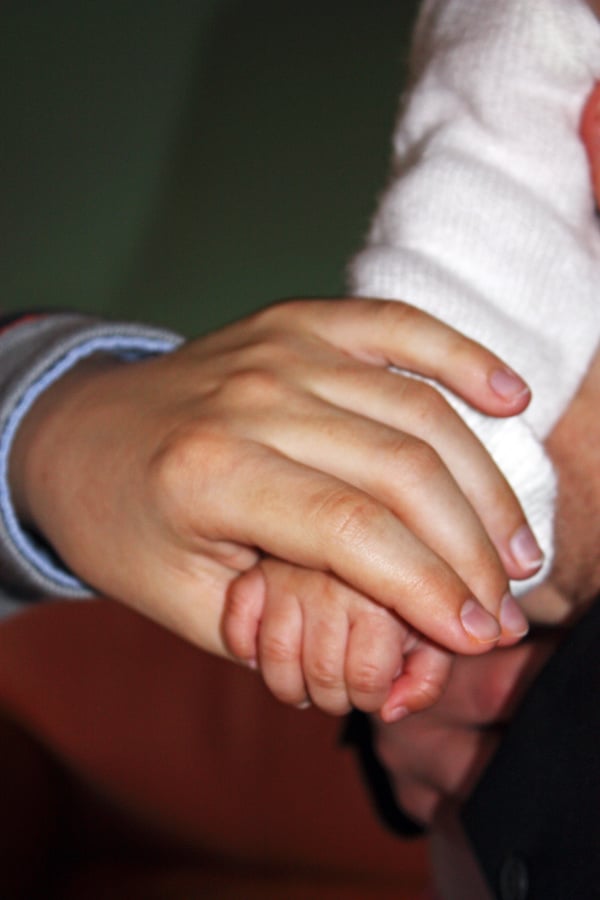 Staying in Colombia for almost six weeks was such great family bonding time.  No work, school to keep anyone busy.  It was such a great time together…I seem to forget the days where I was missing home. :o)  We did get to see some beautiful sights in Colombia.  We were able to taste the foods of the country.  One of our favorites was empanadas…which I still have yet to master a recipe for.   Another favorite was these potatoes we had…they were so tasty we had to ask about them. 
The women who cooked for us told us they were Salted Potatoes (Papa Salada).  So when we got back home we eventually tried making them on our own. We think it is important to bring the Colombian culture into our home here in NY.  This is a recipe that we all love. They are so easy to make…unlike empanadas! (I will share that once I have gotten that one down!)
I hope you don't mind that I went off the subject of the recipe for a while. When I started thinking of the time we had the potatoes, I just started thinking of the wonderful experience it was for us in Colombia. We hope to go back one day for a visit and to see our friends again. And to give our daughter the experience to see the country for herself. Until then, we will continue to bring some of the Colombian culture into our home.  :o)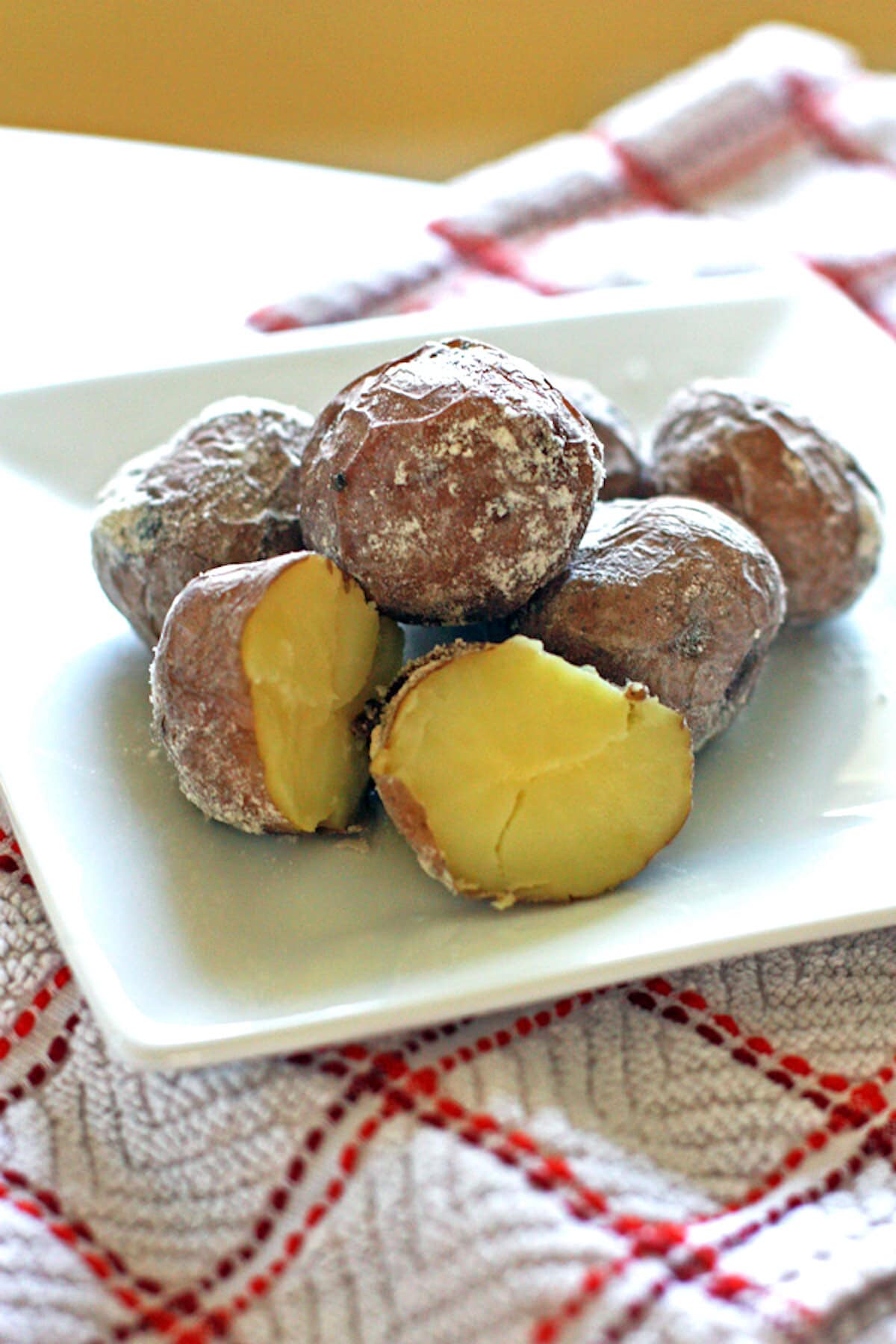 Speaking of that, how about we get back to the recipe?! Just wash your potatoes and don't peel them for this recipe. Place them in your pot and add the water. Put the pot on medium heat and add the salt. A lot of salt.
Bring the water to a boil, cover and cook until the water is evaporated, about 40 minutes. Give the potatoes a little stir so they are covered with the salt. These potatoes go great with my Crockpot Barbecue Chicken recipe!
Did you make this recipe? If so, please leave a comment and rating below. I love hearing from you.
Ingredients
16

small red potatoes

washed and unpeeled

2 ½

cups

water

2

tablespoons

salt
Instructions
Place the potatoes in a medium sized pot and add water.

Turn the heat to medium and add salt.

Bring the water to a boil, cover and cook for about 40 minutes or until all the water has evaporated. Stir the potatoes in the pot to cover the potatoes with the salt.
Notes
Adapted from My Colombian Recipes