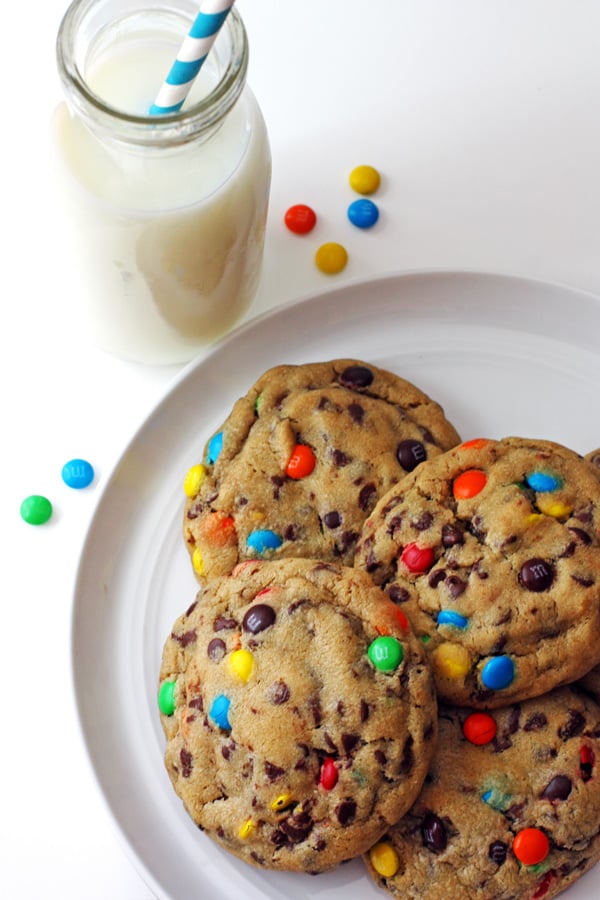 I named these cookies Ultimate Peanut Butter Chocolate Chip cookies because my family and I love them that much. Really. If you love peanut butter and chocolate, you will love these. They are a jumbo sized cookie filled with jumbo sized peanut butter flavor and just enough chocolate with the chocolate chips and M&M's to make any peanut butter and chocolate fan oh so happy! Did I grab your attention? Are you ready to bake some delicious cookies?!
You probably have most of these ingredients in your pantry already. I like to add in mini M&M's because one, they are yummy and two, they are pretty. They add a little color to the cookies. :o)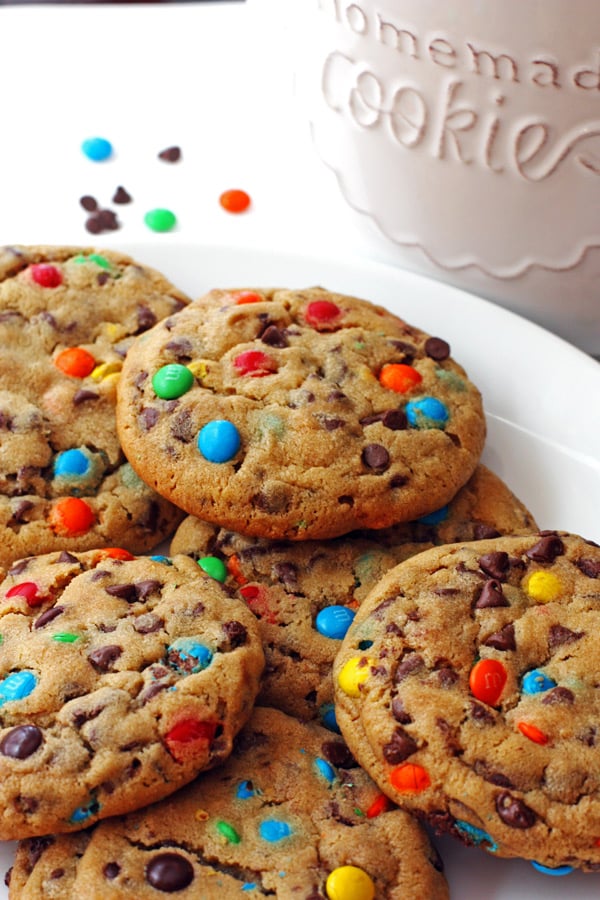 Chilling the dough is something I recommend when making these. Why chill the cookie dough? Chilling the cookie dough makes the dough spread less and makes a thicker cookie. I don't know about you, but we like a nice thick, soft cookie to go with that glass of cold milk. I usually chill the dough overnight.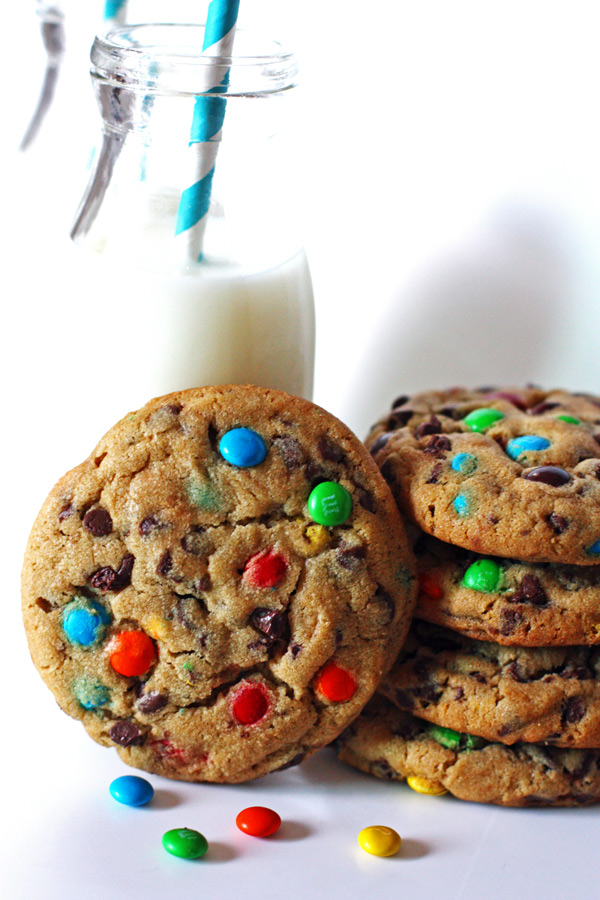 When making the cookies, I would suggest rolling the dough into the ¼ cup sized dough balls and then rolling them again to make them taller than wider (see the photo below). I do this to make the cookies thicker. Just make sure you flatten the bottom a little so they don't tumble while you are placing the cookie sheet in the oven. Yes, that happened to me. We learn from experience, right?! I usually place six at a time on my cookie sheet so they have room since they are jumbo cookies. Jumbo size, jumbo flavor! These cookies are one of our favorites in our house. I hope they become a favorite in your home too. :o)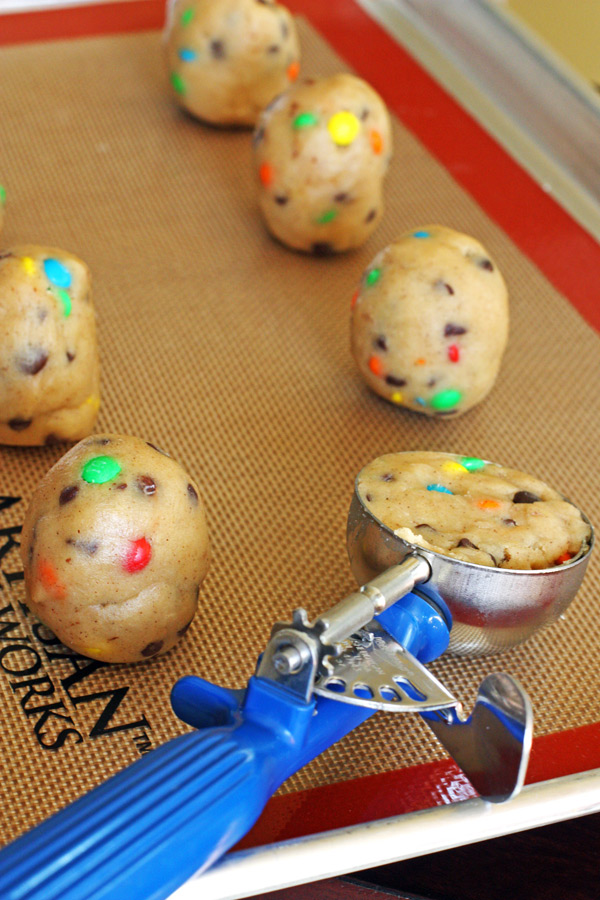 And if this is not a sweet enough treat for you, here is another idea of what you can make with these cookies. Ice Cream Cookie Sandwiches! We made them this summer and they are swwweeeet! We chilled the cookies in the fridge just for a little while. For this additional recipe, you will need one pint of vanilla ice cream and sprinkles. Again, sprinkles just make them look prettier! A tip for doing the ice cream…cut the bottom of the pint container off and push the ice cream out onto a chilled plate. Cut the ice cream into about one inch slices. Then place a slice of ice cream on one cookie. Place the other cookie on top and add sprinkles. Just have those cookies and sprinkles ready to go because when working with ice cream, you have to work fast! It melts so quickly! They are best eaten right away but you can quickly wrap them up and freeze for later.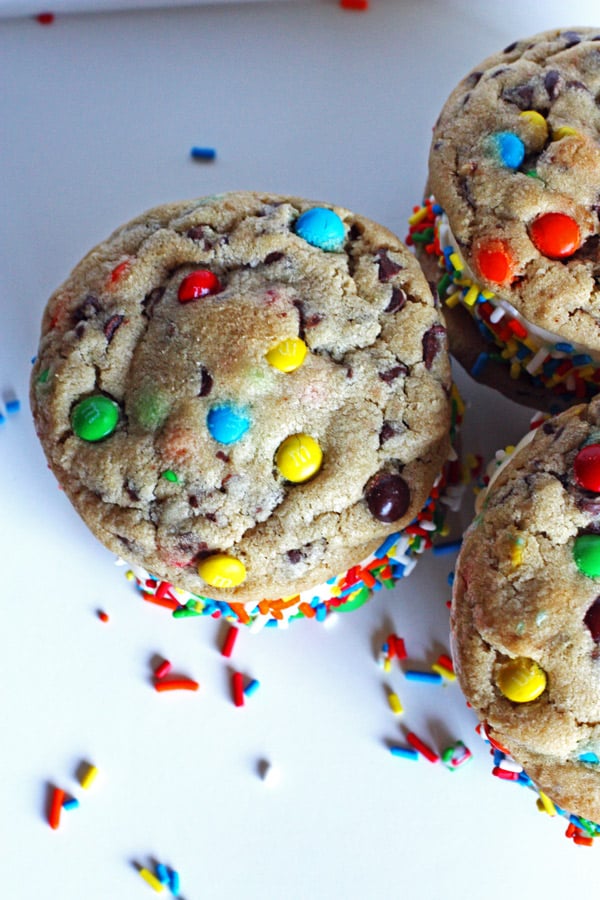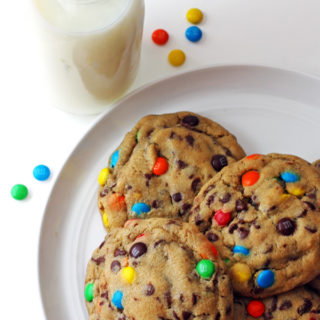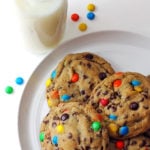 Ultimate Peanut Butter Chocolate Chip Cookies
Ingredients
½

cup

butter at room temperature

½

cup

granulated sugar

¼

cup

brown sugar

1/3

cup

creamy peanut butter

1

egg at room temperature

1

teaspoon

vanilla

1¼

cup

flour

1

teaspoon

cornstarch

½

teaspoon

baking soda

¼

teaspoon

salt

1

cup

mini chocolate chips

1

cup

mini M&M's

Additional mini chocolate chips and/or M&M's

optional
Instructions
In a large bowl, with a stand mixer or hand held mixer, beat the butter, sugars, and peanut butter until mixture is smooth and creamy.

Beat in the egg and add in the vanilla.

In a separate bowl, combine the flour, baking soda, salt and cornstarch.

Slowly mix the dry ingredients into the wet ingredients until completely combined.

Add in the chocolate chips and M&M's until just mixed in.

Chill the cookie dough at least two hours or overnight.

Preheat oven to 350 degrees.

Using a large cookie scoop or 1/4 cup measuring cup, drop cookie batter balls onto ungreased cookie sheet. (Line cookie sheet with parchment paper or silicone liner, optional.)

Roll the cookie balls taller than wider. Place six at a time on each cookie sheet, leaving about 2 inches in between each one.

Press additional chocolate chips or M&M on top, optional.

Bake at 350 degrees for 12-15 minutes, until slightly browned edges.

Cool on cookie sheet for 5 minutes before placing on wire rack to cool completely.
Recipe Notes
Chilling the dough is not mandatory, but I like to chill my cookie dough as it helps make a thicker cookie.