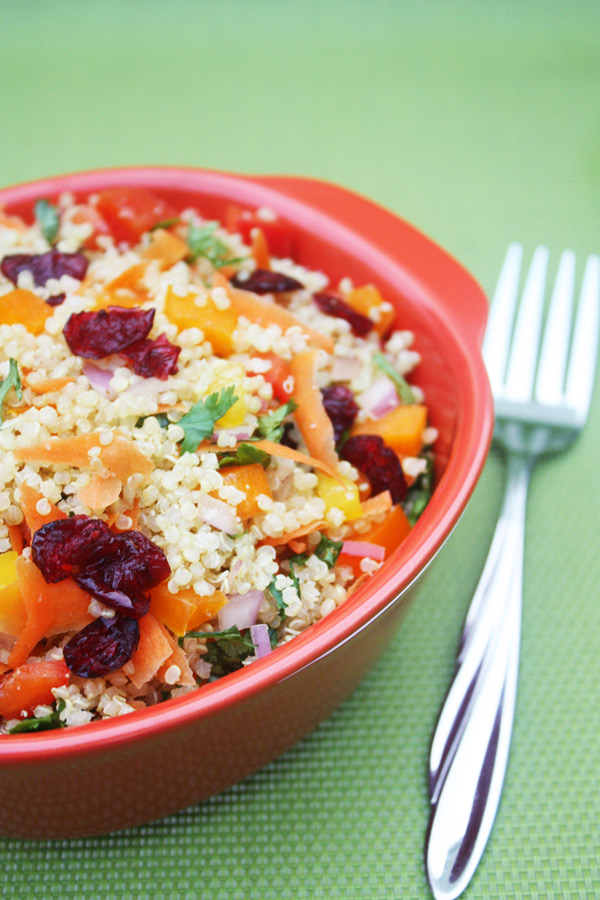 This recipe is dedicated to Carol Angiers and all those who are fighting cancer.

This Veggie Quinoa salad is perfect for a hot summer day. It's cool and refreshing, not to mention it is full of healthy ingredients! You can make it as a vegetarian salad or add chicken to it…however you like.

Quinoa is great as it contains protein, fiber and minerals and is gluten free. I like to use this in recipes instead of rice. Partly because of the health benefits but also it tastes great! Cooking the quinoa is easy. It's best to read the directions on the specific box you purchase as each one may differ. With the brand that I use, I just place the quinoa and water in a medium pan on high heat. Once it boils, cover and simmer until all the water is absorbed. Usually about 15 minutes. For this recipe, you should chill the cooked quinoa.
While the quinoa chills, cut up the peppers and onion and shred the carrots. Also chop up the fresh cilantro. I love cilantro. It can really wakes up a dish with such great flavor! Chop up the Brazil nuts. I put the nuts in because they are high in selenium. Selenium is an antioxidant that can help protect healthy cells from damage. You can also use sliced almonds instead of Brazil nuts. I just decided to use the Brazil nuts because of the health benefits of that nut.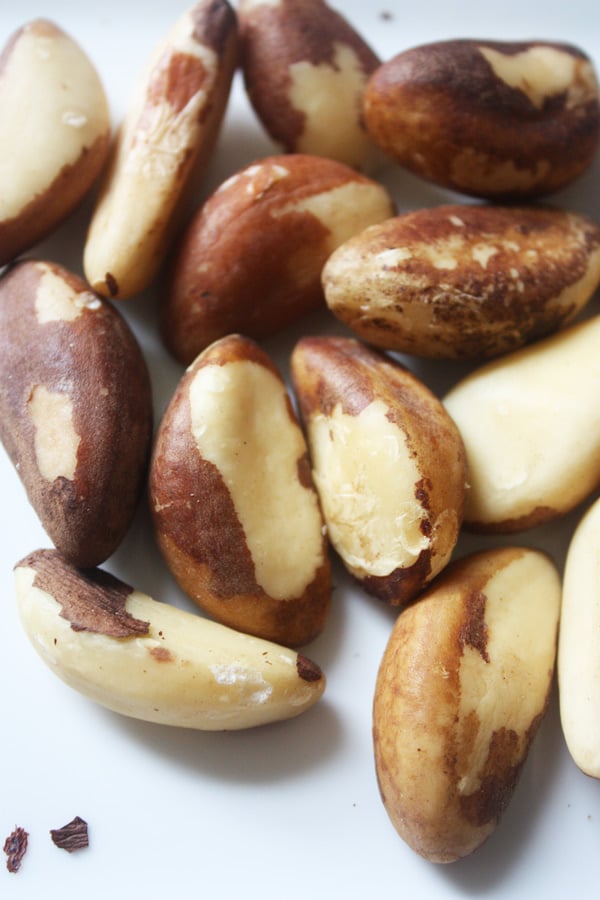 Once you have all the ingredients ready to go, combine them in a large bowl with the chilled quinoa. If you are using chicken, add the cooked chicken to the salad mix. Sprinkle with salt and pepper. Squeeze the lime juice over the salad and gently toss.

Now, this is where we differ on the recipe in my house. You can serve it as is right now…with the chicken being warm and only the quinoa chilled. Or, you can place it back into the refrigerator to chill the entire salad. Either way is delicious. The first time I made it I did not chill the entire salad and it was good. The second time we had the salad it was chilled and a family member commented that they liked it better with the chicken warm. So, it is totally up to you with how you would like to serve it. If you are chilling the entire salad, I would suggest chilling it for at least an hour. Enjoy! :o)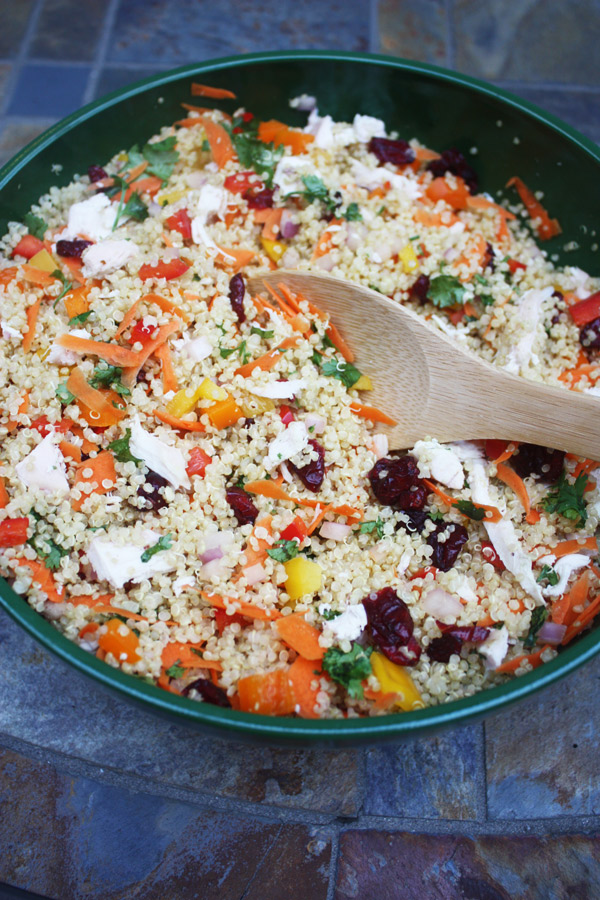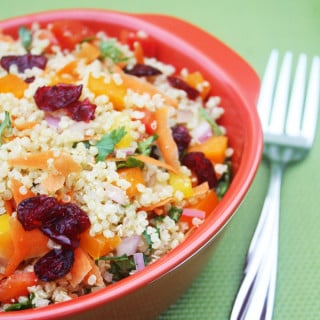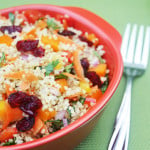 Vegetable Quinoa Salad
Ingredients
2

cups

quinoa

uncooked

1

lb.

cooked chicken

optional

1

orange sweet pepper

diced

1

red sweet pepper

diced

1

yellow sweet pepper

diced

¼

finely chopped red onion

1

cup

shredded carrot

about 2 carrots

½

cup

chopped fresh cilantro

2

tablespoons

Brazil nuts

chopped finely or sliced almonds

1

cup

cranberries

dried

¼

teaspoon

salt

¼

teaspoon

pepper

Juice from 2 limes
Instructions
Cook quinoa according to directions on the box.

Place the cooked quinoa in the refrigerator to chill.

While the quinoa is chilling, cut the vegetables, chop the cilantro and nuts.

If using chicken, cook and cut up the chicken or use a cooked Rotisserie chicken.

Combine all ingredients in a large bowl.

Sprinkle with salt and pepper.

Squeeze lime juice over salad and mix well.

Serve as is or if you prefer it chilled, cover and chill at least one hour. It can be served either way.
Recipe Notes
Adapted from Super Healthy Kids