With Memorial Day quickly approaching, you might be looking for a recipe to take to a picnic or just something easy to make for your family.  Especially when it gets warmer outside. This Antipasto Pasta Salad really hits the spot.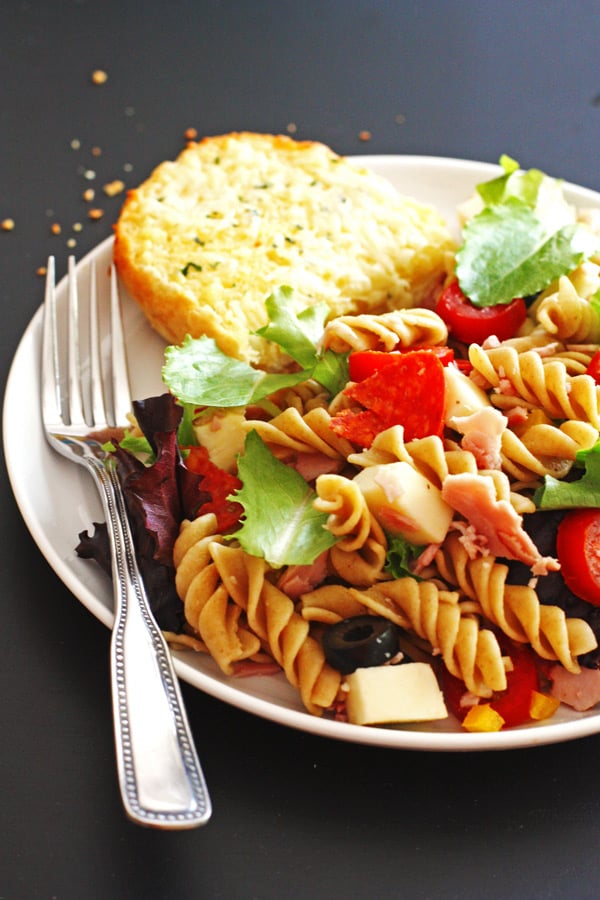 Summer brings warmer and sunnier days but our calendars can also get filled up pretty quickly.  Memorial Day, Fourth of July, graduation parties and just simply hanging out with friends and family. If you need a quick and easy dish to share, this Antipasto Pasta Salad is one I would really recommend.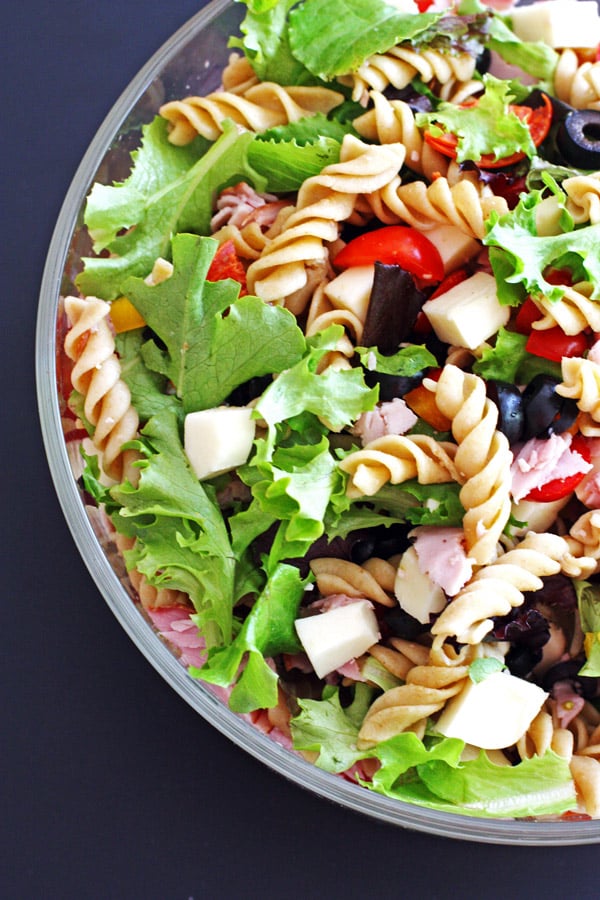 I really like dinners like this one when summer is here.  We have a pool and if we have nice weather and a chance to just hang out by the pool, then that is where we will be. There is something about just sitting by the pool and relaxing… 
So when we have days like this we need to have simple and quick dinner recipes like this one for Antipasto Pasta Salad.  Another family favorite recipe to have during pool season is our homemade salsa with tortilla chips. What is your favorite summer recipe?
I have made this a few times for my family for dinner and it was a winner!  It even was a win with my daughter who can be a picky eater at times…as most kids have those days. Most of my recipes are what I like to call "family-friendly"…recipes that are liked by adults and also kid-friendly.  It also means pretty simple to make.  Because we all want more family time together than in the kitchen, right?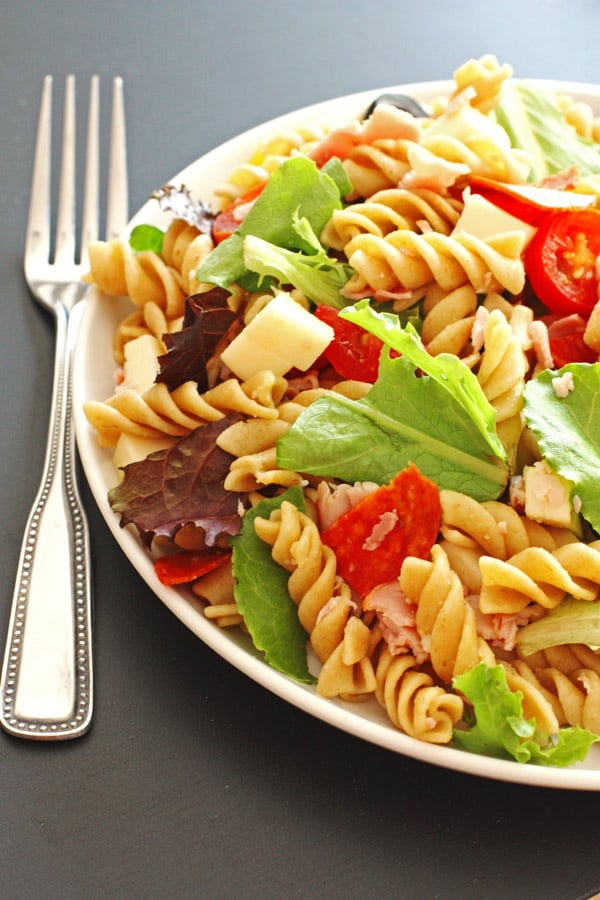 This Antipasto Pasta Salad makes a great dinner for a family of four (we usually have a little extra left over which makes a great lunch). If you are making it for a bigger crowd, I would double it. 
To make it, just cook your pasta according the directions on the box. Once the pasta is drained and cooled, place the pasta into a large bowl. Add in all the ingredients and give everything a good toss to mix all the ingredients together. My daughter isn't a fan of the banana peppers, so we just add them into our individual servings if we want them for added flavor.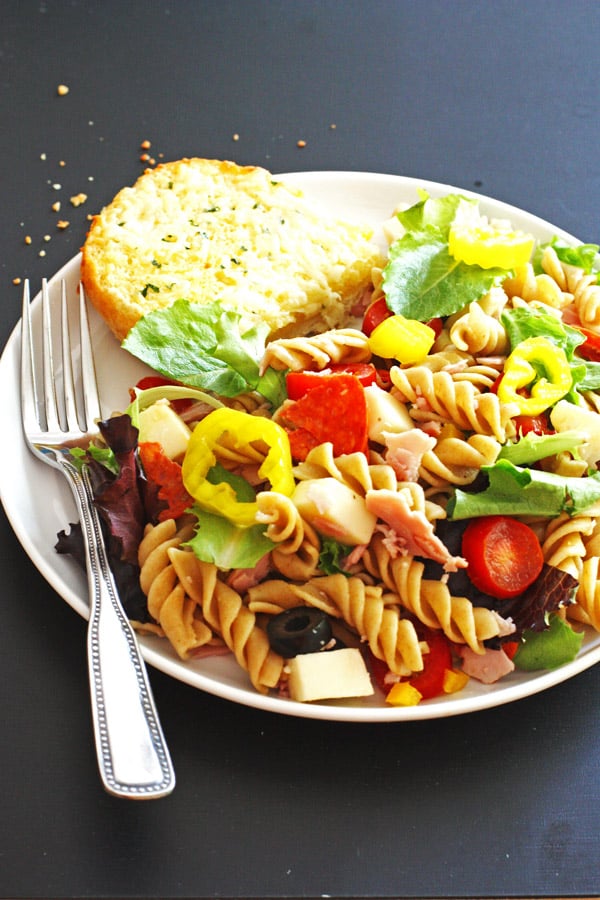 My husband and I usually use our Balsamic Vinaigrette dressing recipe. However, our kids like to use Ranch dressing as that is their preferred dressing for salads and veggies.
If you are looking for a dessert for Memorial Day, check out my M&M Kit Kat cake recipe.  It is one of my favorite desserts.  It actually might be the favorite one of all desserts for me.  If you are a candy lover…or chocolate lover, this is perfect for you!  And it is very festive looking which makes it fun for Memorial Day and the Fourth of July. 
I used to buy regular M&M's and then just take out the red and blue ones but this year I found packages of red, white and blue M&M's at my local grocery store!  I was so excited when I saw them in the store…I actually said out loud "I can use these for my cake"! The little things that excite us! 
Did you make this recipe? If so, please leave a comment and rating below. I love hearing from you.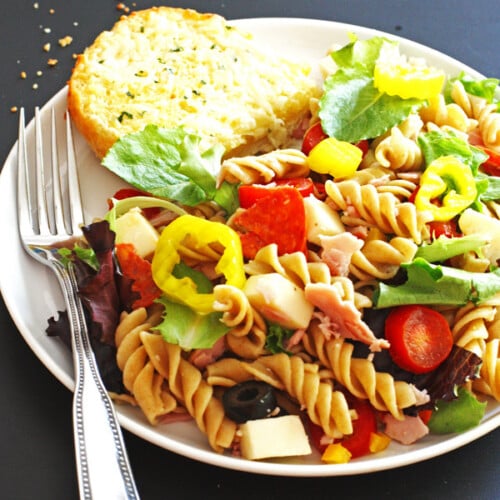 Ingredients
8

ounces

whole wheat pasta

½

pound

ham

diced

⅓

cup

pepperoni

diced

2

cups

grape tomatoes

sliced

1

sweet bell pepper

diced

1

cup

mozzarella cheese

cubed

⅓

cup

black olives

sliced

2

cups

dark salad greens

banana peppers

optional
Balsamic Vinaigrette Ingredients
6

tablespoons

extra virgin olive oil

2

tablespoons

balsamic vinegar

¼

teaspoon

garlic powder

Pinch

Italian seasoning
Instructions
Cook pasta following directions on the box. Drain the pasta and let it cool.

8 ounces whole wheat pasta

Cut up the ham, pepperoni, grape tomatoes, peppers, and cheese.

½ pound ham,

⅓ cup pepperoni,

2 cups grape tomatoes,

1 sweet bell pepper,

1 cup mozzarella cheese

In a large bowl, combine all the salad ingredients and give a good toss.

⅓ cup black olives,

2 cups dark salad greens,

banana peppers

In a small bowl, whisk together olive oil, balsamic vinegar, garlic powder, and Italian seasoning to make a quick vinaigrette.

6 tablespoons extra virgin olive oil,

2 tablespoons balsamic vinegar,

¼ teaspoon garlic powder,

Pinch Italian seasoning

Drizzle the vinaigrette over the salad and serve right away.