This Chocolate Peanut Butter Smoothie Bowl is the second one I have made for my family. It is so sweet and delicious…you will love to have it to start your day with or as an afternoon snack.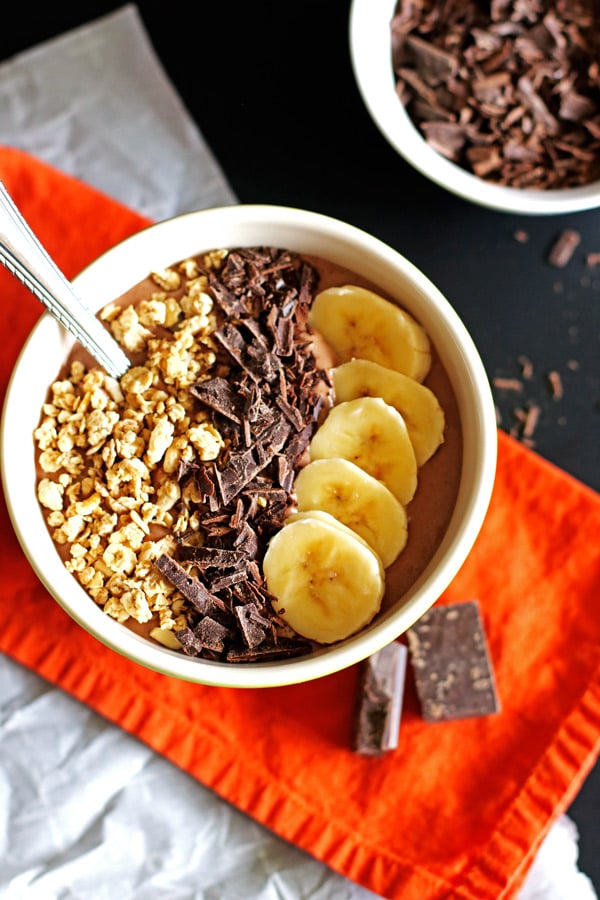 There are many foods that just go well together. Peanut Butter and Chocolate combo has to be at the top of that list. Reese's Peanut Butter Cups….a favorite candy to many people. So I thought this would be a good combo to try for a smoothie bowl.
I will warn you though…it is sweet. The chocolate. The peanut butter. If you love sweet foods, then this is perfect for you!
I added a couple of frozen bananas to this smoothie bowl.  A little tip…peel the bananas before freezing them.  I learned that the hard way when I made my Berry Banana Smoothie Bowl. The first time I froze a banana, I took it out to peel it and that was not an easy task! 
What are the main ingredients that make up a chocolate smoothie bowl?
Chocolate ~ I used coarsely chopped bakers chocolate for this instead of chocolate chips to use as a topping for this smoothie bowl.  One reason is because I thought it would look prettier.  The other reason is because that is what I happened to have in my house that day.  You can take a sharp knife and coarsely chop it or use a vegetable peeler and do it that way.  Chocolate chips work great too.  It's your choice.  I use Hershey's cocoa powder to make the smoothie nice and chocolaty.
Peanut Butter ~ Creamy peanut butter.  You could also use Almond Butter if that is what you prefer.  A good, creamy nut butter will work well for this recipe.
Greek Yogurt ~ Greek Yogurt has many health benefits for us.  It is high in protein.  Other health benefits of Greek Yogurt are probiotics, Vitamin B12 and calcium.
Frozen Bananas ~ Bananas are a great fruit choice because they are high in essential vitamins and minerals and also high in fiber.  I like to add bananas to a lot of my smoothies, including my Tropical Smoothie recipe.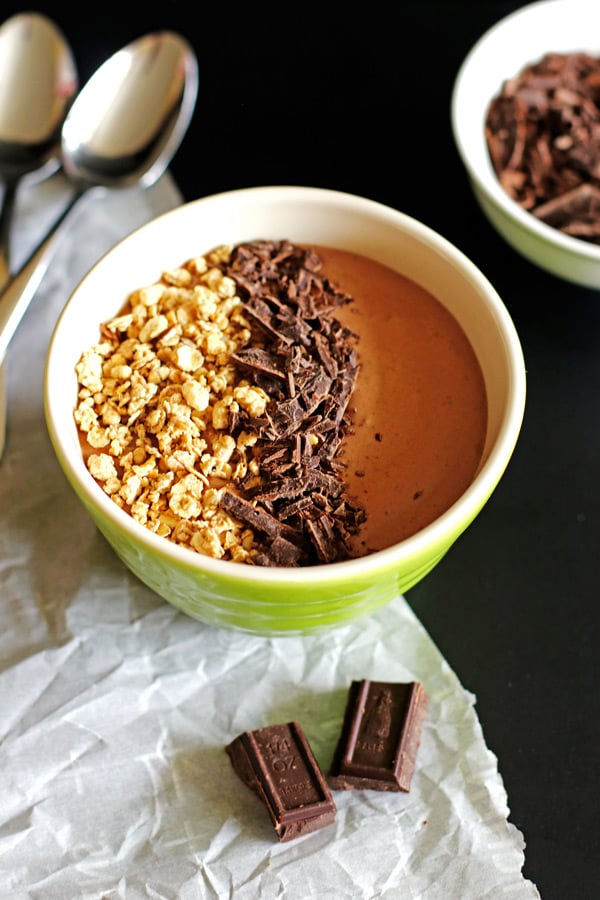 One tip for making smoothie bowls is to chill your bowl while you are preparing your smoothie ingredients. That will help it stay cold longer.
Smoothie bowls are great for breakfast or a healthy snack. This one could be eaten on its own or shared with someone special.  I had a little extra and placed it covered in my fridge until the next day.  I actually think it tasted better the next day!   Kind of like banana bread.  I love banana bread even more the next day...it just seems to taste better.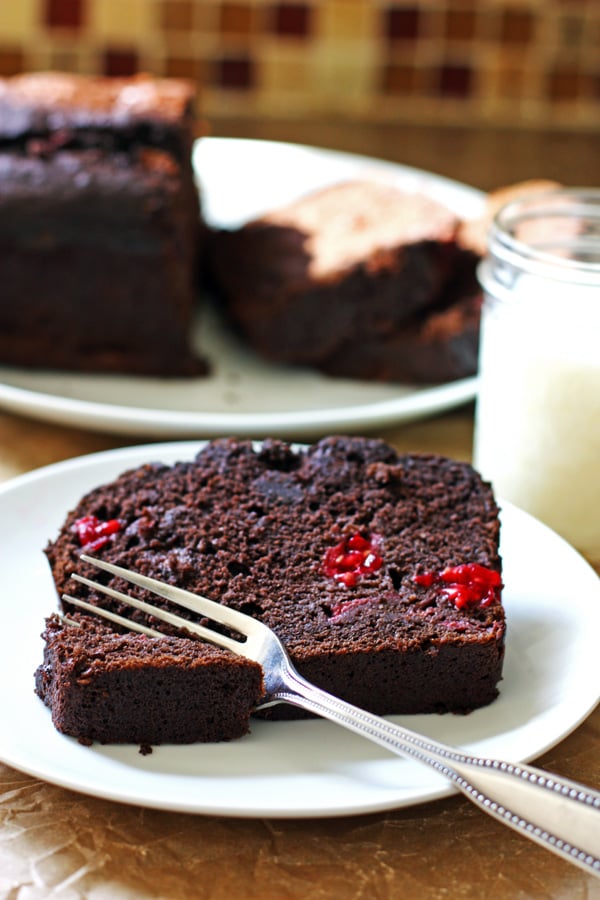 How to Make a Chocolate Smoothie Bowl:
To make this smoothie bowl, combine all the ingredients in your blender and blend until smooth. It will be thick. If you would like it thinner, add more milk. The consistency will look like soft serve ice cream. Then scoop it into your chilled bowl.
Now the fun part…the toppings. Make sure you get all the toppings ready before you make the smoothie so you can add them while it is still cold. I used sliced banana, coarsely chopped chocolate and granola to top it off. Feel free to use whatever makes you happy!
If you love peanut butter, then you might want to drizzle some peanut butter over it for an extra pop of peanut butter flavor. ..and then when you are done, check out my recipe for Ultimate Peanut Butter Chocolate Chip Cookies.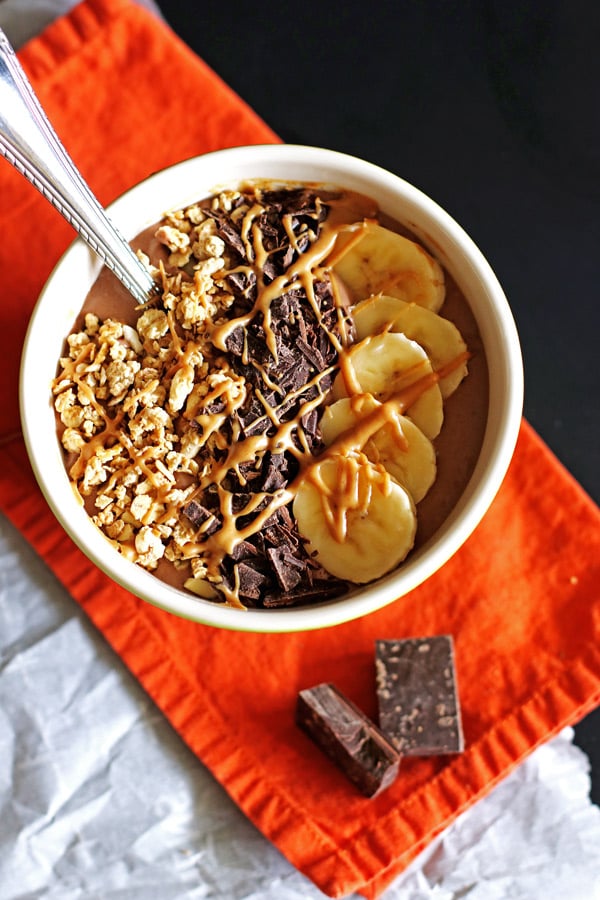 To get the peanut butter to a consistency that you can drizzle it, just warm it up in the microwave.  Place it in a small microwave-safe bowl and heat it in the microwave for 30 seconds.  Stir it and if it still is not thin enough to drizzle, then heat again in 15 second increments, stirring after each time.  Then using a spoon drizzle it lightly over the toppings.
And there you have it…a delicious, creamy smoothie bowl! Enjoy!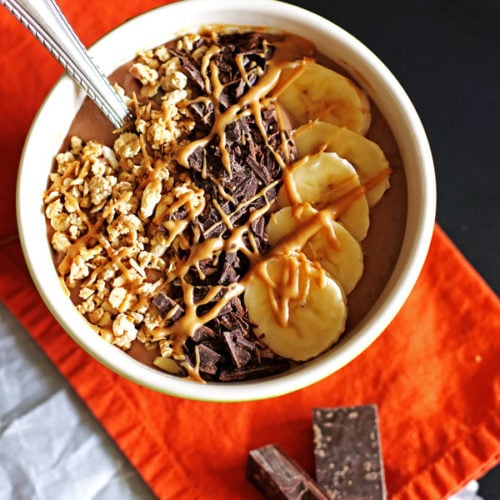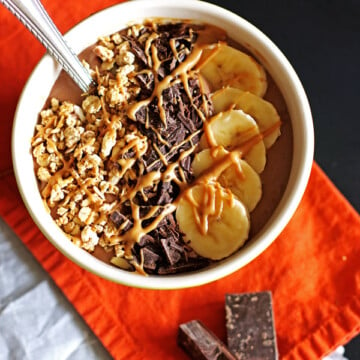 Ingredients
½

cup

plain Greek yogurt

¼

cup

milk

2

tablespoons

creamy peanut butter

2

tablespoons

cocoa powder

1

tablespoon

ground flaxseed

2

frozen bananas
Toppings:
Coarsely chopped chocolate or chocolate chips

Sliced Banana

Peanut Butter to drizzle, optional
Instructions
Place all ingredients in your blender.

Scoop or pour into your bowl.

If drizzling with peanut butter, heat the peanut butter in a small microwave safe bowl for 30 seconds. Stir. If it is not thin enough, heat at 15 second increments until it is at your desired consistency. (Stir after each 15 seconds.)