Looking for something easy to make for your little goblins this Halloween? Check out these ghost Milkshakes that are so much fun to make!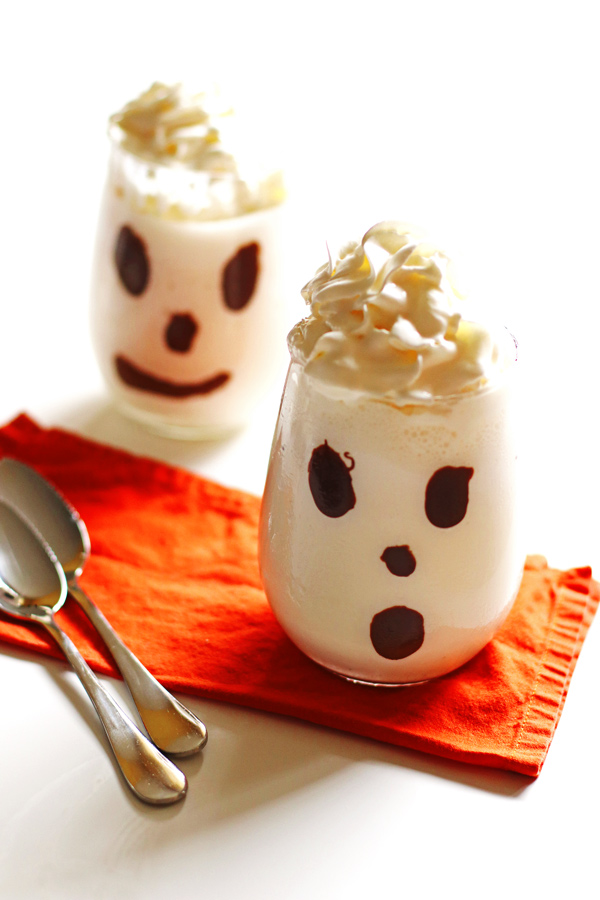 These Halloween Ghost Milkshakes are a hit with kids! Not only do they like to drink them, but they are also kid friendly to make.
Recently we made them and my daughter asked to make her own. She is 8 years old and could easily make the faces on her glass.
She loved making them. I am not sure which part she loved more…making the faces or drinking the milkshake!
Ingredients that you will need to make Halloween Ghost Milkshakes:
Vanilla Ice Cream
Milk (we used skim milk)
Chocolate Chips
Whipped Cream
You will also need clear glasses for this recipe. We used a spoon handle to make the faces with the melted chocolate.
How to make Halloween Ghost Milkshakes:
First thing to do is to make the ghost faces on your glasses. Make them scary or friendly…whatever you feel like.
To make the faces, melt the chocolate chips in a microwave safe bowl in the microwave. Heat them for 30 seconds and then stir the chocolate. You want the chocolate to be smooth and creamy. You might need to do additional 15 second increments, stirring after each one, until the chocolate is ready.
We used the end of a spoon handle to "paint" the melted chocolate on, to make the faces. I know real fancy, right? We first tried using a spoon and it was just too much chocolate. The handle worked out much better.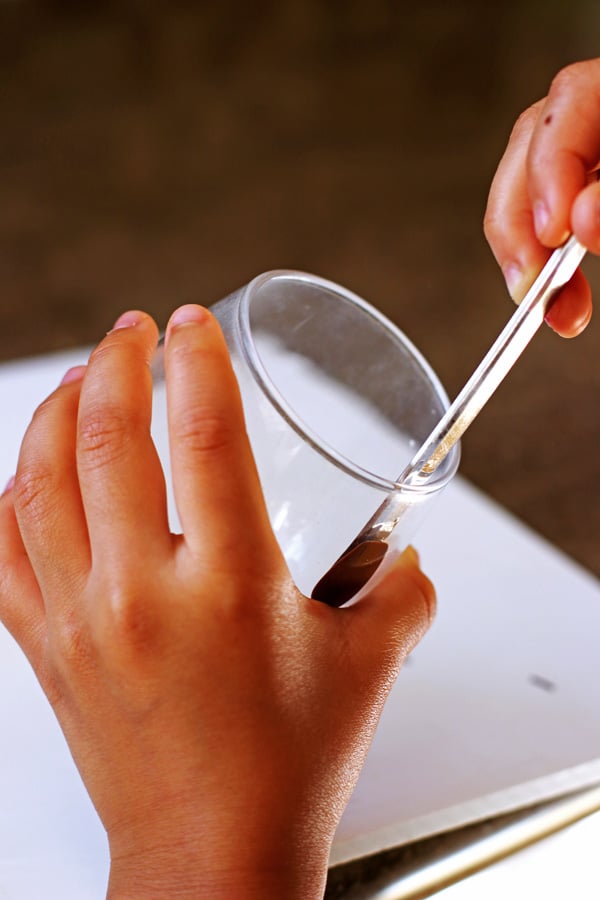 When making the faces, dip the end of your spoon handle into the chocolate and just use a little chocolate for each part of the face. If you put too much on the spoon, it might just turn into a big glob of chocolate instead of an eye.
Our daughter had fun making her ghost face. She did a great job and was so excited about making one.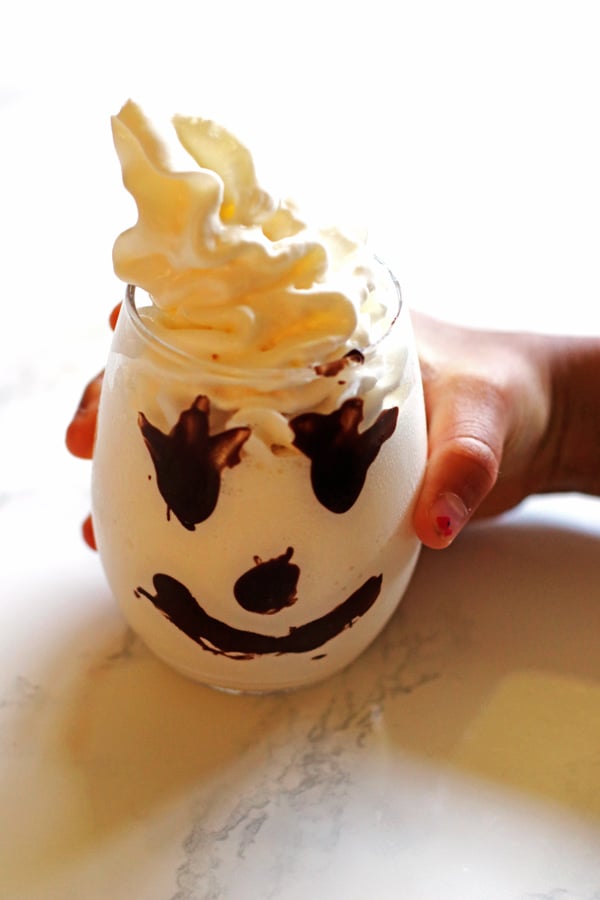 Once you have the faces done, place the glasses into the refrigerator so the chocolate can set. This takes about an hour.
How do you know if the chocolate is set? Just gently press on the chocolate with a spoon or your finger. If it doesn't move or smudge, you are good to go!
Next, make the milkshake. Just place the ice cream and milk into your blender. Blend ingredients until they are mixed well. It should be a thick consistency.
We used 3 cups ice cream and 1½ cups milk to make our milkshakes. If you want it to be thinner, add more milk. Just add a little at a time so it doesn't become too thin.
Same goes for if you prefer it to be a thicker milkshake, add in a little more ice cream until you have the desired consistency.
Pour the milkshake into your glass to about 1-2″ from the rim of the glass. That leaves room for the whipped cream.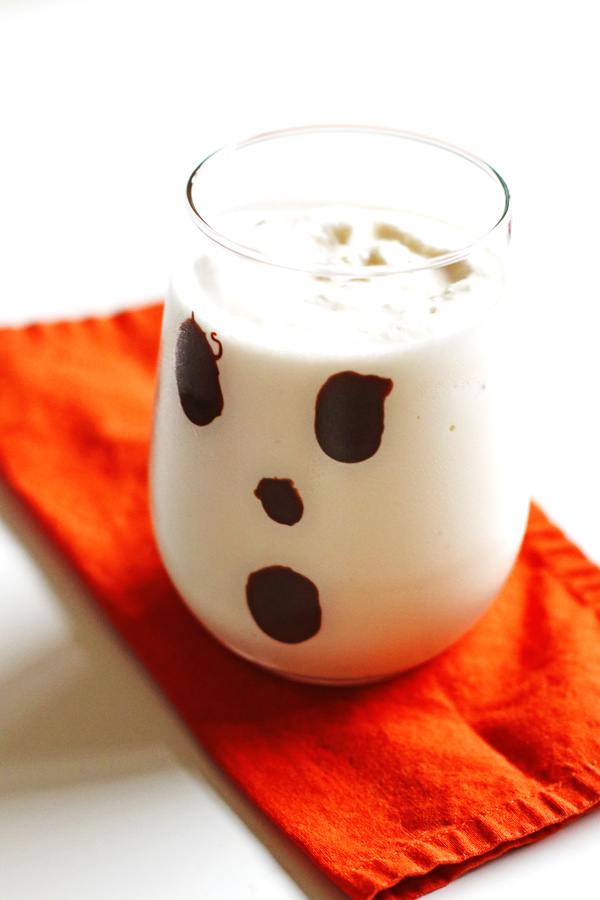 Then take the Reddi whipped cream and swirl that around a few times to top off the ghost.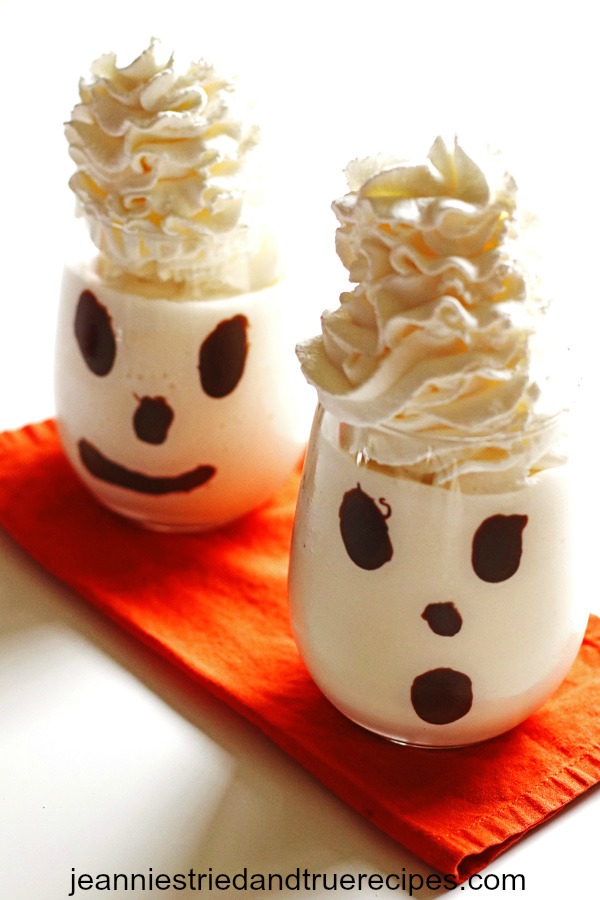 These ghost milkshakes would be a fun dessert for the Halloween season. This would be a fun treat for your kids to have after going out trick or treating.
We love Halloween in our house. It is right up there with Christmas. We decorate our house inside and out. My kids love to be home and hand out the candy…and be a little scary! Just hoping for good weather on Halloween… Where we live, it could snow, rain or be warm.
Here are a few more Halloween recipe ideas for you:
Enjoy your Halloween and be safe!
If you make this recipe, I would love to hear from you in the comment section below.
~Jeannie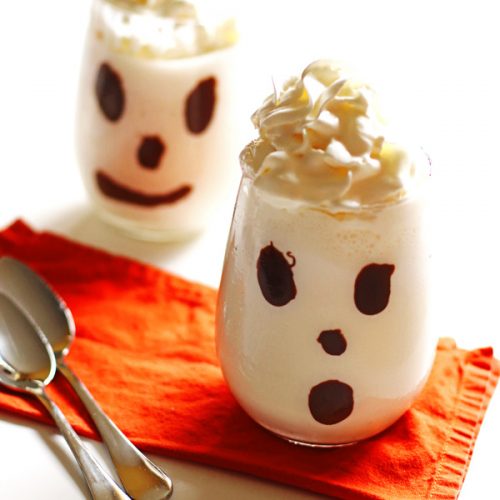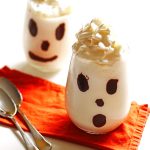 Halloween Ghost Milkshakes
These Halloween Ghost Milkshakes are the perfect treat to you Halloween!
Ingredients
3

cups

vanilla ice cream

1 1/2

cups

milk

1/4

cup

chocolate chips

Whipped Cream (we use Reddi Whip)
Instructions
To make the ghost faces:
Place the chocolate chips in a microwave safe dish. Heat on high for 30 seconds and stir. If needed, heat for an additional 15 seconds until you the chocolate is creamy. Stir after each 15 second increments.

Using the handle of a spoon, decorate the face. Dip into the melted chocolate and just add a small amount to the glass for each part of the face.

Let it set in the refrigerator, about an hour.
To make the milkshake:
Place ice cream into the blender. Add milk and blend until ingredients are mixed together.

Pour milkshake into the decorated glasses, leaving one to two inches to the rim for the whipped cream.

Add in the whipped cream to the top of the milkshake.

Serve right away.
Recipe Notes
If you want the milkshake thinner, add more milk, adding a little more milk at a time. If you prefer it thicker, add more ice cream until you have desired consistency.
This recipe makes about 4 1/2 milkshake. How many servings you get depends on the size of the glasses that you use.