This refreshing Fruit Smoothie is made up of a mix of kiwi, apple, bananas, strawberries and frozen pineapple. The blend of fruits make this a delicious and healthy drink that you can have for a healthy breakfast or a snack. Kids will love this fruit smoothie!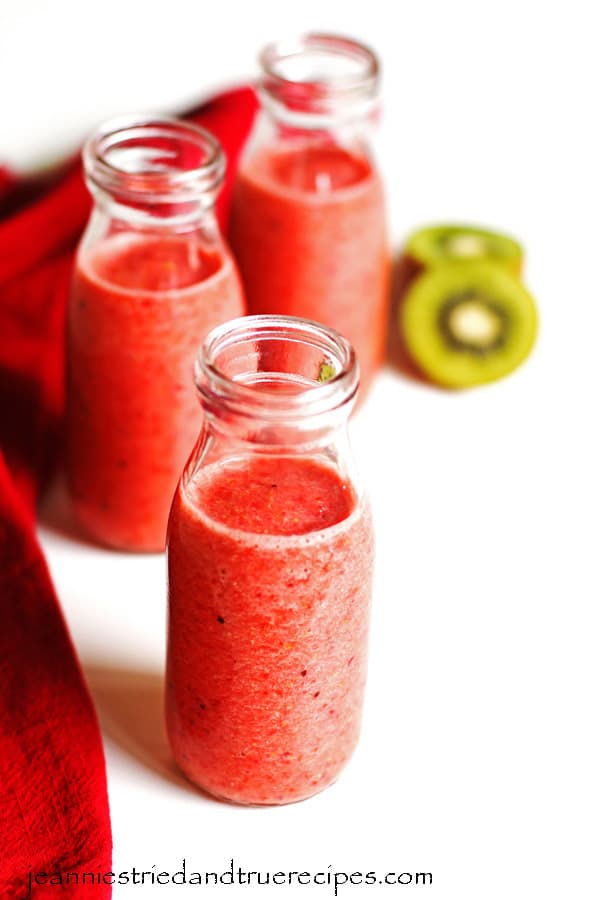 I try to make smoothies for my family about two to three times a week. They are so good for us and really are easy to make.
It's fun to try new blends of fruits and vegetables in smoothies. Then I get feedback from my taste testers…aka…my family. Our latest and greatest one is this Fruit Smoothie.
With five different fruits in it and ground flax seed, it is sure to please! And it will give your body a great boost of many nutrients.
What's in this smoothie that makes it so delicious? Kiwi, apple, frozen pineapple, bananas, strawberries and ground flax seed. Those ingredients with some water and you have yourself one refreshing, tasty smoothie!
Benefits of using kiwi in smoothies:
Kiwi is quite the powerhouse of a fruit! One kiwi has more vitamin C than an orange, and also is rich in vitamins K and E, potassium. It also is a great source of fiber! Kiwis are also high in antioxidants. So much nutrition, I had to add kiwi in to my smoothie!
Kiwi is an interesting fruit, isn't it? Do you eat the skin…the seeds…the core?
Tips about kiwi:
Can you eat the skin on kiwi? Yes, the skin is edible. I didn't know that until just recently. Here is a great source for peeling your produce for your smoothies. If you leave the skin on the kiwi it increases your fiber intake. And you also preserve more of the Vitamin C by keeping that brown skin on.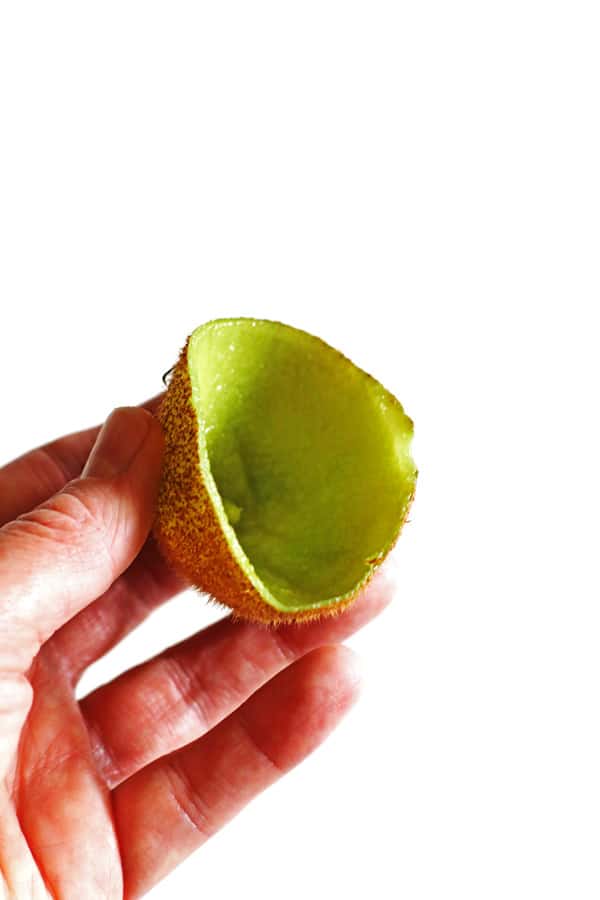 If you don't want to use the skin then cut the kiwi in half and scoop out the green part of the kiwi with a spoon.
Are the seeds and core edible? Yes they are both edible. Some people bite into a kiwi like an apple, while others like to slice them up and eat them that way.
How do I store kiwi? Ripe kiwi can be left out on the counter for a couple of days. Placed in the refrigerator it can last for one to two weeks.
How do I prepare kiwi? After I rinse the kiwi with warm water and pat dry it, I usually cut it in half and scoop out the green fruit with a spoon. You can also use a vegetable peeler to peel off the skin and slice up the fruit that way.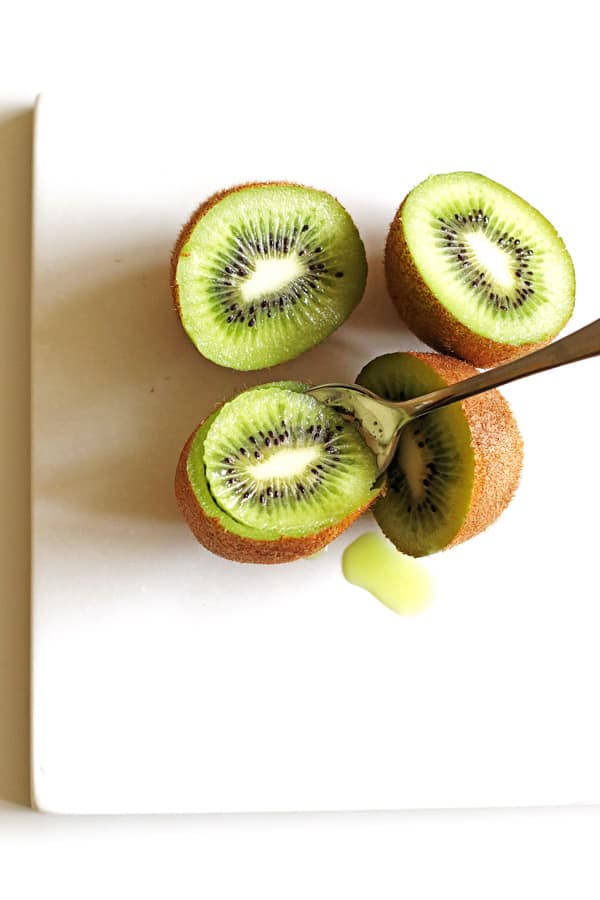 Or, if you are like my daughter and like the skin on the kiwi, you can cut the kiwi into slices with the skin on and eat it that way.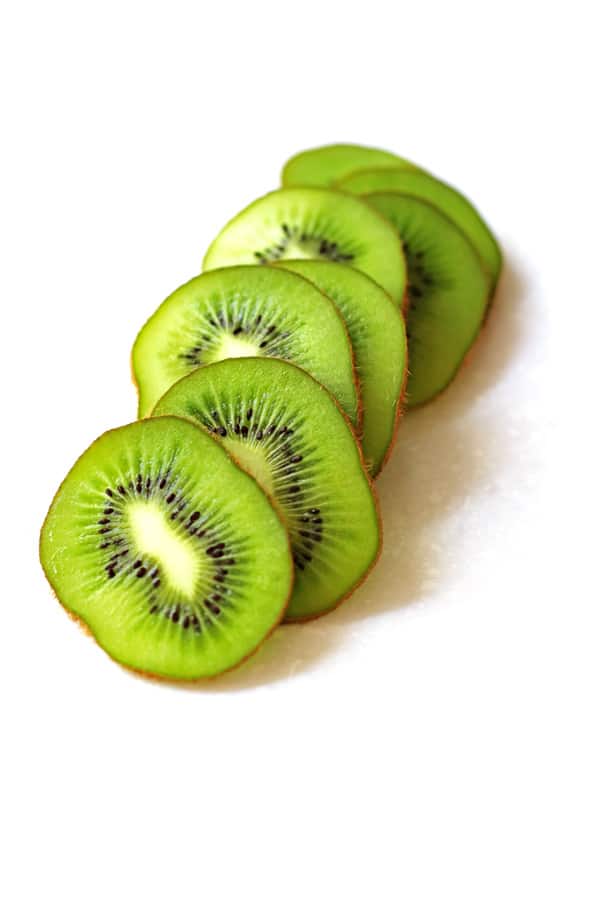 With putting it in the smoothie, you won't notice the texture of the skin so placing the kiwi in the blender with the skin on would give you added health benefits!
Is the kiwi ripe?
How to tell if a kiwi is ripe? To check if a kiwi is ripe, press down on it with your thumb. It is ripe if it yields to slight pressure. The ripe kiwi will be plump and fragrant.
How do I ripen a kiwi? You can leave the kiwi on the counter at room temperature for a couple of days to ripen.
Want to ripen the fruit quicker? To ripen it quicker you can place the kiwi in a brown paper bag with an apple or banana. Why? They are major ethylene producers (the chemical which helps fruit to ripen) so placing your kiwi in an environment full of it will speed up the ripening process.
How to make this Fruit Smoothie:
First, rinse the kiwi, apple and strawberries under warm water and pat them dry and set aside.
Place the frozen pineapple in a measuring cup. Generously fill up your measuring cup. Add the pineapple to your blender and pour in the water.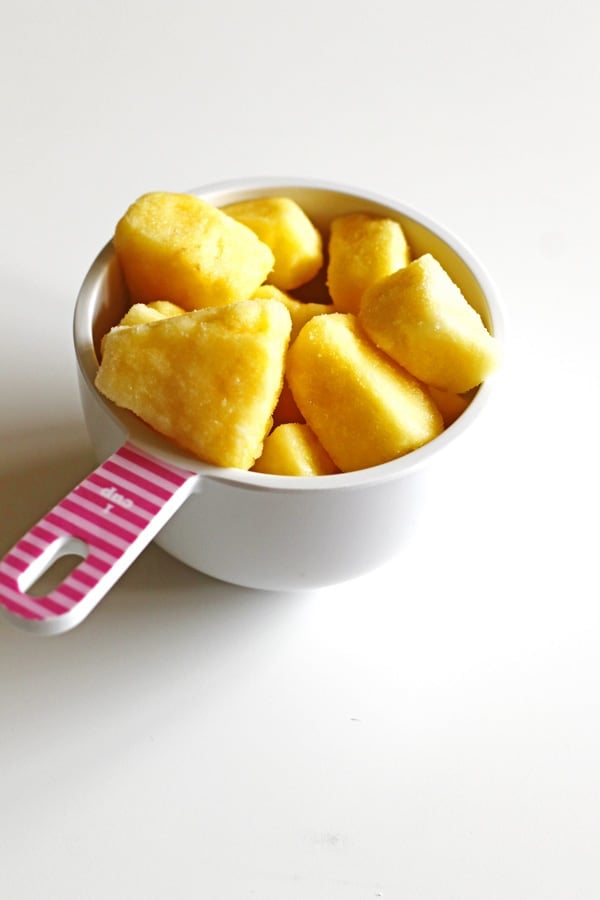 Tip: I find that adding the frozen fruit first with the water helps the blender chop it up easier.
Slice up the kiwi and add in with the skin on. If you would rather not use the skin, then cut it in half and scoop out the green part with a spoon and add to the blender.
Slice up the apple into medium size slices and add to the blender. Slice the strawberries and add to the blender.
Add in the ground flax seed and blend until smooth. Serve chilled and refrigerate any leftovers.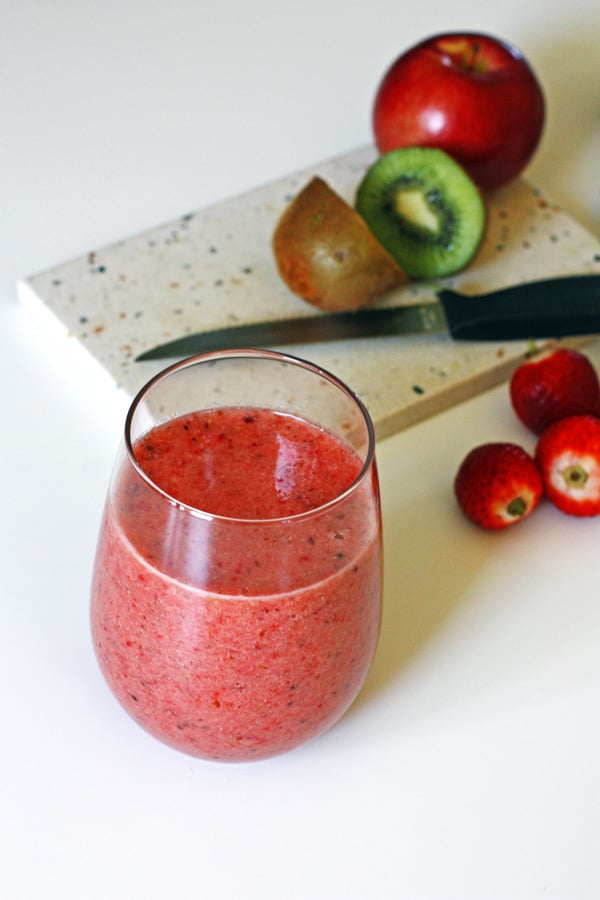 FAQ's
Why use some frozen fruit in smoothies? Using some frozen fruit helps make the smoothie cold and thicker. I prefer to use some frozen fruit over using all fresh fruit and ice. Sometimes by adding the ice it can water down the flavors of all the delicious ingredients.
What can I add to this smoothie to increase protein? You can replace the water with almond milk or another nut milk.
Smoothies are great to have any time of the day. They are great in the morning or as a healthy afternoon snack. They are so easy to make and so good for us!
Craving more smoothie recipes?
Try Blueberry Lemon Smoothie, Cherry Pineapple Smoothie or Apple Berry Smoothie for more delicious and refreshing smoothies!
Did you make this smoothie recipe? If so let me know in the comments and ratings below. Thanks!
Follow me on Pinterest and Instagram for all of my recipes.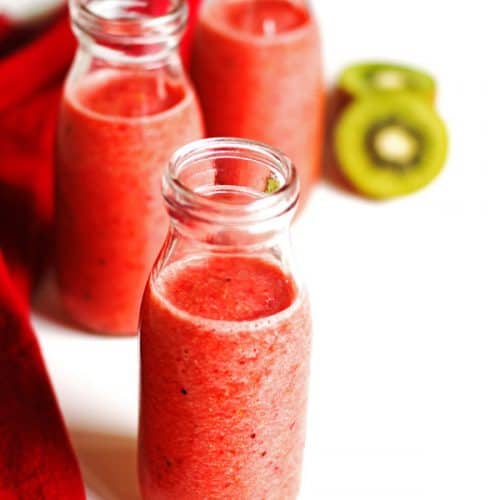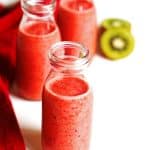 Fruit Smoothie
This refreshing Fruit Smoothie is made with kiwi, apple, bananas, strawberries and frozen pineapple. This is a delicious, healthy drink that kids will also love!
Servings
4
8 ounce servings
Ingredients
1

apple

2

kiwis

1

heaping cup

frozen pineapple

2

ripe bananas

1 ½

heaping cups

sliced strawberries

2

tablespoons

ground flax seed
Instructions
Wash and cut up fruit as needed.

Add the frozen pineapple and water in the blender. Add in the rest of the fruit and flax seed.

Serve chilled and refrigerate any leftover smoothie.
Recipe Notes
For added nutrition, leave the skin on the kiwi.
If you prefer to not use the skin of the kiwi in the smoothie, you can do one of two things. Either cut it in half and scoop out the green kiwi or peel the kiwi with a vegetable peeler and then slice it up and add to the blender.
Slice the apple into medium sized pieces before adding to the blender. Slice up the strawberries and measure before adding them in as well.
A "heaping cup" means that the top of the fruit will be slightly over and rounded in the measuring cup. It is hard to get a level cup when using sliced fruit or chunks.
Place the frozen fruit and water into the blender first so that it is easier to chop up.
Makes four 8oz. servings.
This post is not sponsored, but you will find affiliate links on this page. The price you pay as a consumer does not change, but I may make a small commission based on your purchase.
Update Note: This recipe was originally posted in 2017, but was published again in 2020 to include step by step directions and new photos.