It is apple season! Yeah! Do you love apples as much as my family and I do? We live in New York State so to us fall means cooler weather, (usually…it actually has been very warm this past week) beautiful fall colored leaves on the trees and delicious local apples! This recipe for Apple Berry Smoothie tastes great and with the warmer than normal weather, it really hits the spot as a nice refreshing drink.
We used to go apple picking when my son was younger. But then we moved and started going to the local farmers' market and get the apples there. With living in New York State there are so many local apples to choose from. I like to buy at least a couple of different varieties of apples at the farmer's market. Two reasons…one is that my husband prefers tarter apples and I prefer a sweeter apple. My kids will eat either ones…they are easier to please with this one I guess! The other reason is that when you mix the apples you get such delicious flavor. Mix red and green apples or just two or three different red apple varieties. Apples are good any way you slice it…but try mixing them up a little next time and let me know what you think. When I make my favorite Apple Pie recipe, I make sure to mix up the apples for sure with that one! It really does add so much flavor!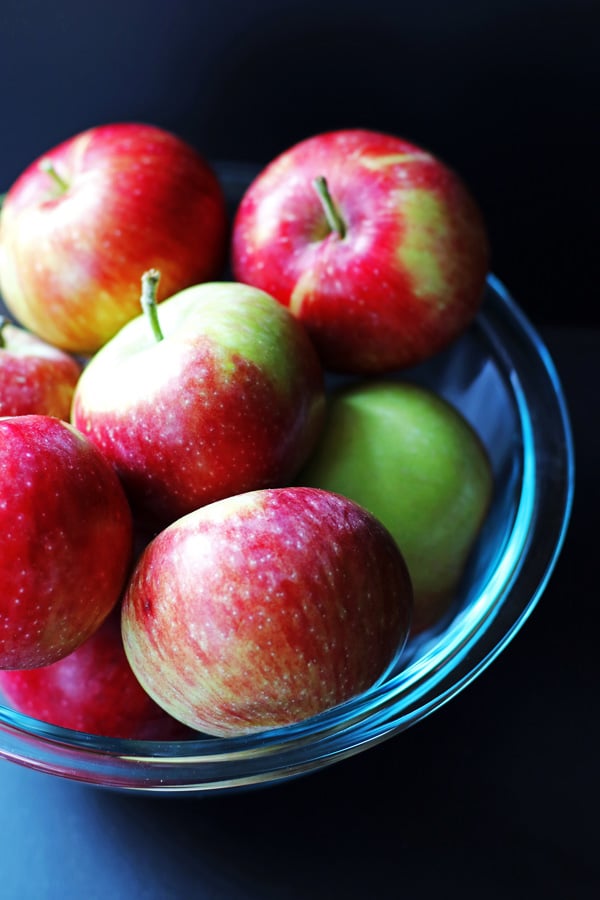 When making this smoothie, just slice up the apples into medium sized pieces. I prefer to leave the skin on. There is so much good nutrition in the apple skins. If you leave the skin on the apples you will get more of the nutrients of the apples than if you peel the apples. So just give the apples a good rinse before slicing them into medium sized pieces. Then add them into you Ninja Master Prep Blender along with the blueberries, raspberries, ground flax seed and water. Blend until it is smooth and serve it chilled. That's it…so quick and easy to make something so delicious and good for you!
When is you favorite time of the day to have a smoothie? Breakfast or an afternoon pick me up? Sometimes I make it for my kids for an after school snack but my husband is working then so we just put his in the fridge for him for later. He usually waits and has it in the morning. It is still good as long as it is chilled in the refrigerator.
If you want to get your kids eating more fruit, this is a great way to do it. Smoothies are quick and easy to make. My smoothies that I share here are kid approved…and mom and dad approved too!
~Jeannie
This post is not sponsored, but you will find affiliate links on this page. The price you pay as a consumer does not change, but I may make a small commission based on your purchase. Thank you for supporting Jeannie's Tried and True Recipes!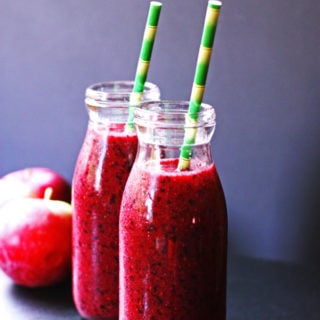 Apple Berry Smoothie
A delicious refreshing smoothie
Ingredients
2

medium to large sized apples

sliced

2

cups

frozen blueberries

1

cup

frozen raspberries

2

tablespoons

ground flax seed

1

cup

water
Instructions
Wash and slice apples into medium sized pieces. Place into the blender and add in all other ingredients. Blend until smooth.

Serve chilled.
Recipe Notes
Recipe makes about 4 cups.