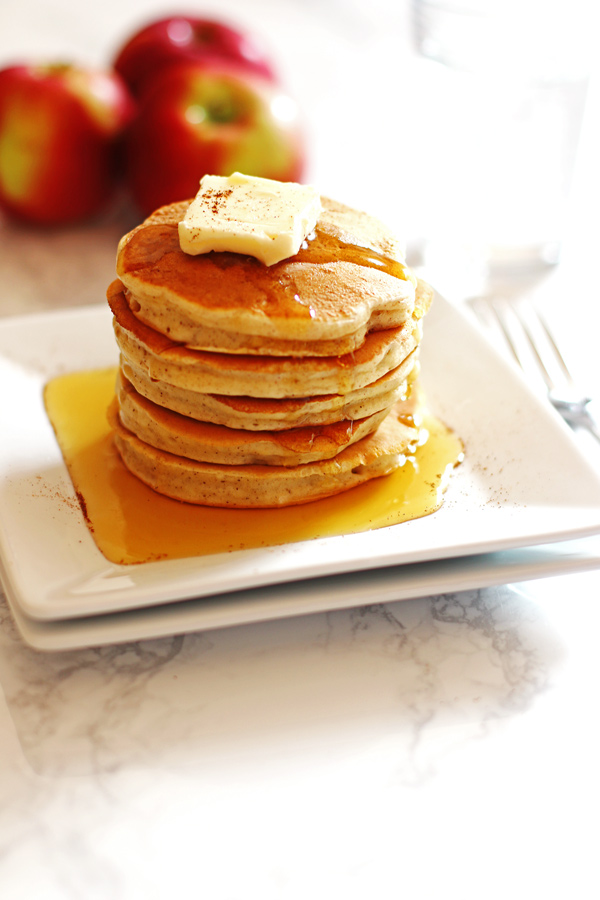 Fall is here…I don't know where you live but I live in New York where fall is one of the prettiest seasons of the year…if not the prettiest. The leaves on the trees are so colorful and the cool crisp air feels so nice. And what better to wake up to on a crisp morning than with a stack of these Apple Cinnamon Pancakes with maple syrup drizzling down the sides of them!
When autumn comes around, the farmers market is a great place to visit with so many colorful fruits and vegetables to choose from. At the top of our list are apples and pears. I love going there to get fresh fruits and vegetables. Do you go to one near you? The farmer's market near us goes from May to November it is great to get everything so fresh. Apples are one of my favorite fall foods. What is yours?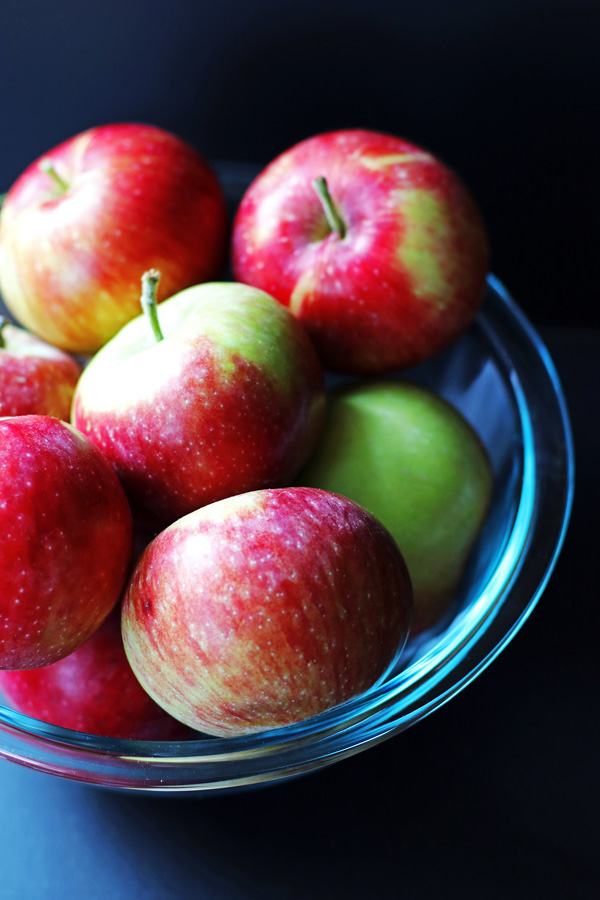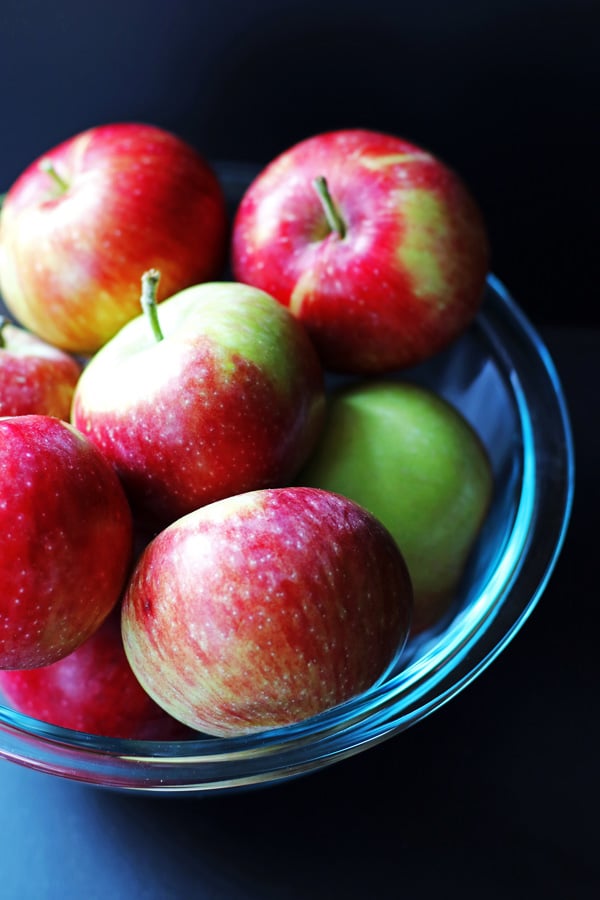 This Apple Cinnamon Pancake recipe is my husband's favorite pancake recipe. He is the pancake maker in our house…why is it that in so many houses, it is the dad making the pancakes? I don't know, but I do know that he makes some good pancakes! So we to share this recipe with you. They are so easy to make too…you will have them made in no time. Really. :o)
And I bet you have most of the ingredients in your house ready to go too. Just the basics needed along with one medium sized apple and a little bit of cinnamon! The recipe uses baking powder which helps to make them nice and fluffy…and who doesn't like nice and fluffy pancakes?! Yumm…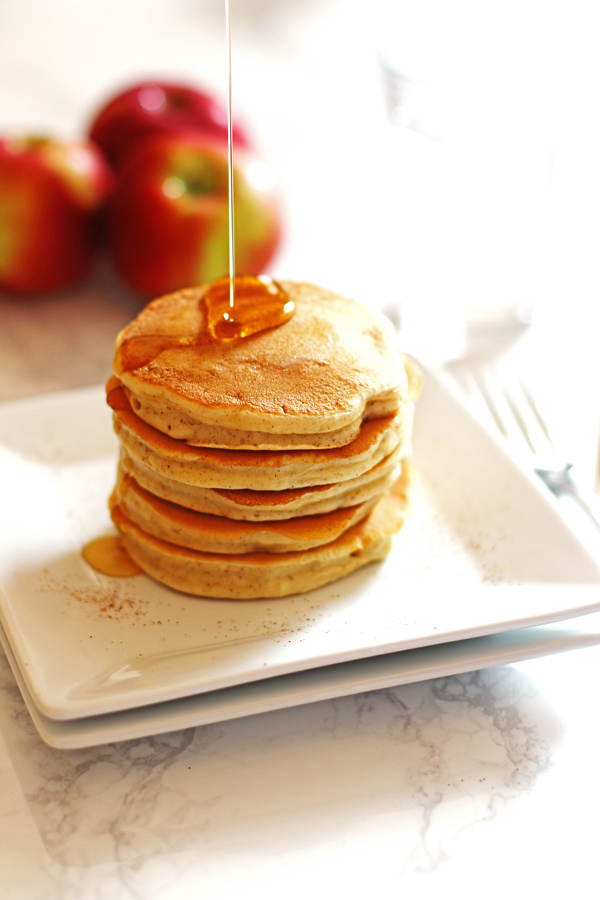 When making them, make sure your griddle
is hot before you start making them. Here's a little trick to tell when your pan is ready…sprinkle a few drops of water on the pan. If the water disappears, the pan is hot enough to make your pancakes.
This recipe makes about 24 pancakes but how many you get depends on how big you make the pancakes. My husband likes to make them about 3 inches round. And sometimes he makes some just about 1-2 inches so our daughter has some cute ones to eat. (the little things that make kids happy!) Have fun making them and make some fun weekend memories with your family while having your delicious pancake breakfast!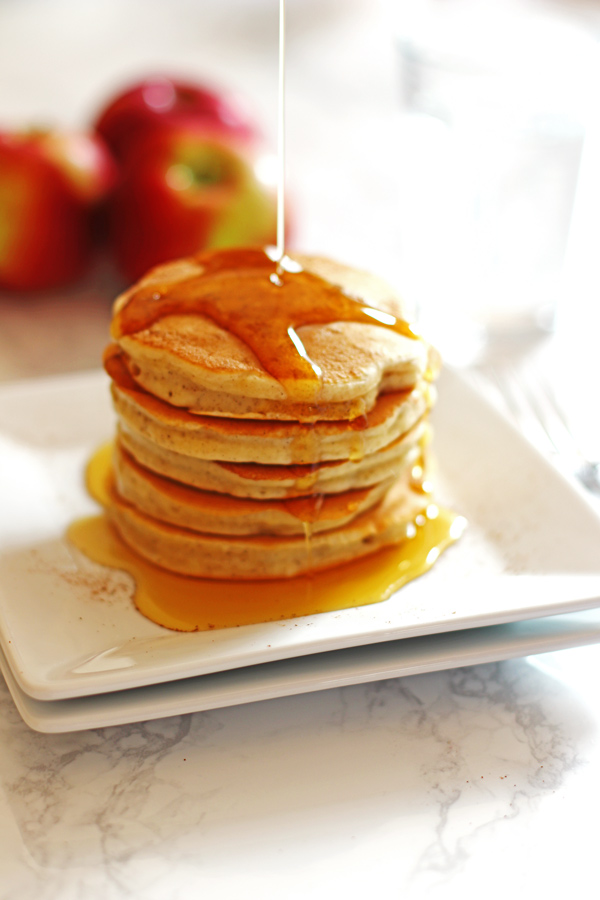 Have you tried my Apple Pie recipe yet? If you haven't yet, give it a try soon! It is a hit in my house and my husband has requested it for the last few years on his birthday. I make it with a delicious crumb topping instead of another crust on top. The recipe comes from my mother in law. Love those family recipes that are handed down. I think it might be one of the easiest pies to make…seriously! And it really is sooo good!
My Apple Pie and these Apple Cinnamon Pancake recipes are probably my favorite apple recipes. How about you…what are your favorite apple recipes? I would love to hear from you.
Happy Fall!
~Jeannie
This post is not sponsored, but you will find affiliate links on this page. The price you pay as a consumer does not change, but I may make a small commission based on your purchase. Thank you for supporting Jeannie's Tried and True Recipes!
Apple Cinnamon Pancakes
2017-09-29 16:23:04
Serves 4
Ingredients
2 eggs
1¾ cups milk
4 tablespoons vegetable oil
1 tablespoon vanilla extract
2 cups flour
2 tablespoons granulated sugar
2 tablespoons baking powder
1 teaspoon salt
¼ teaspoon ground cinnamon
1 medium sized apple, peeled and finely diced
Maple syrup and/or butter, optional
Extra ground cinnamon to sprinkle, optional
Instructions
Heat your griddle to medium heat (350 degrees).
Beat the eggs in a large bowl. Add in the milk, oil and vanilla extract. Whisk ingredients together.
Add the flour, granulated sugar, baking powder, salt and cinnamon. Mix well. Gently fold in the finely diced apples.
Using a spoon, drop the pancake batter onto heated griddle to make about a three inch circle for each pancake. (Or whatever size pancake you prefer)
Flip pancakes over once they are slightly browned (cook each side about one to two minutes).
Serve warm with syrup and/or butter.
Sprinkle with a little extra ground cinnamon, optional.
Jeannie's Tried and True Recipes https://jeanniestriedandtruerecipes.com/