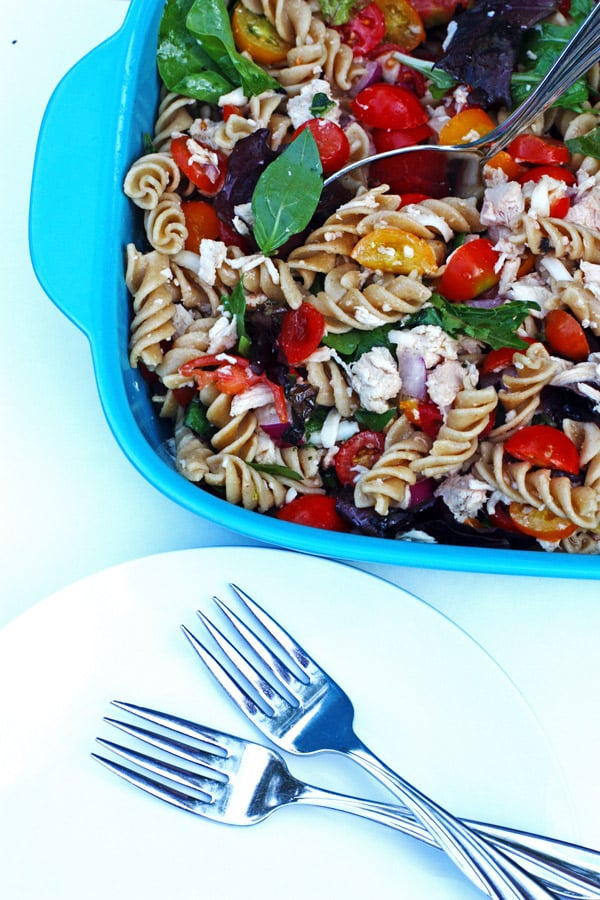 Summer…there are so many reasons why it is such an enjoyable time of the year. One of those reasons is fresh veggies and fruit from the local farmers. As I have mentioned before, I love going to the farmers market to get fresh vegetables and fruit. It is also great to have your own garden. The last two summers we have bought potted tomato plants. It is so nice to have my own backyard tomato garden, ready to pick when I need them! Next year I am thinking to take out some flowers that we have in our yard and plant more veggies and herbs. My husband loves when I come up with these ideas for "us" to do. :o) Flowers are beautiful… I just think it might be nice to have more of a vegetable and herb garden. Do you have a garden in your yard? If so, what plants do you have in your garden? This summer we bought our herb pot and asked for two cilantro plants. Last summer we were on a taco kick and used a lot of it. I love cilantro so we thought we should get two plants in our herb pot. Well, we had an unusually hot summer this year and found out cilantro does not like the heat! Our plants did not last too long. Of course, the summer we decide to get two plants the weather doesn't cooperate. The herb that does love the summer heat is basil and our basil plant is doing great right now. We can't do much about the weather so we just have to go with it. So this summer I made this Tomato Basil Chicken Salad many times since we have an abundance of basil!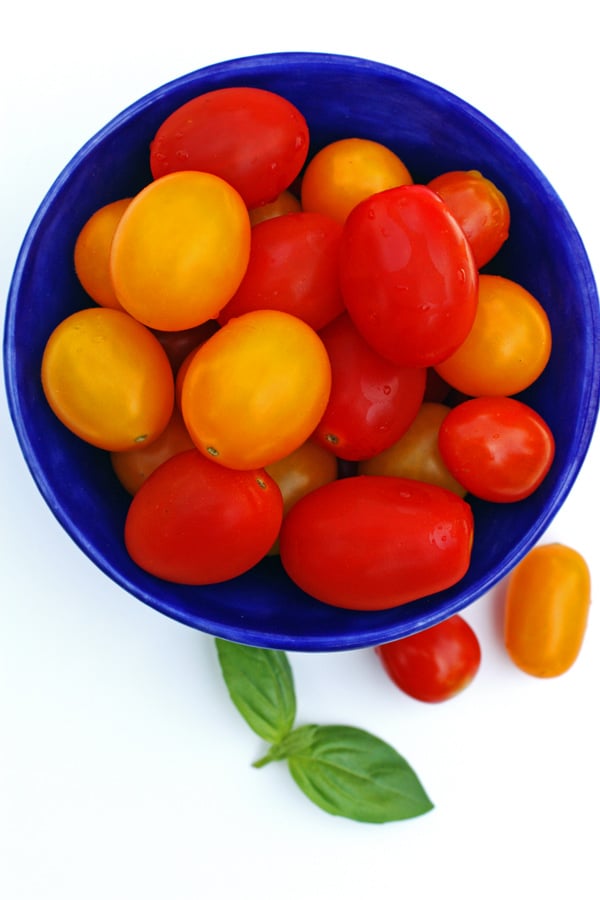 I made the recipe for Tomato Basil Chicken Salad because we had so many tomatoes and basil from our garden that I wanted to use. There is something about tomatoes and basil together that just tastes so delicious. This salad recipe is made to be a main dish, but if you take out the chicken it makes a great side salad. Either way it makes a great summer recipe for your family. You can also add some grated Parmesan or shredded mozzarella cheese if you like.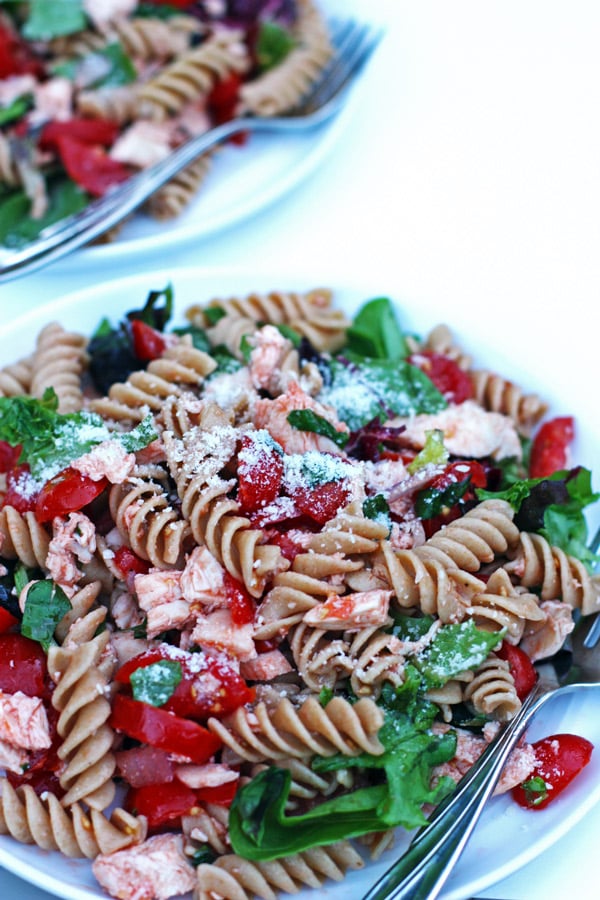 I use a half teaspoon of garlic powder and that seems to give it enough flavor. However, if you are one that prefers more garlic, like my son, I would suggest using ¾ teaspoon garlic powder. As I said, I made this several times this summer. Once it seemed to have a bit too much garlic…and I like garlic. My son loved it that way…I never knew he loved garlic so much! This last time I made it with ½ teaspoon garlic powder, he actually sprinkled more garlic powder over his own serving of the salad. Really didn't know he loved garlic so much. The things we learn about our family while cooking for them. :o)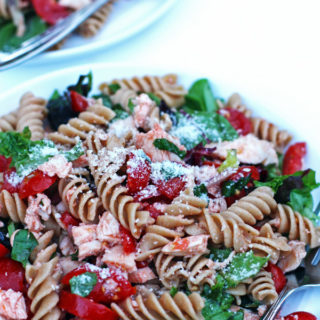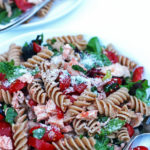 Tomato Basil Chicken Salad
Ingredients
2

cups

diced tomatoes

¼

cup

finely chopped red onion

¼

cup

fresh basil leaves

torn

8

tablespoons

olive oil

½

teaspoon

garlic powder

Salt and pepper to taste

6

ounces

whole wheat pasta

1

Rotisserie chicken

cut into small pieces

2

cups

salad greens

Mozzarella or Parmesan cheese

optional
Instructions
Stir tomatoes, onion, basil, olive oil and garlic powder together in a bowl. Sprinkle with salt and pepper to taste. Set aside.

Cook noodles following directions on box.

Combine the cooked pasta, chicken and tomato mixture in a large bowl. Toss in salad greens. Add cheese, if desired.

Can be served at room temperature or chilled.