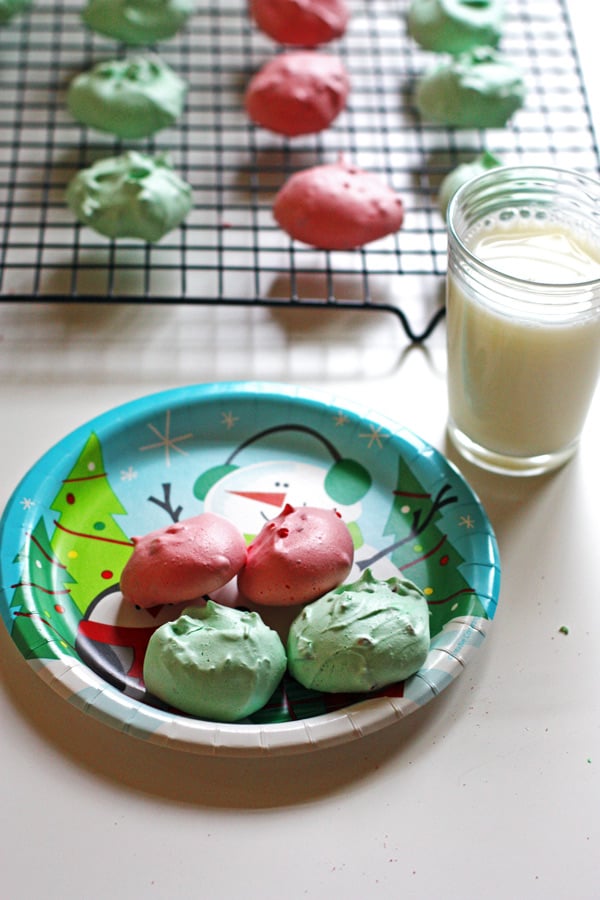 As a kid, these Christmas Meringue cookies were my favorite cookie my mom would make for Christmas. I looked forward to them each year. They not only tasted so good, they would melt in my mouth…so yummy! So, once I got married, I decided to make them. I was so bummed out when they did not turn out just like my mom's cookies did. It was the meringue…and my inexperience with cooking at that time. I am happy to say I have learned my way around the kitchen a bit more since then! So, I decided to try them again many years later. When I made them years ago, they flopped so I was really anticipating how they would look this time around. I was so happy to see the kept their form after baking. I didn't even wait until they cooled off to try one…and it was just like what I remember my mom's tasting like when I was a kid. I did it! Yeah for me! :o) Do you ever get that feeling? So proud of yourself when you make something that you mom, dad or a special someone made for you and it turns out just as you remember it tasting? Such a good feeling! So, now that I figured out how to make these cookies, I want to share it with all of you.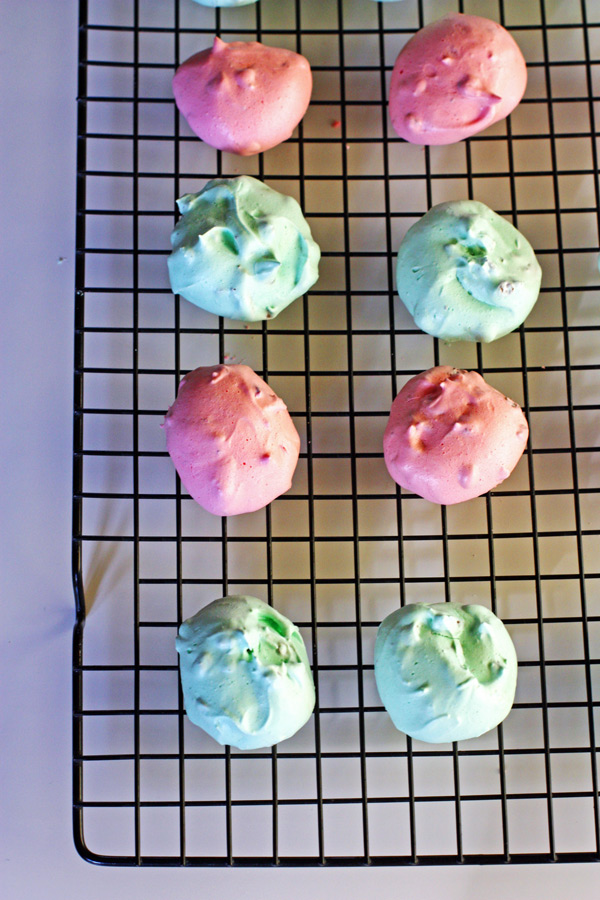 Meringue can be tricky so here is what I can tell you worked for me. Beat the egg whites on medium to high speed using the whisk attachment of your mixer. Beat them until they are frothy…to me it looks like foam on beer. Then add in the salt and cream of tartar. Whisk on medium to high until they hold peaks.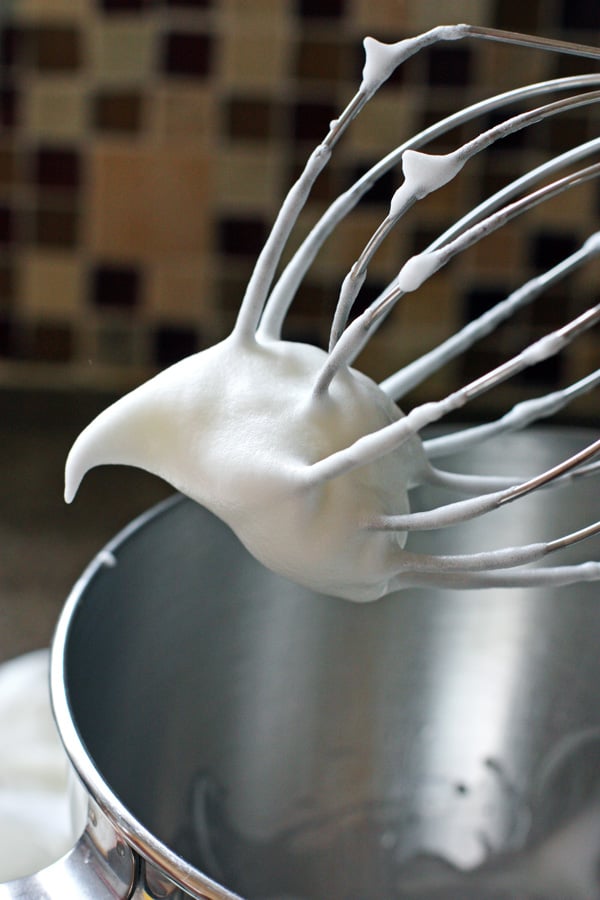 Then, switch over to the paddle attachment and add in the sugar, one tablespoon at a time. While adding in the sugar, continue to beat on medium to high speed. Beating constantly until mixture is stiff and glossy.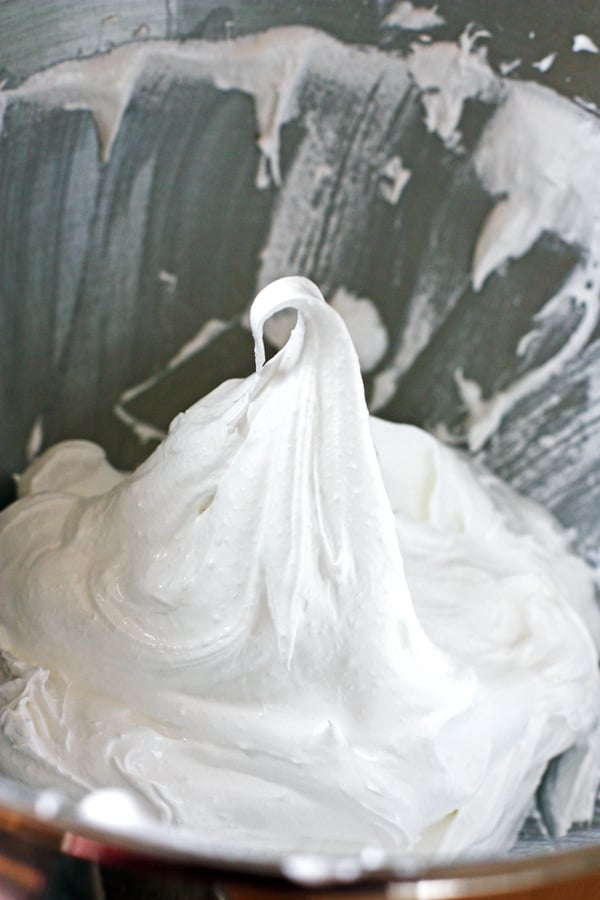 Add in the peppermint extract and gently fold in the chocolate chips. I prefer mini chocolate chips so the chocolate is spread out more, but regular sized chocolate chips are fine as well. Divide the batter into bowls to add the food coloring. Once the color is mixed well, drop batter by teaspoons onto your covered baking sheets. I use these silicone mats and they work great. Bake them for 30 minutes at 250 degrees. The cookies should look just as you placed them onto the baking sheet.
When I recently made them for my family, I was surprised at how much they loved them. I knew they were good because they were one of my own favorite cookies when I was a kid. I just was surprised at how much they loved them! They didn't last long in our house. They really do just melt in your mouth. I made them for Christmas so I colored them red and green. But that is the fun part of making these…color them for your favorite colors, the season or holiday.
Christmas Meringue Cookies
2016-12-04 21:42:41
Ingredients
2 egg whites
¼ teaspoon cream of tartar
½ teaspoon salt
¾ cup sugar
1/4 teaspoon peppermint extract
¾ cup mini chocolate chips
Food coloring
Instructions
Preheat oven to 250 degrees.
Beat egg whites on medium to high speed until frothy, using whisk attachment.
Add cream of tartar and salt. Beat on medium to high speed until they hold peaks.
Change whisk attachment to paddle attachment. Add a tablespoon of sugar at a time, beating constantly until mixture is stiff and glossy.
Add in the peppermint extract and fold in the chocolate chips.
Divide batter into bowls, as to how many colors you will be using.
Add in the food coloring and stir until you have desired color.
Cover baking sheets with parchment paper or silicone mats and drop by teaspoons onto baking sheet.
Bake 250 degrees for 30 minutes.
Cool completely.
Jeannie's Tried and True Recipes https://jeanniestriedandtruerecipes.com/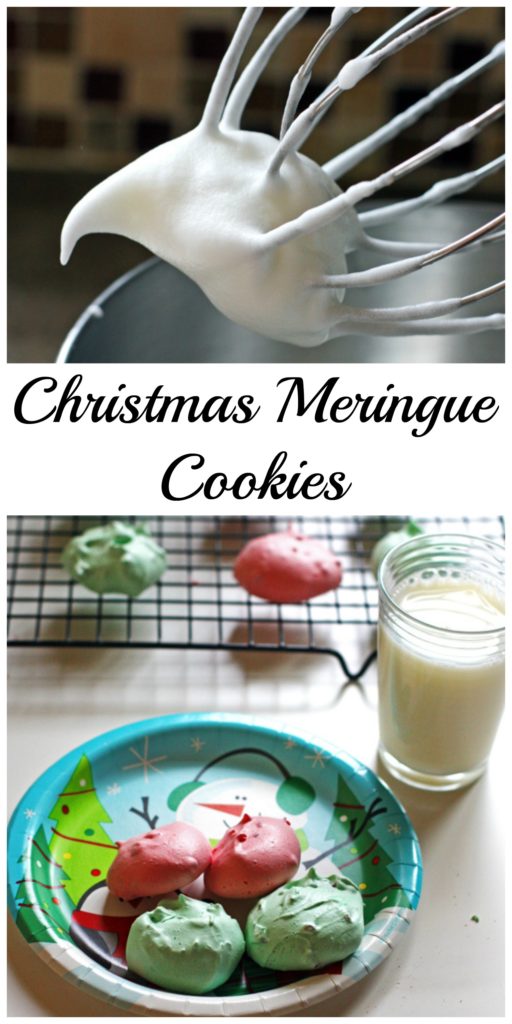 Save
Save
Save