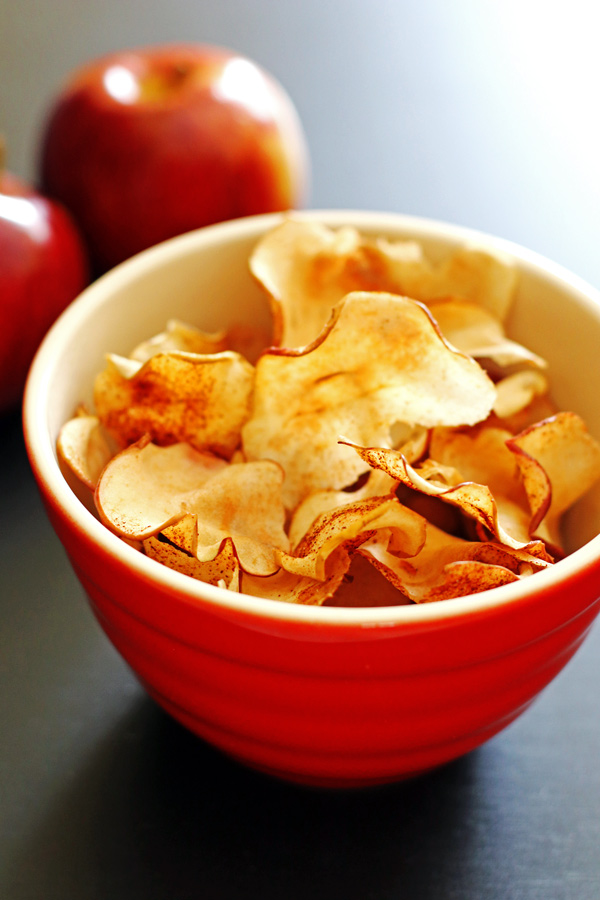 These homemade Crispy Apple Chips are such a delicious snack and are so easy to make. They are the kind of recipe to make when you are home for the day since they bake in the oven for a couple of hours, with additional time in the oven after baking so they get nice and crispy. And then your home has a great apple cinnamon smell…
I found this recipe in my Sally's Baking Addiction Cookbook
. She has a ton of fantastic recipes in there and this one is one of our favorites. It is found in the healthier choices section of the book. I like to make afternoon snacks for my family when I can and this one sounded like a good one to try. I will tell you we were all loving these apple chips and they didn't last long in our house.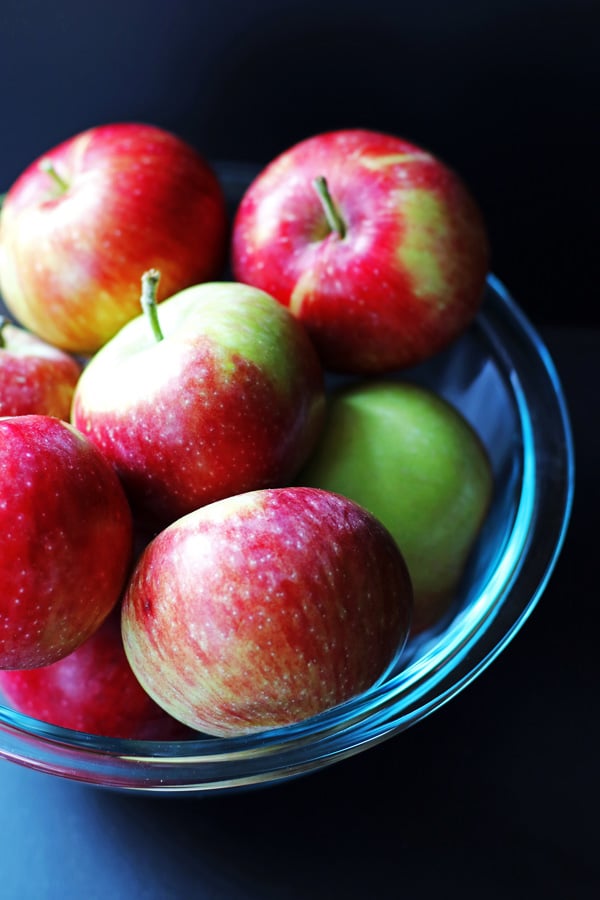 The key to making them crispy is to slice the apples very thin. You can use a very sharp knife for this or use what I did, this handheld mandoline slicer
. This gadget will cut them very, very thin and is great for this recipe. I sliced them the thinnest I could and that worked perfectly. Once I made them and sliced them using the next notch up and they turned out chewy. So it really is important to get them nice and thin for this recipe to work. Here is a photo of how thin I slice them.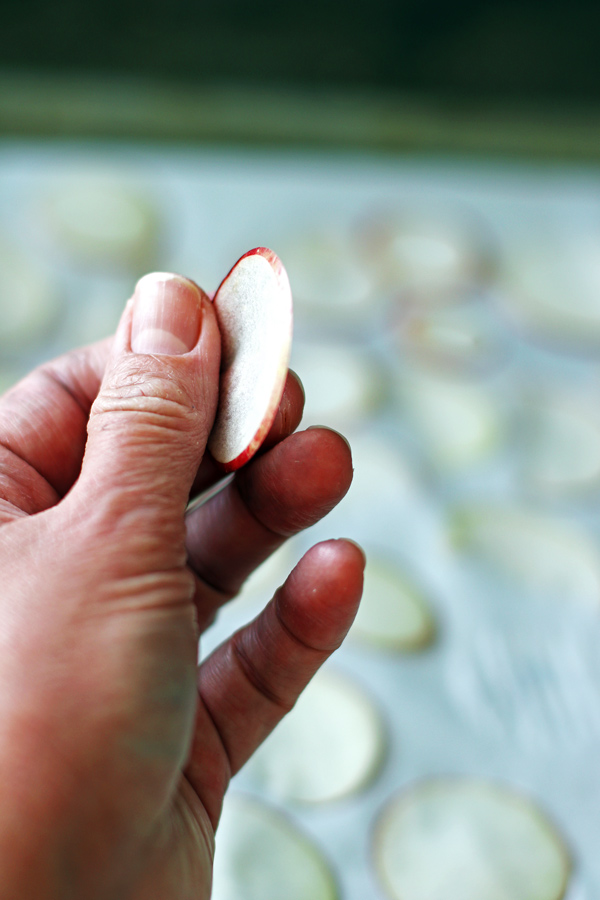 Once you have the apples thinly sliced, lay them out in a single layer on your baking sheet covered with parchment paper. Combine the granulated sugar and cinnamon together in a bowl and sprinkle over the apples slices. This is a recipe where you really should use the parchment paper. It really helps with clean up. I have made them with and without parchment paper and I highly suggest using it to catch all the extra sugar and cinnamon mixture. Who doesn't like easy clean up?!
Once your oven in preheated, bake them for an hour and then turn them over. Because they are so thin, you are better off just turning them over using your hands. The first time I made them, I tried to flip the apple slices over with a spatula and it just didn't work because they were so thin. With the oven only at 200 degrees, they don't get to hot. So take the baking sheets out of the oven and quickly turn each apple slice over and then bake them for another hour. If they don't seem crispy enough, let them bake an additional 15 minutes. Then turn the oven off and leave the apple chips in the oven for at least another hour. Keeping them in the oven after they bake makes them even crispier.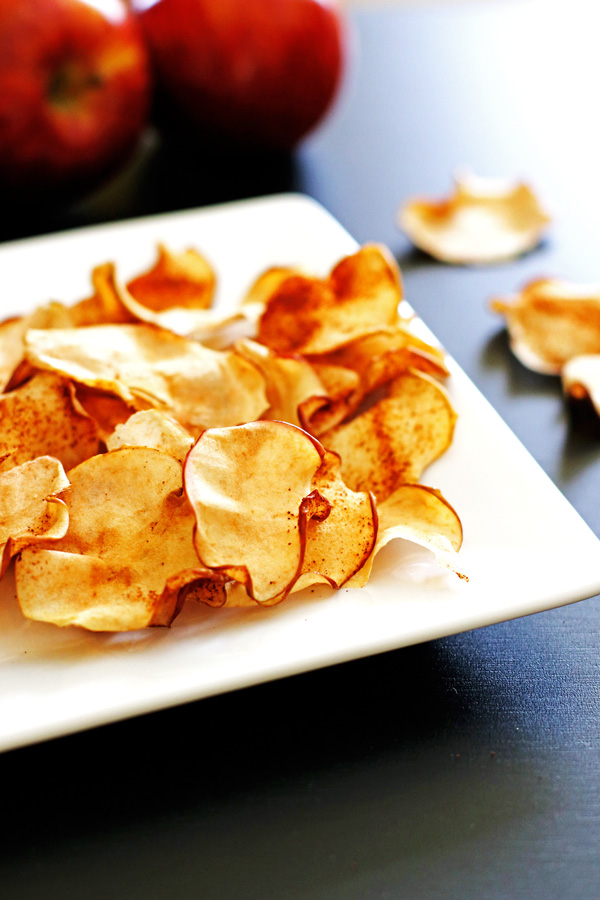 Recipe tips:
Cut the apples very, very thin (1-2mm).
Use parchment paper on your baking sheets.
Flip the apples over with your hands, not a spatula.
Leave them in the oven after baking for at least an hour to make them even crispier.
These make a great after school snack or a little snack when you are looking for something sweet to snack on. And with them being homemade, you know all the ingredients. Here are a few other favorite snack recipes for you to try:
Are you on Instagram? I post all of my recipes on there; follow along so I can share all my recipes with you! Have a great day!
~ Jeannie
This post is not sponsored, but you will find affiliate links on this page. The price you pay as a consumer does not change, but I may make a small commission based on your purchase. Thank you for supporting Jeannie's Tried and True Recipes!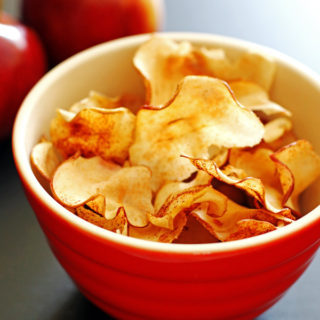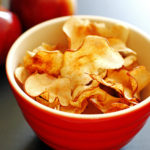 Crispy Apple Chips
A delicious, healthy snack that is easy to make. Once you make them, you will want to make them again and again!
Ingredients
2-3

apples

1

tablespoon

granulated sugar

1

teaspoon

ground cinnamon
Instructions
Preheat your oven to 200 degrees. Cover two baking sheets with parchment paper and set aside.

Wash and thinly slice the apples, about 1-2 mm thick.

Lay them on the covered baking sheet in a single layer.

Mix together the cinnamon and granulated sugar in a bowl and sprinkle over the apple slices.

Bake them for an hour. Turn them over and bake for another hour. If they do not seem crispy, then bake an additional 15 minutes.

Turn off your oven and keep them in there for at least an hour. (This helps them become crispier.)

Keep them covered in an airtight container for up to one week.