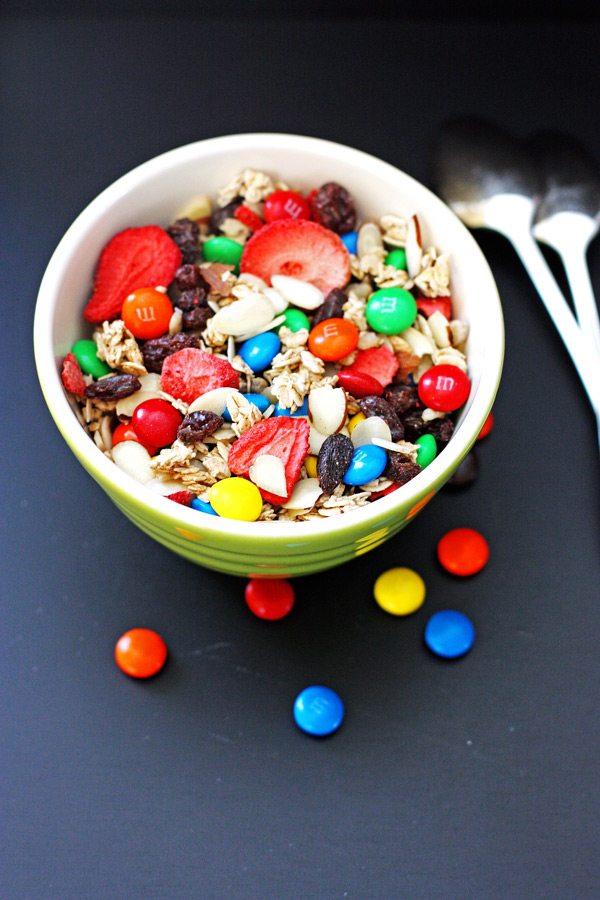 It is summer now, kids are off from school and you have your list of "Summer Things to Do" ready to go. What is on your list? We usually have a trip to the zoo, Niagara Falls, catching a sunset or two by the lake, swimming in the pool … it is fun just having some good family time together…and you don't want to forget the snacks and drinks to go with you on those fun adventures! This Trail Mix is perfect to take along with you . It is quick and easy recipe to make and is easy to carry along with you.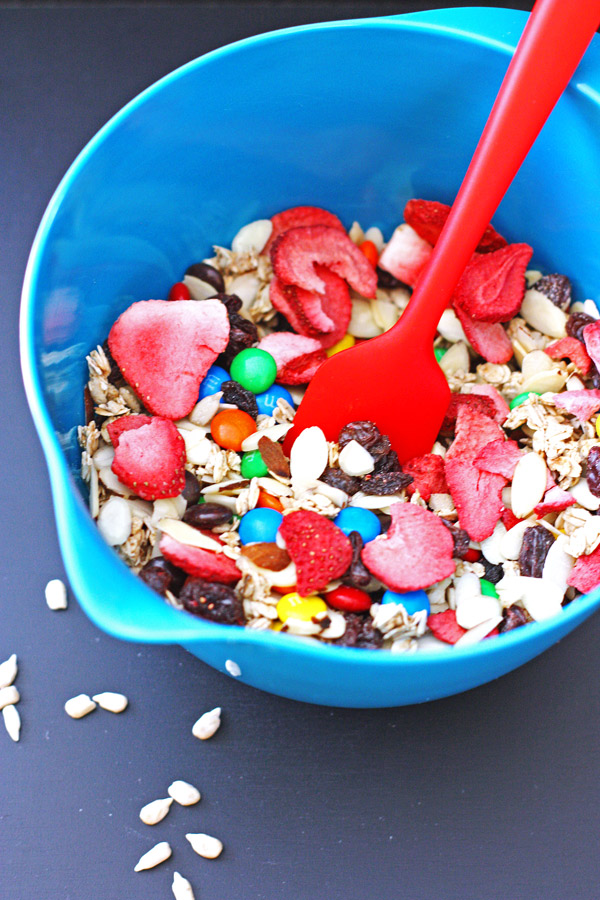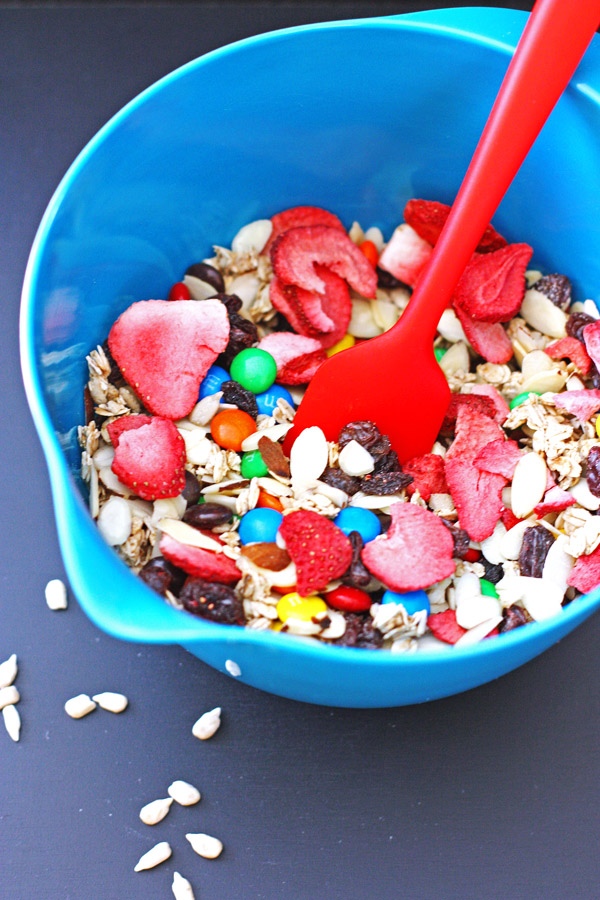 Trail Mix is one of the easiest take along snacks that you can make. I just toss together some of our favorites in a bowl and mix well. And we are good to go. For this trail mix recipe we use sliced almonds, sunflower seeds, granola, freeze dried strawberries and for something sweet, M&M's. Gotta add something sweet like that, right?! It was my first time using freeze dried fruit in trail mix…it was a great addition to the mix. Just check the package before buying to make sure there isn't a ton of sugar in the one you buy. The one I bought has no added sugar.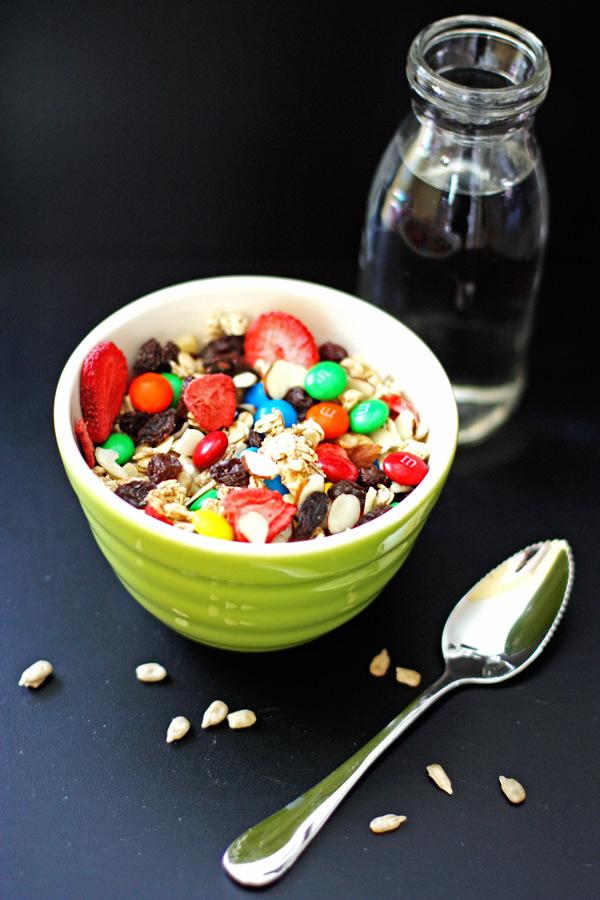 We used to make homemade trail mix all the time, but for some reason got away from making it. It is delicious and good for us, so I am glad we got back into making it. I also want to make more healthy snacks for my family and this recipe fits that well. Another favorite snack I make once in a while is these Dark Chocolate Pretzel Granola Bars. Making your own granola bars, trail mixes, etc. is great because you know what is going in them and homemade is so much better for you. Have you seen some of the lists of ingredients on some of those granola bars boxes? Yikes! And it is always nice to have something for snack time at school for the little kids or an after school snack for the big and little kids in your life. Actually, these are great for kids but also great for us adults too!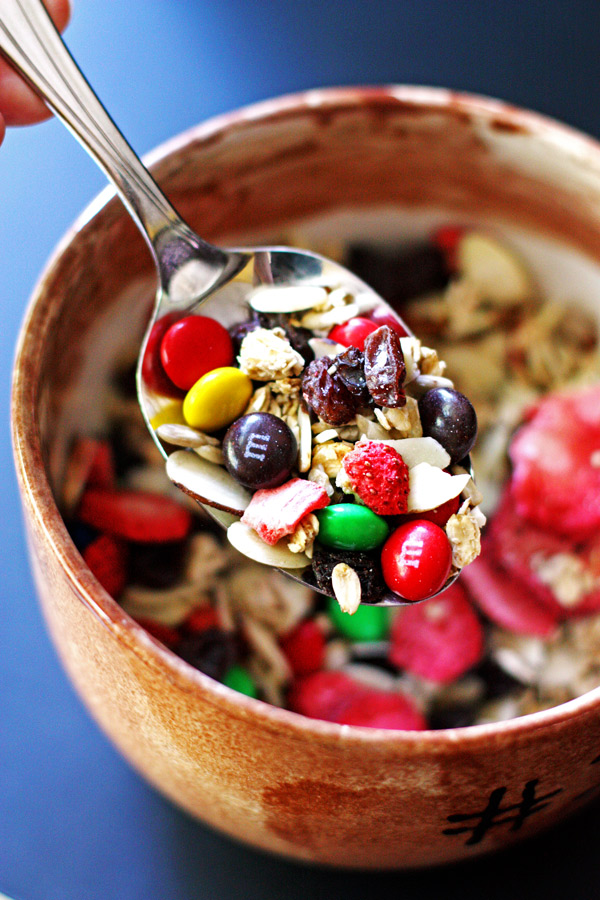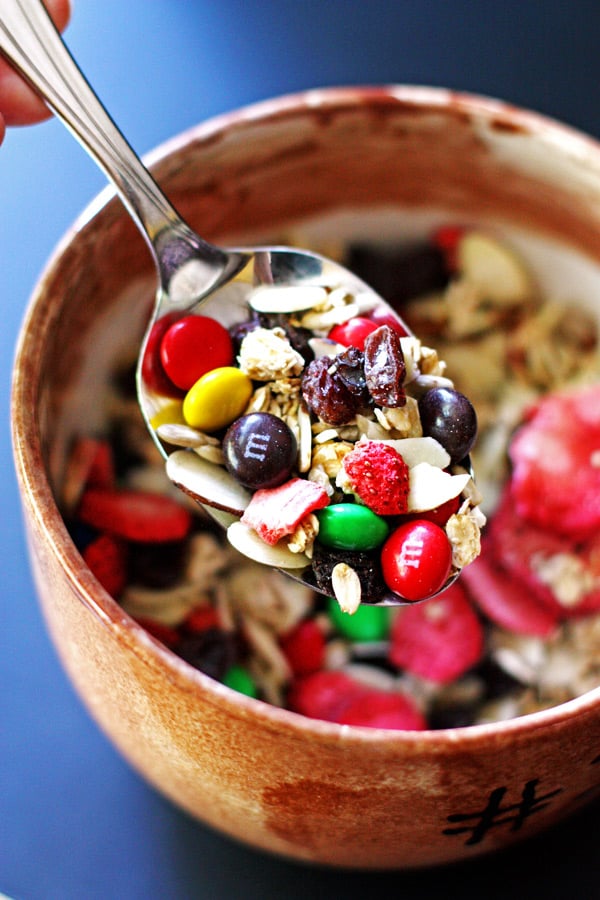 So get out and enjoy the nice summer weather…and don't forget the snacks! What is one of your favorite summer time things to do as a family? Since we got our pool, I would say hanging out by the pool is one of my favorites. During the school year life is so busy…it is nice to just relax and have some great family time. Having this trail mix ready to take out by the pool is perfect!
This post is not sponsored, but you will find affiliate links on this page. The price you pay as a consumer does not change, but I may make a small commission based on your purchase. Thank you for supporting Jeannie's Tried and True Recipes!
Trail Mix
2017-06-23 16:16:24
Ingredients
1 cup granola
½ cup raisins
½ cups sliced almonds
½ cup freeze dried strawberries
¼ cup sunflower seeds
½ cup M&M's
Instructions
Toss all ingredients in a large bowl until mixed well.
Store in an air tight container.
Jeannie's Tried and True Recipes https://jeanniestriedandtruerecipes.com/