This Homemade Trail Mix Recipe is bursting with flavor! Made with granola, dried fruit, chocolate, & nuts - it is easy to make and has something for everyone.
Trail Mix a favorite snack at our house. It tastes great and is the perfect snack to have around whether you are at home or on the go. Homemade trail mix is so much better than some of the store-bought options out there! (Though the Kirkland trail mix from Costco and Trader Joe's Trail Mixes are good backups.)
We love to make our own trail mix because of how handy it is to have around. Kids can take it to school with them for a quick snack, you can take it out on a hike, or you can have it as an afternoon snack during an afternoon slump.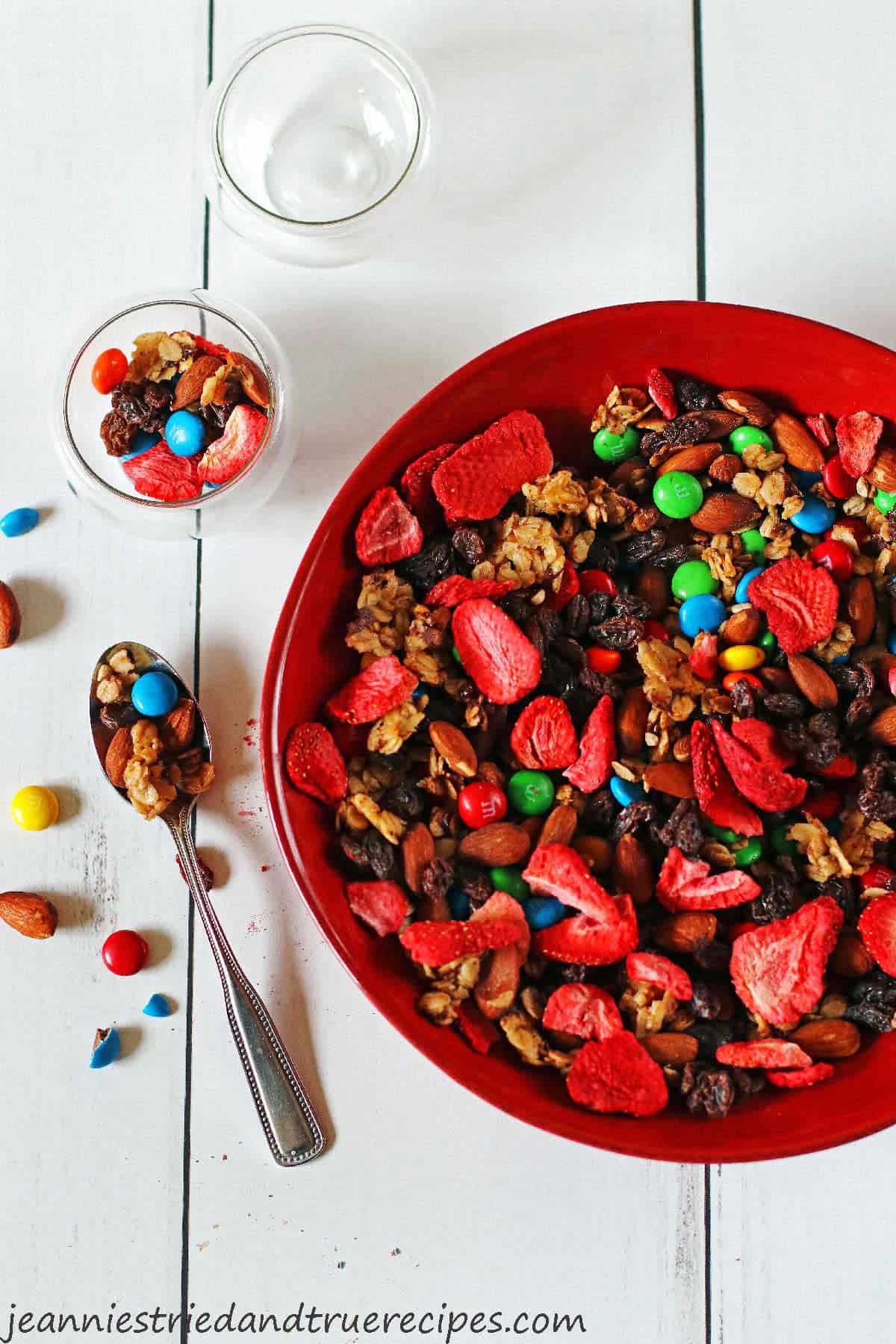 Not only does it taste good, but there are healthy ingredients in there as well. There are almonds, sunflower seeds, and dried strawberries in the mix. The nuts provide healthy fat and protein, and the chocolate is good for your mental health 😉
As the chocolate lover that I am, I always add a little chocolate to our easy trail mix recipe.
Ingredients Needed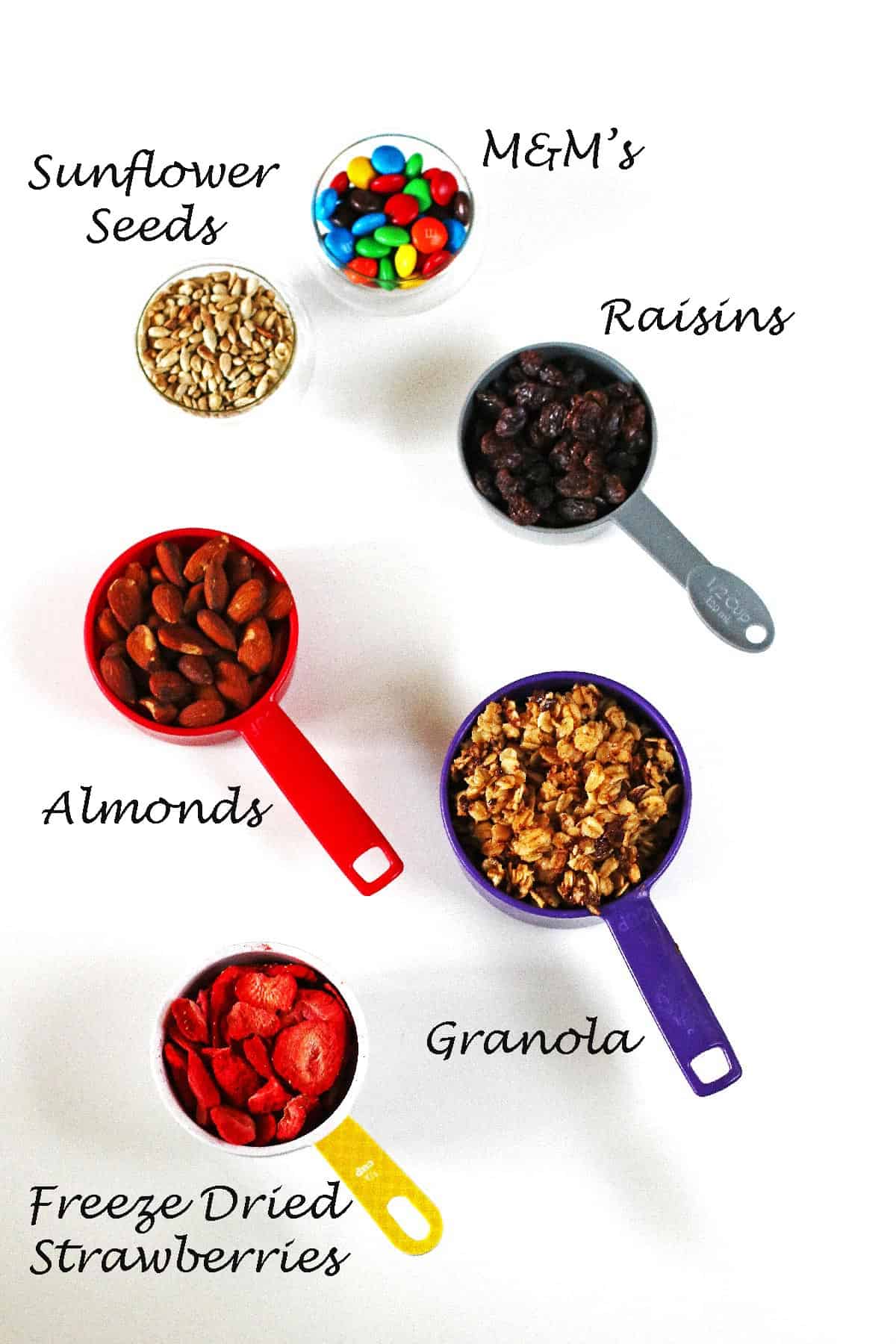 Almonds - You can use slivered almonds or whole almonds in this recipe. Use whichever you happen to have in your house or whichever one you prefer. (Try not to use flavored or heavy roasted/salted almonds - the flavors will get on all the other ingredients in the trail mix.)
Raisins - Try to look for raisins that do not have added sugar.
Sunflower Seeds
Dried Strawberries - You can find dried strawberries in your grocery store ready to go (either dehydrated or freeze-dried) or you can make dried strawberries yourself at home! You can snack on these alone for a tasty treat!
Granola - Granola can also be found in the grocery store or can be made at home. I love to make homemade granola using this granola recipe - it is so good, and it is so easy to make!
M&Ms - You can also use chocolate chips!
Ingredient Swaps
One of the best things about making your own homemade trail mix is the option to use whatever trail mix ingredients your family likes. If you don't like raisins, you don't have to use them!
Use a Variety of Nuts - We typically use almonds, but you can use whichever nuts you prefer. Cashews, peanuts, macadamia nuts, or a mix of different things!
Switch Up the Chocolate - Chocolate chips are great to add to this recipe instead of M&M's. Just be careful if you are snacking on a warm, sunny day or if you leave this trail mix in the car, as the chocolate chips can melt a little.
Add Flavored "Chips" - Peanut butter chips, yogurt chips, dark chocolate chips, dark chocolate chunks, white chocolate chips, or for a really fun idea, you can use unicorn chips.
Try Different Seeds - We like to add sunflower seeds to our trail mix, but another great option is pumpkin seeds.
Try Different Kinds of Dried Fruit - We typically use raisins, but I love using dried cranberries, apricots, apple chips, or dried blueberries. My husband loves dried pineapple and dried mango - those would be really tasty too! We like freeze-dried fruit because of how crunchy it is, but use what your family likes!
Make it Healthier - You can leave out the M&M's, chocolate chips, and granola and focus on just loading up your trail mix with fruit, nuts, and seeds - you can add coconut flakes & banana chips to add some more bulk to it.
Additional Mix-ins - Mini pretzels or mini peanut butter cups.
How to Make Homemade Trail Mix
Homemade trail mix is so easy to make, and it's an easy recipe for kids to help with. All you have to do is measure out all your ingredients and add them to a medium to large bowl.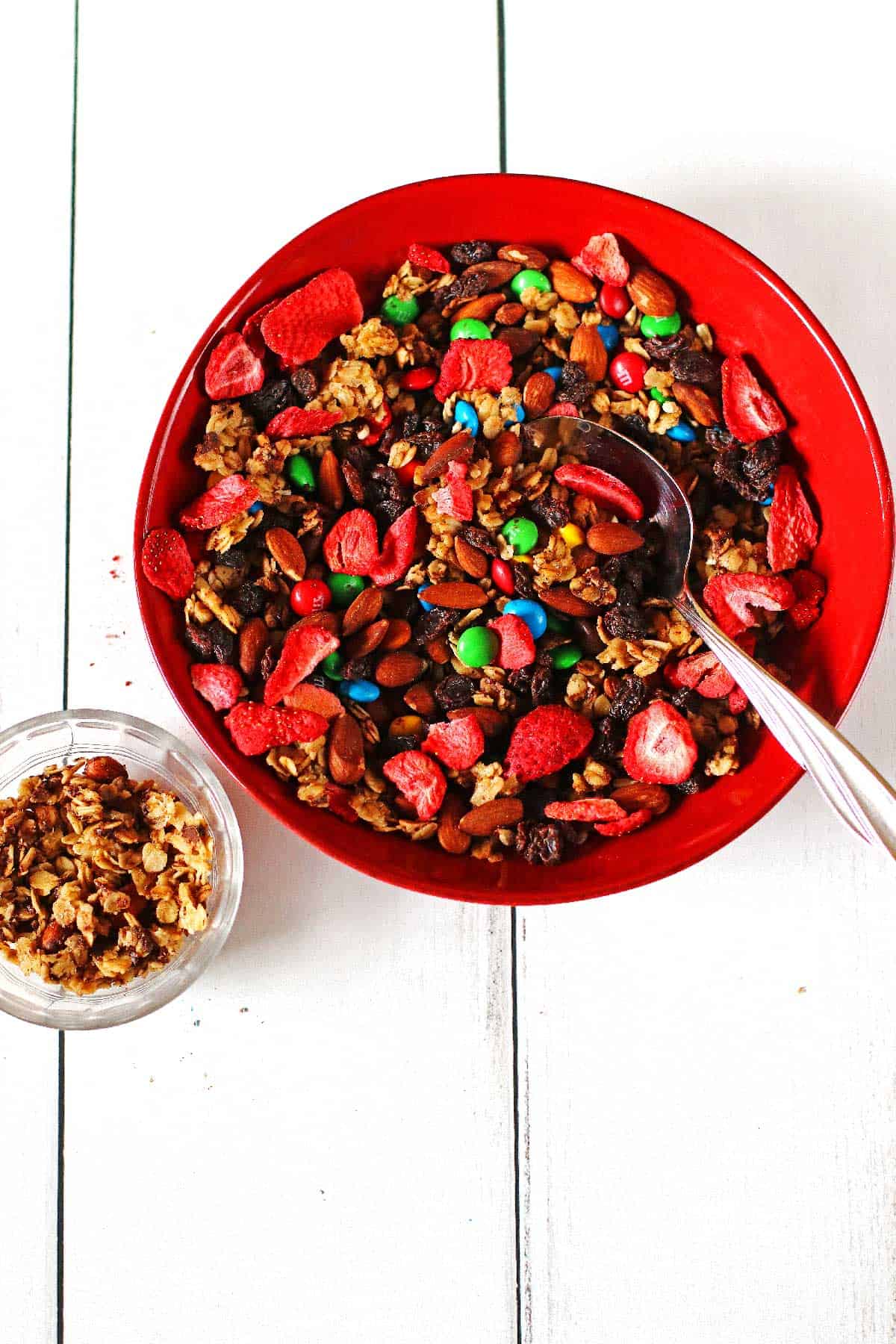 Then, using a large spoon or spatula, mix all the ingredients together.
Serve and enjoy!
Tip: You can also portion small amounts of trail mix into plastic bags to make it easier to grab and go. The best part about having healthy snacks ready to eat is they encourage you to eat them more!
How to Store Homemade Trail Mix
Store your homemade trail mix in an airtight container at room temperature. You can also store the trail mix in pint or quart-sized mason jars. It should stay fresh for about a month.
How Long is Homemade Trail Mix Good For?
It should be good for up to a month if stored properly. You probably won't have it that long, though, as it is so tasty!
Frequently Asked Questions
What is usually in trail mix?
Trail mix (also known as scroggin) is a snack mix made by combining granola, dried fruit, nuts, seeds, and sometimes candy. It is calorically & nutritionally dense, so it is a delicious snack to take on long hikes or to keep you full in between meals.
Is trail mix healthy? 
If you eat the entire recipe in one sitting, you certainly won't feel great, and it will be a lot of calories, but it isn't the end of the world. One of the great things about homemade trail mix is that you can load it with foods that are great for you. A trail mix made with nuts, dried fruit, and seeds will provide you with protein, healthy fats, and lots of nutrients. (Now, if you make trail mix that is all candy… it might be less healthy 😉 )
Serving Suggestions
Trail mix is great to take hiking or camping or as a snack to take to school or work. It is also one of my favorite road trip snacks - it is filling and fun, and I love having an easy way to eat lots of healthy fats and make good choices.
If you really want to beef up your trail mix to make a filling snack, you can serve it over some Greek yogurt. This will give you some more protein and will make it more filling. (I like to make Homemade Greek Yogurt - it has so much more flavor than store-bought yogurt.)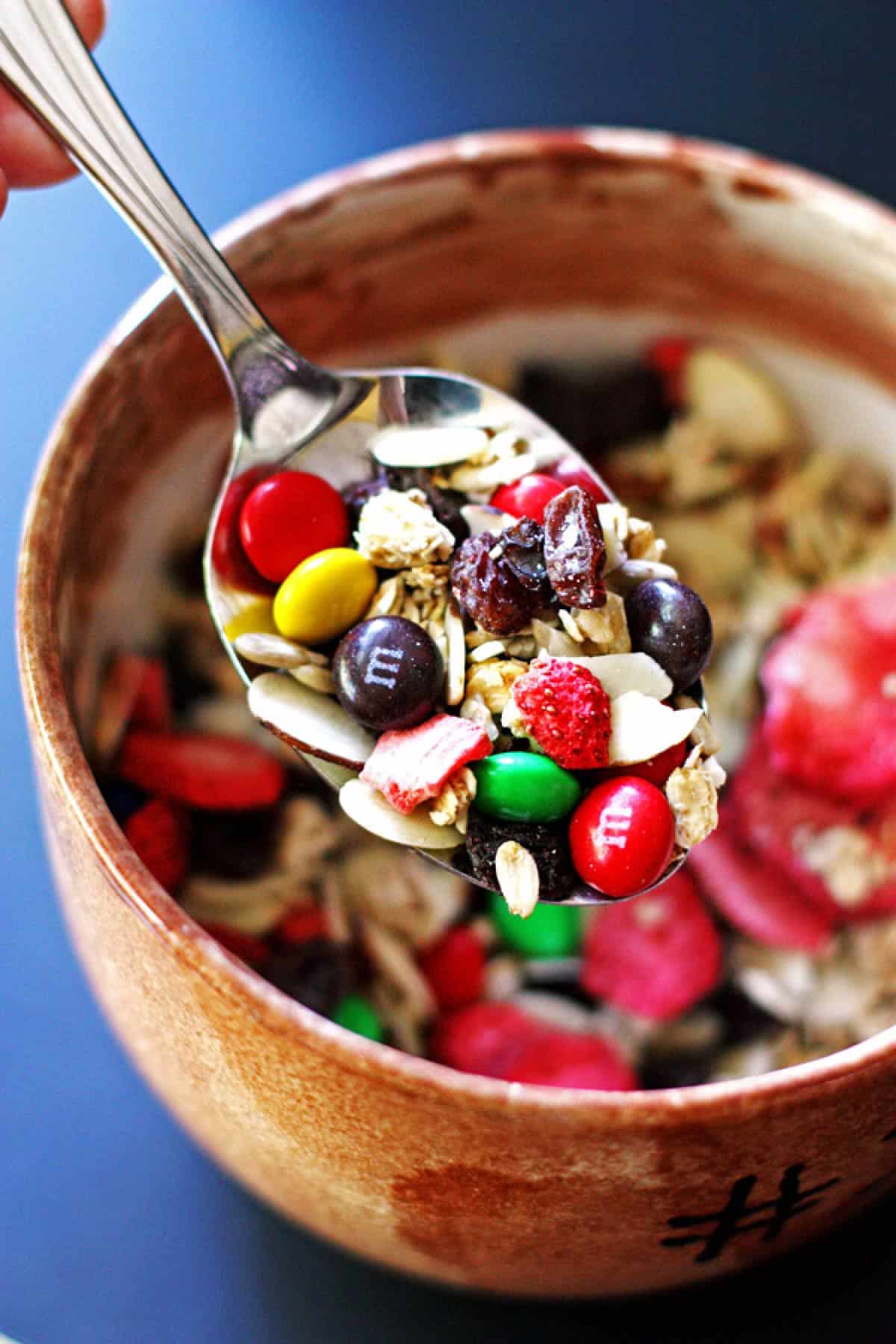 I would love it if you would follow me on Instagram and Pinterest for all of my recipes. 
Looking for More Snack Ideas?
Another one of our other favorite snacks to make is this recipe for these Dark Chocolate Pretzel Granola Bars. Making your own granola bars and trail mixes is great because you know what is going in them, and homemade is so much better for you.
We also love to make Crispy Apple Chips and a fun Halloween Trail Mix - Candy Corn Snack Mix. These are also great snacks for at home or on the go.
Homemade Gift Idea
Looking for an easy homemade gift idea? Make the trail mix and put it in a canning jar. Wrap a twine or a pretty ribbon around it, and you have one simple and thoughtful homemade gift. It's a great gift for teachers and neighbors or a little thank you gift for someone.
Did you make this recipe? If so, please leave a comment and rating below. I love hearing from you.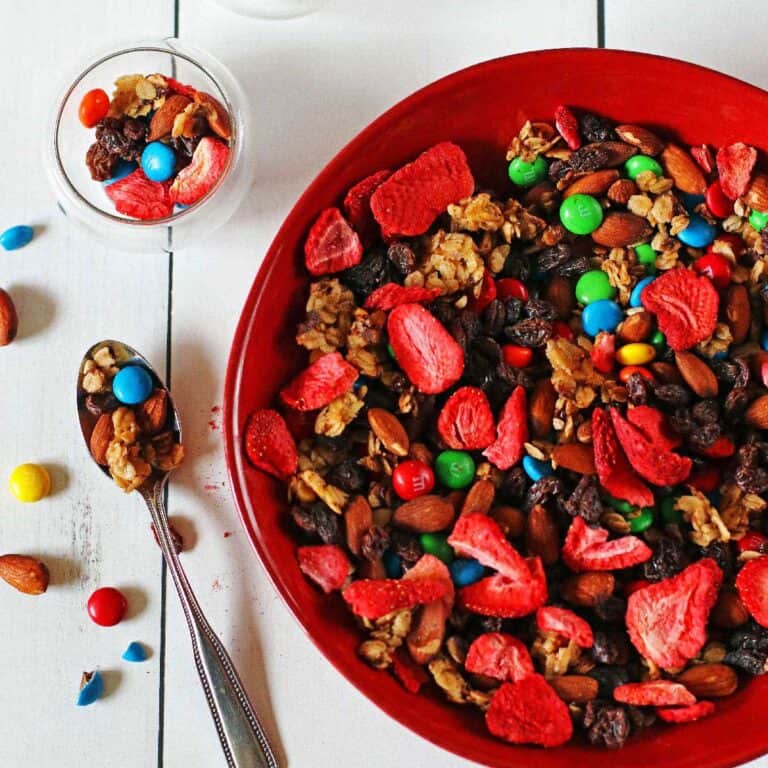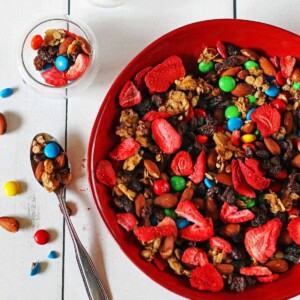 Homemade Trail Mix
This Homemade Trail Mix recipe is bursting with flavor! Made with granola, dried fruit, chocolate, & nuts - it is easy to make and has something for everyone.
Print
Pin
Save
Saved!
Ingredients
1

cup

granola

½

cup

raisins

½

cup

almonds

slivered or whole

½

cup

freeze dried strawberries

¼

cup

sunflower seeds

½

cup

M&M's
Instructions
Mix all the ingredients in a large bowl.

1 cup granola,

½ cup raisins,

½ cup almonds,

½ cup freeze dried strawberries,

¼ cup sunflower seeds,

½ cup M&M's

Store in an air tight container.
Notes
Store the trail mix in an airtight container. Large canning jars are great for this and they look pretty too!
The trail mix should be good for up to a month if stored properly.
This recipe was originally posted in 2018 but was published again in 2022 to include step-by-step directions and improved photos.