This Easy Pumpkin Shaped Cheese Ball is the perfect appetizer to bring to a Fall party. It's cheesy, delicious, and made with simple ingredients. This festive pumpkin cheese ball deserves to be the star of the show at every gathering this time of year.
This Pumpkin Cheese Ball recipe is named for the adorable pumpkin shape of the cheese ball, not for pumpkin flavor - so if you are like me and do not love pumpkin-flavored things, you can still get into the seasonal spirit and enjoy pumpkin things. This is ALL cheese, and there is no actual pumpkin in it!
This adorable pumpkin cheese ball is inspired by the Food Network's show, The Kitchn. They have some great ideas on the show, along with sharing some good cooking and baking tips. They shared a cheese ball recipe, and I thought it would be a great idea for a Halloween party or a Thanksgiving appetizer.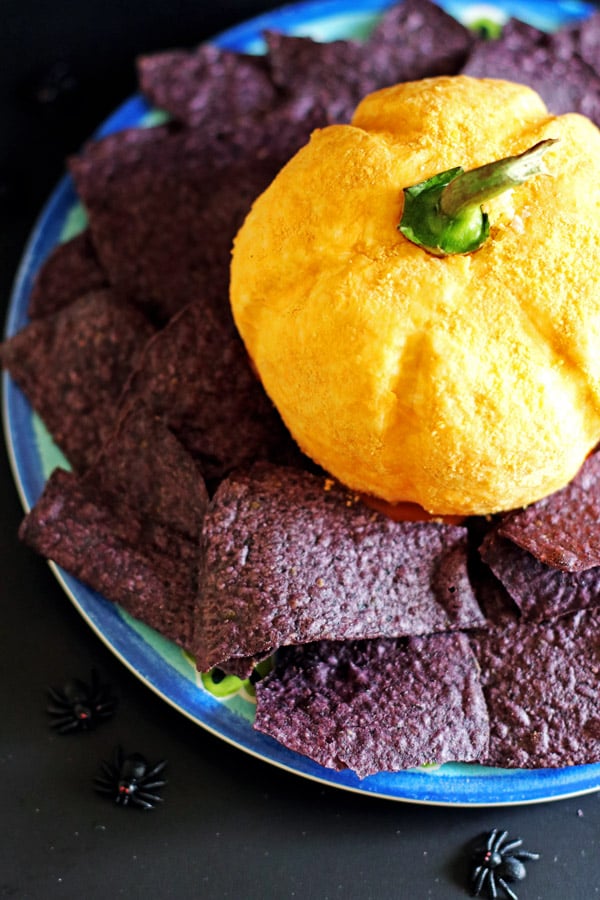 Jump to:
This pumpkin-shaped cheese ball is just what is named…a pumpkin-shaped homemade cheese ball filled with yummy cheesy flavor. It's a bit more exciting than an ordinary cheese ball - and it's every cheese lover's dream. A tip they showed on The Kitchn was to use the cheese flavoring from a box of macaroni and cheese. I've made this recipe with and without that little cheese packet, and it does add a little more flavor, so I highly recommend using it.
This is a perfect appetizer for Halloween! To make it a bit more festive, I added some plastic spiders to the pumpkin. This also is a nice appetizer to have for Thanksgiving…just maybe leave the spiders off for that holiday!
Ingredients in the Cheese Ball
Shredded Cheddar Cheese - You can use mild or sharp cheddar cheese, just make sure that it is shredded cheese. You can use pre-shredded cheese to make this faster, or you can shred your own.
Shredded Colby and Monterey Jack Cheese
Softened Cream Cheese
A Packet of Powdered Cheese from your Favorite Macaroni and Cheese Box - Make sure that you use an orange-colored macaroni and cheese - not white cheddar.
Finely Crushed Cheese Crackers
A Bell Pepper Stem - This will be the pumpkin stem.
Tortilla Chips or your favorite Crackers for serving - You can also use pretzels, pretzel sticks, ritz crackers, or even vegetables.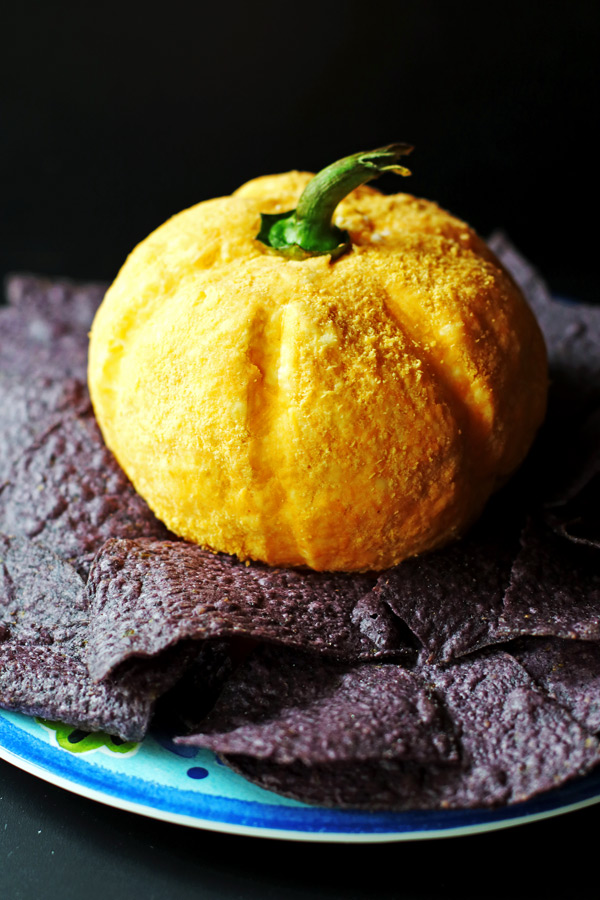 How to Make a Pumpkin Shaped Cheese Ball
This cheese ball is really easy to make, and it makes such a cute appetizer.
The first step is to finely crush the cracker crumbs in a blender, then place them into a medium-sized bowl. Set the bowl aside.
Combine the softened cream cheese, shredded cheddar, and shredded Colby and Monterey Jack cheese in another medium-sized bowl.
Mix the powdered cheese into the cream cheese mixture.
Lay out a large piece of plastic wrap and sprinkle it with a few crushed cracker crumbs. Place the cheese mixture onto the plastic wrap, then sprinkle some more cracker crumbs around the sides. Wrap the plastic wrap up tightly around the cheese mixture and form the wrapped cheese ball into a pumpkin shape - basically a short, plump ball. (The cracker crumbs will prevent the cheese from getting stuck to the plastic.)
Once the cheese ball is shaped, take the cheese ball out of the plastic wrap and roll the ball into the bowl of crushed crackers. Roll it around until it is fully covered with the cracker crumbs. It's okay if it isn't perfectly shaped like a pumpkin.
After it is covered in crackers, wrap it tightly in another large piece of saran wrap. (If your first piece of plastic stayed clean, you can use that one, but you will likely need a clean piece - you don't want any cream cheese showing on the outside of the pumpkin.) Chill the cheese ball for at least two hours or overnight.
While the cheese ball is still wrapped in plastic wrap, use the end of a wooden spoon or the tip of a butter knife to make vertical grooves on the cheese ball to look like a pumpkin. The cheese must be cold for it to hold its shape.
Place the stem of a bell pepper on top of the cheese ball or use a pretzel stick to make a pumpkin stem.
Serve with chips or crackers.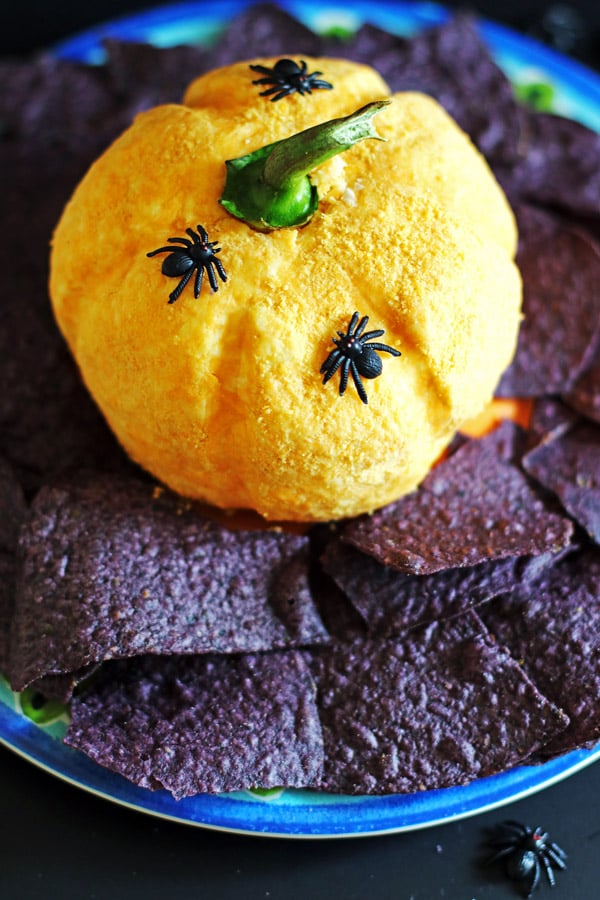 Pumpkin Cheese Ball Variations
Mix diced green onion or jalapenos into the cheese mixture to add some spice to the cheese ball.
Add some red pepper flakes, garlic powder, or a pinch of cayenne pepper to the cheese mixture.
If you don't have cheese crackers, you can use Nacho Cheese Doritos or Cheetos. I bet spicy Cheetos would be really good!
Recipe Tips
When using a bell pepper stem as your pumpkin stem, cut the bottom off at an angle to make a sharp point that will stick in the cheese ball.
Make sure to keep the cheese ball mixture cold while shaping the pumpkin and until serving. It is
How to Store Leftover Cheese Ball
Store your leftover cheese ball in an airtight container in the refrigerator. It should last for about a week.
Looking for more Fall Recipes?
Be sure to check out all of my Halloween Recipes and my favorite Fall Recipes. If you are looking for something healthy to go along with all the treats that come along with Halloween, check out my recipe for Purple People Eater Smoothie. It is spooktacular!
Have a safe and happy Halloween!
Did you make this recipe? If so, please leave a comment and rating below. I love hearing from you.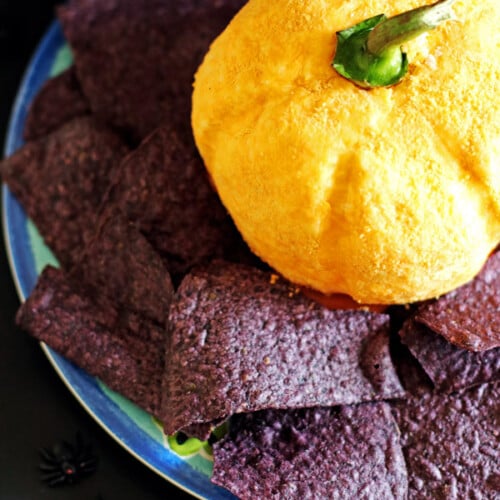 Pumpkin Shaped Cheese Ball
This Easy Pumpkin Shaped Cheese Ball is the perfect appetizer to bring to a Fall party. It's cheesy, delicious, and made with simple ingredients. This festive pumpkin cheese ball deserves to be the star of the show at every gathering this time of year.
Print
Pin
Save
Saved!
Equipment
blender or food processor

plastic wrap

mixing bowls
Ingredients
1

cup

cheese crackers

finely crushed

8

ounce

package of shredded cheddar cheese

8

ounce

package of shredded Colby and Monterey Jack cheese

8

ounce

package of cream cheese

softened

1

packet of powdered cheese from your favorite macaroni and cheese box

1

stem of a bell pepper

tortilla chips or crackers for serving
Instructions
Finely crush the cracker crumbs in a blender, then place them into a medium-sized bowl. Set the bowl aside.

Combine the softened cream cheese, shredded cheddar, and shredded Colby and Monterey Jack cheese in another medium-sized bowl.

8 ounce package of shredded cheddar cheese,

8 ounce package of shredded Colby and Monterey Jack cheese,

8 ounce package of cream cheese

Mix the powdered cheese into the cream cheese mixture.

1 packet of powdered cheese from your favorite macaroni and cheese box

Lay out a large piece of plastic wrap and sprinkle it with a few crushed cracker crumbs. Place the cheese mixture onto the plastic wrap, then sprinkle some more cracker crumbs around the sides. Wrap the plastic wrap up tightly around the cheese mixture and form the wrapped cheese ball into a pumpkin shape - basically a short, plump ball.

Once the cheese ball is shaped, take the cheese ball out of the plastic wrap and roll the ball into the bowl of crushed crackers. Roll it around until it is fully covered with the cracker crumbs. It's okay if it isn't perfectly shaped like a pumpkin.

After it is covered in crackers, wrap it tightly in another large piece of saran wrap. (If your first piece of plastic stayed clean, you can use that one, but you will likely need a clean piece - you don't want any cream cheese showing on the outside of the pumpkin.) Chill the cheese ball for at least two hours or overnight.

While the cheese ball is still wrapped in plastic wrap, use the end of a wooden spoon or the tip of a butter knife to make vertical grooves on the cheese ball to look like a pumpkin. The cheese must be cold for it to hold its shape.

Place the stem of a bell pepper on top of the cheese ball or use a pretzel stick to make a pumpkin stem.

Serve with chips or crackers.

tortilla chips or crackers for serving
Notes
Adapted from The Food Network