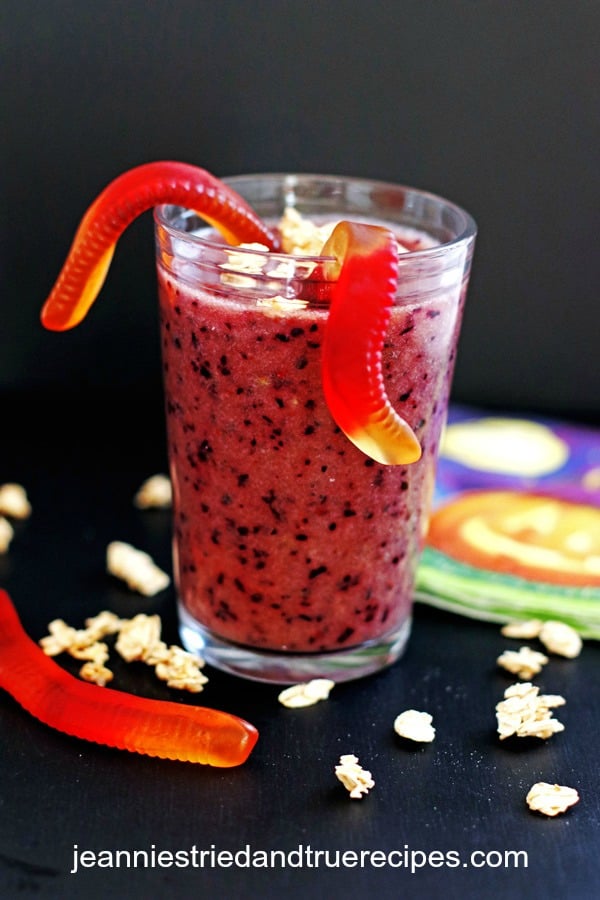 Looking for something healthy to serve your family this Halloween? This smoothie recipe is one that is sure to please!
Halloween is just around the corner…are you ready? I am not… The weather here has been so nice that I am forgetting it is October. I still need to make our daughter's bat costume, buy Halloween candy for the trick or treaters (and maybe a little for us!) and get things together for the school party. Not too bad except that we less than two weeks until Halloween! Yikes!
One thing I also want to make sure we do is to eat some healthy foods along with all the Halloween treats that will be around. I believe everything in moderation. A healthy balance is my thinking. So I like to also add in smoothies to make sure we are eating well too. So when making this Purple People Eater smoothie, I mixed in a little Halloween fun.
Smoothies are a great way to get your servings of fruits and vegetables in for the day! I try to make a couple of different smoothies a week for my family. With Halloween coming up, I wanted to add a little fun to this smoothie so I just added some gummy worms to the smoothie. That made it look spooktacular!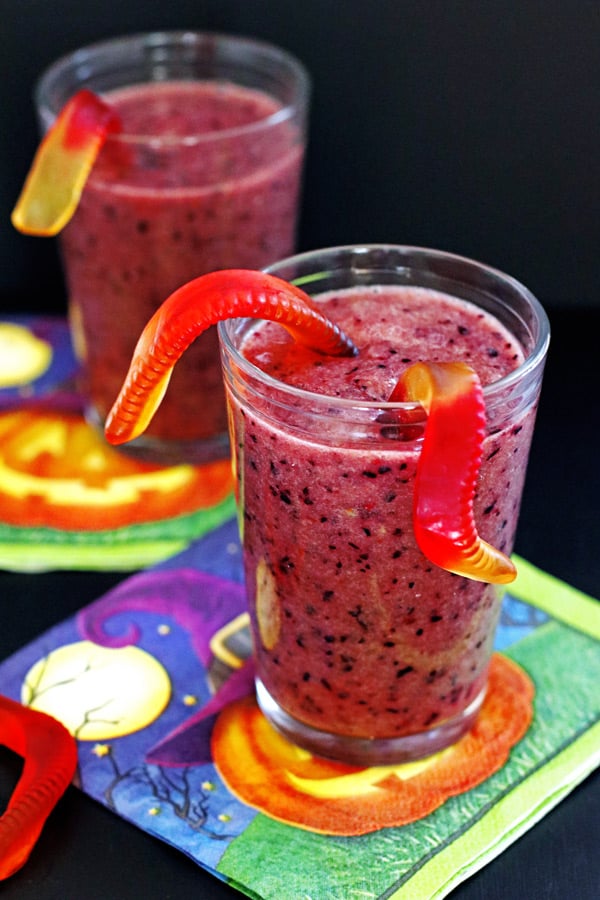 This smoothie is very kid friendly as it uses fruits that most kids love…apples, bananas and blueberries.
Did you know bananas with the brown spots are good for you? They might not look that appetizing but they really are good for you. Besides eating them I like to use the riper bananas when baking and also in my smoothies. So don't throw them out…they are full of good nutrients!
Smoothies are so easy to make as well which makes it mom friendly too (if that is such a thing…I'm not sure) :o) It's just two apples, two bananas and some blueberries thrown in your blender. Adding in just a little bit of water so it doesn't get too watered down and that's it.
Sometimes we like to add a little granola to our smoothies because it adds a little crunch but that is up to you if you want to add that in.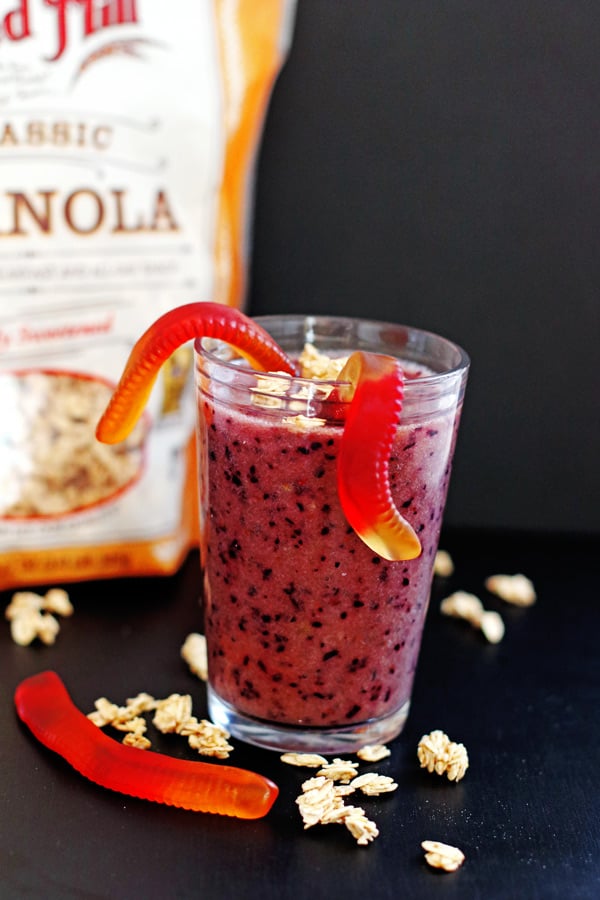 Of course adding in the gummy worms gives it a great Halloween look. I think sometimes if food looks fun, kids are more likely to eat it.
When I first made this smoothie, it turned out to be a beautiful purple color. As a result, I started thinking of that Halloween song, "Purple People Eater".
Have you ever heard that Halloween song? It really is a catchy song…one of those songs that you can't get out of your head once you hear it. But it is a fun Halloween song! So that is where the name of this smoothie came from.
Again, fun food makes it more fun to eat when it comes to kids. And with a catchy name like that, I am guessing your kids might be more interested in trying it out.
If you are looking for more Halloween treats to make, check out my Witch Hat Calzones. That has become a traditional recipe I make for my family on Halloween.
If it is a dessert you are looking for, you might like my Peanut Butter Spider Cookies or the Halloween Dirt Cake. If you are short on time but still want to make a something special for Halloween, I would suggest the Halloween Dirt Cake. You can whip that up pretty quick and it is always a hit with the kids.
Well, I better get going to make the bat costume I mentioned! Have a great day!
~Jeannie
This post is not sponsored, but you will find affiliate links on this page. The price you pay as a consumer does not change, but I may make a small commission based on your purchase. Thank you for supporting Jeannie's Tried and True Recipes!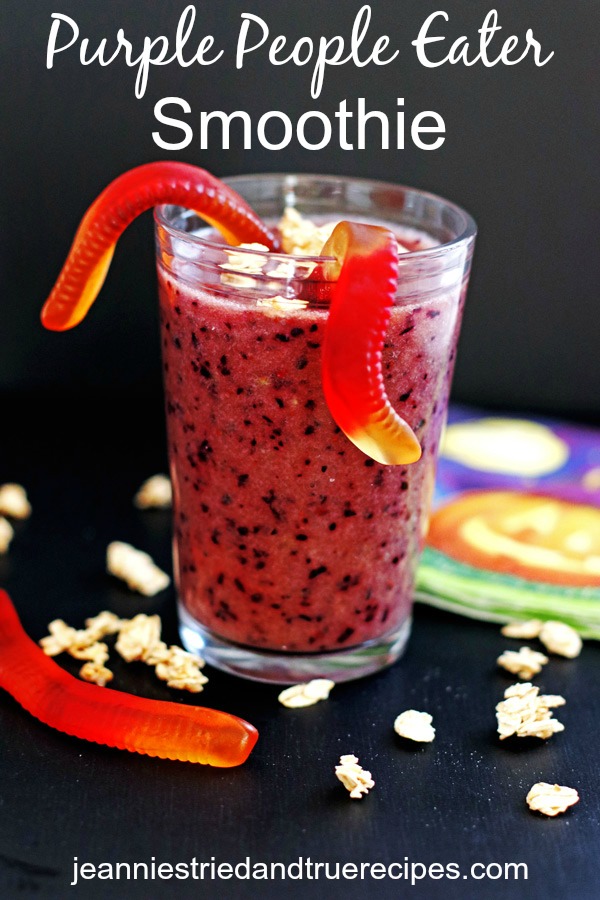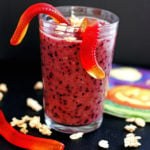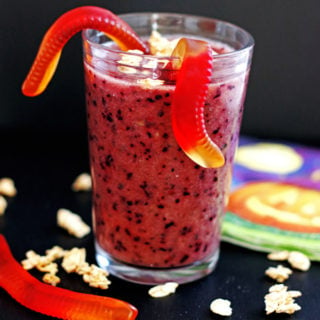 Purple People Eater Smoothie
This spooky yet nutritious smoothie is perfect for Halloween.
Ingredients
2

medium to large apples

2

bananas

2

cups

frozen blueberries

2/3

cups

water

gummy worms

granola, optional
Instructions
Slice up the apples into medium sized pieces and place in your blender. Add in the bananas, blueberries and water.

Pour into individual glasses.

Sprinkle some granola over the smoothie, optional.
Recipe Notes
This recipe makes about 4 cups.