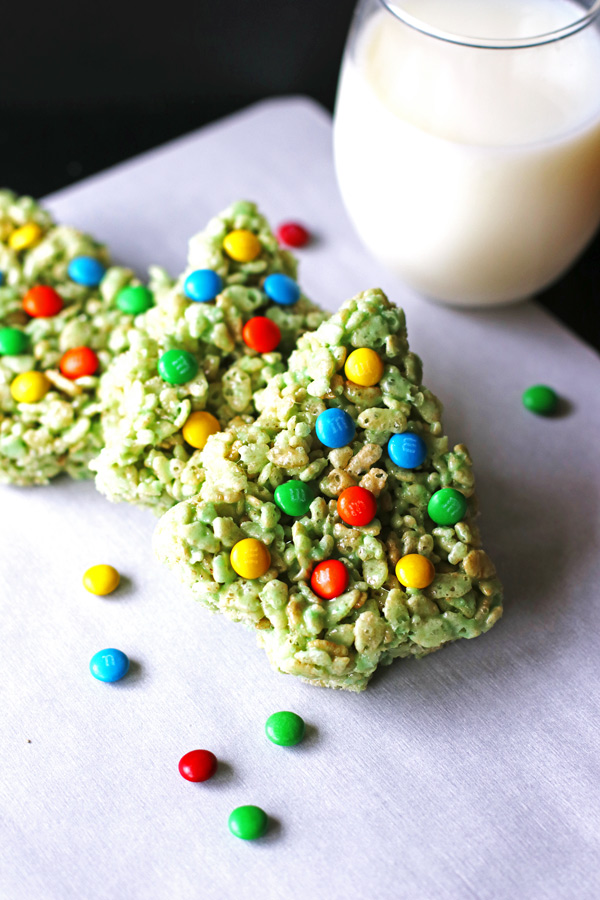 I cannot believe it is Christmas time already! It was so warm in September and October that we were still swimming in our pool…which is really late in the year for where we live. While we were enjoying all the warmth and sunshine, I had a feeling that the holidays were going to creep up on us…and they are. I started a "Christmas Cookie Celebration" last week…sharing our favorite Christmas recipes that we make at this time of the year. Some old ones, some new ones. This one for Rice Krispie Treat Christmas Trees is a new one!
I made these Christmas tree cookies last week for the first time with our daughter. She is getting to that age where spending time in the kitchen is a fun thing to do. Well, at least her part is…the cleaning up part is on my end and is the least fun part of it! But I love having her in there with me making recipes. Her job was to add in the green food coloring and press the mini M&M's on to the Christmas trees.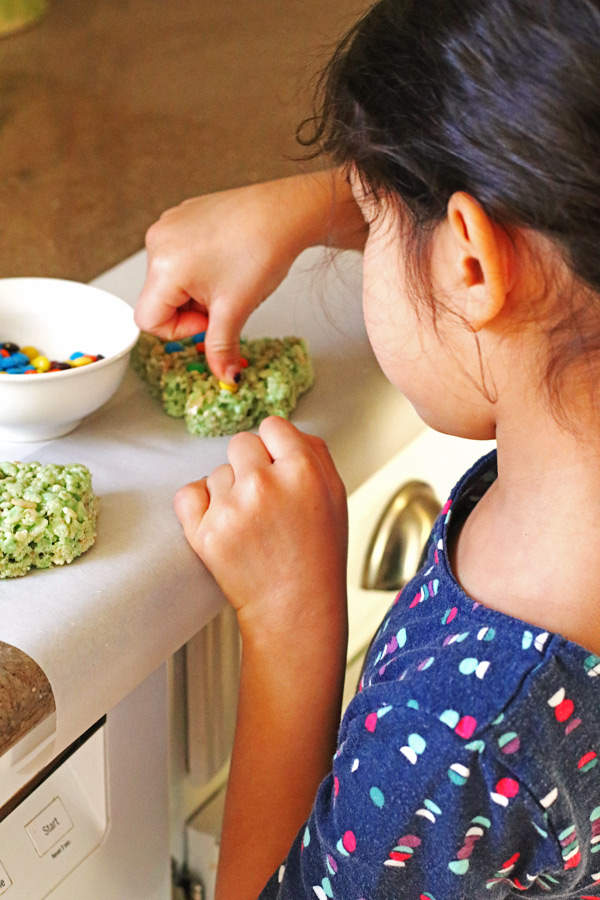 I had an old Christmas shirt of hers to try on to see if it still fit. While it didn't fit her as a t-shirt, she made it into an apron! Too cute. She looked adorable.
These are one of the easiest Christmas cookies to make. If you are not a baker or just short on time as many of us are at this time of the year…this is the recipe for you. There is something about Rice Krispies Treats, isn't there? Adults love them, kids love them…they are a hit all around. And adding a bit of chocolate to them with the M&M's makes your chocolate lovers like them even more!
Just a few simple steps and you will have these no bake Christmas cookies made and ready to eat! Just a couple of tips…make sure you add the green food coloring in with the melted butter and marshmallows. If you wait until the cereal is added in, the color will not mix in as well. Also, after you cut out the Christmas trees, place them on Reynolds Kitchens Parchment Paper so they don't stick the the counter. Plus, easier clean up!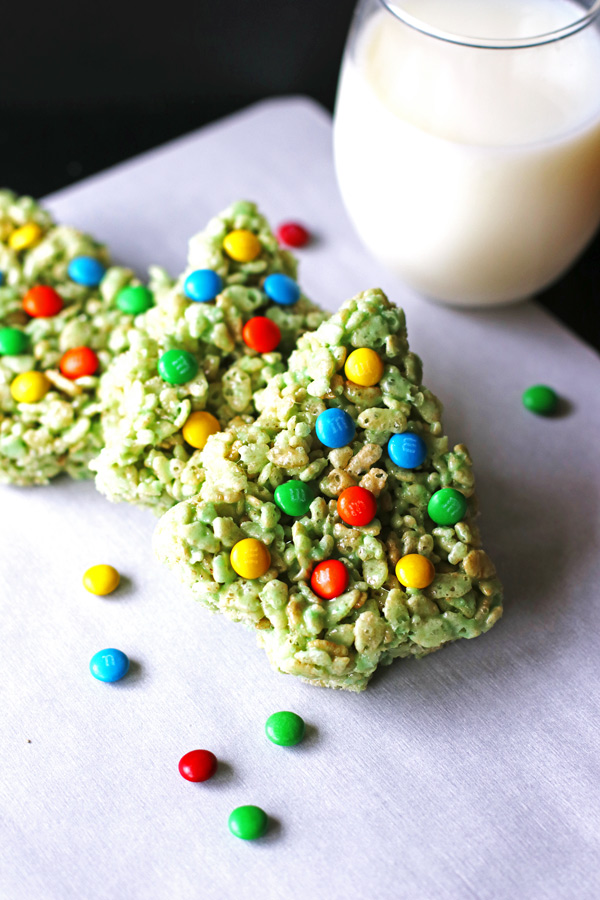 What is your favorite Christmas cookie to make? Is it a family recipe handed down or a new one you just made?
I don't have one particular favorite one. I have a few I typically make and then we try to add a new one or two in when we have time to do so. My traditional cookie recipes are the Peanut Butter Kiss Cookies, Cut Out Cookies and okay, I will tell you the name of this one…Reindeer Poop. Yes you read that last one right. For whatever reason, my husband named the cookie that years ago. He tells me it is because of the way it looks. It tastes delicious though and for my food blog, I renamed it Christmas Chow Mein Noodle Cookies. Last year we made Meringue Cookies that my mom used to make and they became a family favorite. I will just say, they didn't last too long here in our house!
I am looking forward to trying a couple of other new recipes and sharing them with you very soon! Happy Christmas Cookie Celebration! (By the way…the name is my daughter's idea. I asked her why she liked that name and she said we are celebrating Christmas with cookies!)
~Jeannie
This post is not sponsored, but you will find affiliate links on this page. The price you pay as a consumer does not change, but I may make a small commission based on your purchase. Thank you for supporting Jeannie's Tried and True Recipes!
Rice Krispie Treat Christmas Trees
2017-12-08 07:09:51
Ingredients
3 tablespoons unsalted butter
1 package (10 oz.) of marshmallows
6 cups Rice Krispies cereal
Green food coloring (I used about 9 drops)
Mini M&M's
Butter to grease pan and cookie cutter with
Instructions
Grease the bottom and sides of your13x9 pan with butter. Set aside the pan.
In a large saucepan, melt the butter over low heat until it is melted. Add in the marshmallows and the green food coloring (I used about nine drops of food coloring.) Stir until the marshmallows are completely melted and the green food coloring is mixed in well. Remove pan from heat.
Add in the Rice Krispies cereal and stir well until evenly coated.
Using a buttered spatula press the cereal mixture into your pan evenly.
Grease the sides of your tree shaped cookie cutter with butter and press down onto the Rice Krispies treats. Remove the trees from the pan and place them onto parchment paper. Gently press the mini M&M candy onto the trees and decorate.
Repeat cutting out Christmas trees as close as you can to use up the most of the Rice Krispies treats.
Store them in a covered container for up to two days.
Notes
The amount of cookies you make depends on the size of your cookie cutter.
They are best served the day that you make them.
Adapted from Kellogg's Rice Krispies
Adapted from Kellogg's Rice Krispies
Jeannie's Tried and True Recipes https://jeanniestriedandtruerecipes.com/