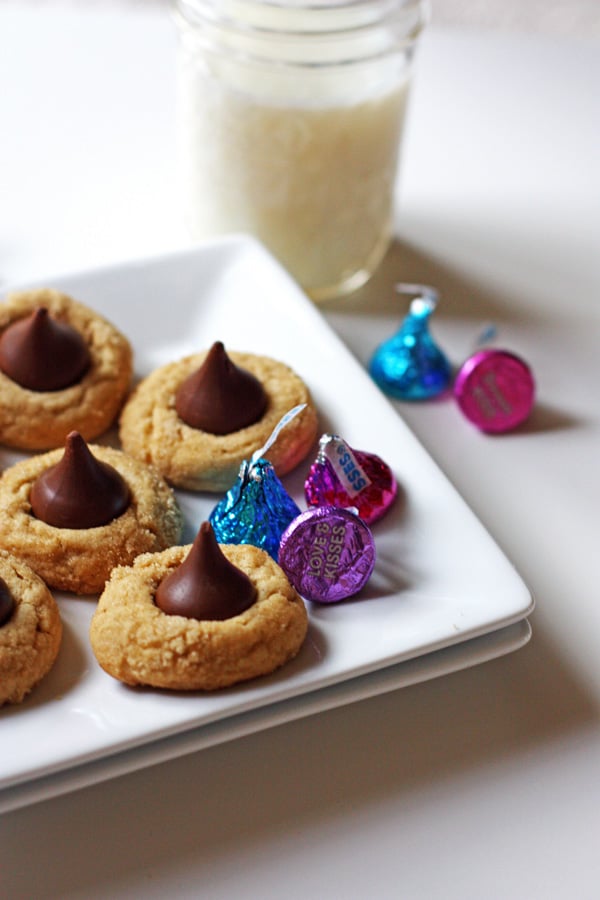 I know there are many different recipes for these Kiss Cookies…this recipe is the one my mom has made for years and the one that I have made many times also. For a few years I could not find this recipe card that my mom had written out and given to me. So I would look up a different recipe for these cookies since it is one of my family's favorite cookies to make at Christmas time. But for some reason it just didn't taste the same to me. I don't know if it is that much different or that I just know it wasn't the one we have made over and over. So recently I was cleaning out the top shelf of my pantry and guess what? I found the recipe card from my mom. It was in a recipe box. Good place for it, right? Why I didn't look there before is the question of the day…but I found it now and was thrilled to make them! And just in time for Valentine's Day for my family.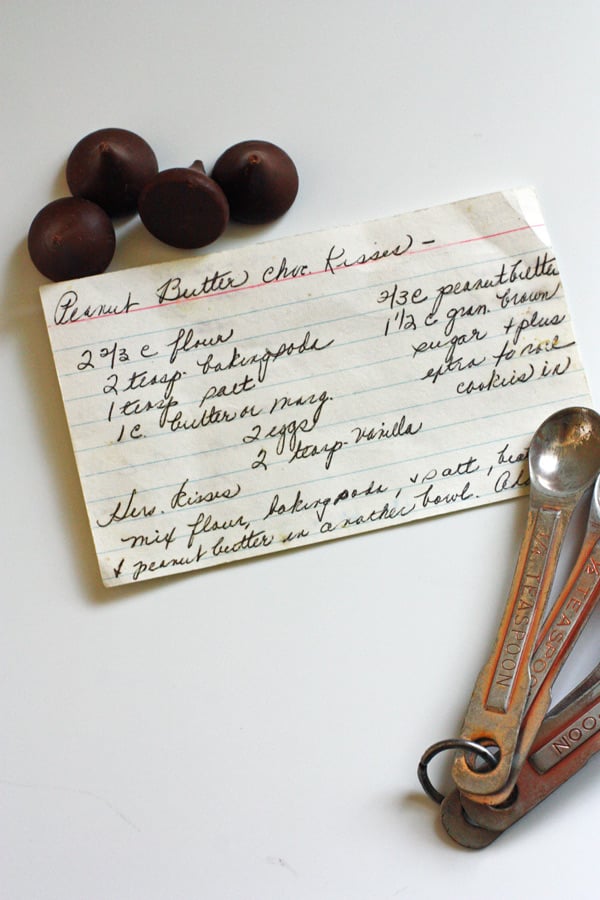 There is something about mixing peanut butter and chocolate, isn't there? They are a perfect match when it comes to baking…at least in my opinion. My mom's recipe says to chill the dough at least one hour. I did chill the dough for an hour and started to make the cookies. I kept the dough in the fridge as I waited on each batch to bake in the oven to keep it chilled since I didn't chill it too long. The dough just seems easier to work with when it is chilled. If you can, chill the dough overnight, but I know that is not always possible…as that was the case for me this time around. The cookies will turn out great either way. While the dough is chilling, it is the perfect time to unwrap all the Hershey kisses. That is a job I like to give my kids. They unwrap for me and have a couple while doing it. It's a win win for all of us.
I use my one tablespoon cookie scoop to make the dough balls. Then I put some brown sugar into a small bowl and roll the dough balls in the brown sugar until they are well covered. Place them on your prepared cookie sheet (covered with either parchment paper or Artisan Silicone Baking Mat
) about two inches apart. Bake them at 350 degrees for eight minutes. Remove them from the oven and gently place a Hershey kiss in the middle of each one. Then place them back into the oven and bake them an additional two minutes. Let them cool completely before storing them. The kisses take a while to completely cool so make sure they have enough time to cool. Once they are completely cooled, store them covered. And enjoy!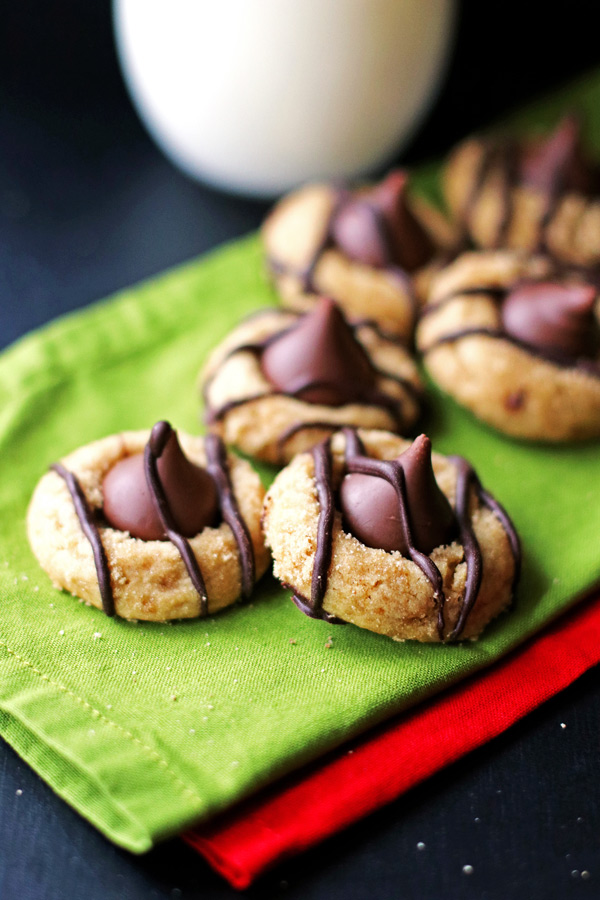 While making them this way is enough…my son told me last year that he didn't think they had enough chocolate on them. He didn't like that all the chocolate was in the middle of the cookie. So we decided to try melting some chocolate and drizzling it over the cooled cookies. They were sooo good! I thought I loved these cookies just as they were. If you love chocolate, you have to try it this way!
To make them this way, melt some Baker's Chocolate pieces. Place the melted chocolate into a plastic Ziploc bag and cut the tip of the corner off. Just a little though so you just get a little chocolate out at a time. Line the cookies up and go back and forth over the cookies a few times or until you have enough chocolate for you!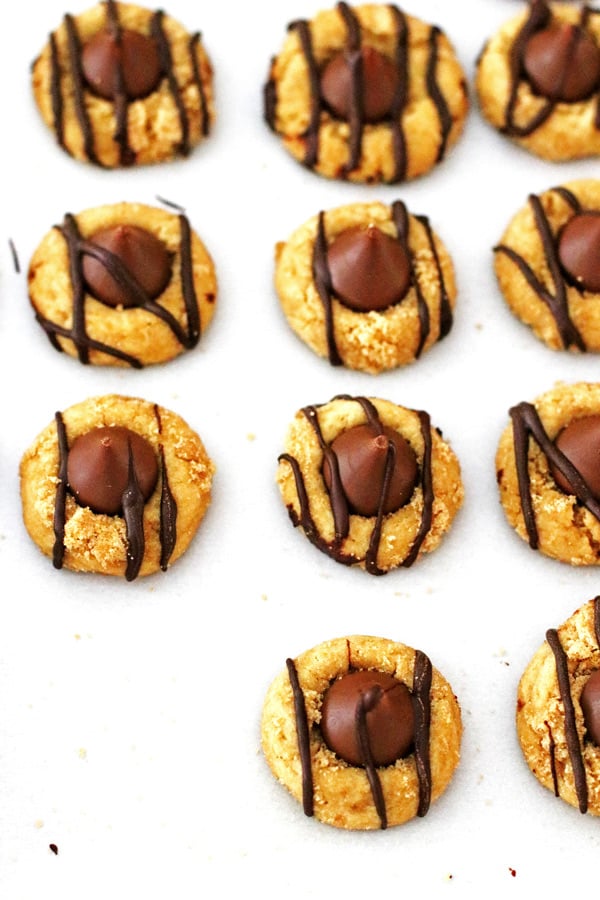 When I made these cookies for Christmas I made half with the extra chocolate and half without. The plain cookies were the last to go…so I would say the extra chocolate cookies won in our house! Let me know which you prefer in your house. Happy Baking!
~Jeannie
Peanut Butter Chocolate Kiss Cookies
2017-02-13 16:05:26
Ingredients
2 2/3 cups all- purpose flour
2 teaspoons baking soda
1 teaspoon salt
1 cup butter, softened
2 eggs, room temperature
2 teaspoons vanilla
2/3 cup peanut butter
1 ½ cups brown sugar, plus extra to roll cookies in
1 bag of Hershey kisses
Baker's chocolate pieces 2-4 ounce packages
Instructions
Combine the flour, baking soda and salt. Set aside.
Cream together the butter and peanut butter in a mixing bowl.
Add brown sugar and mix well. Add in the eggs, one at a time beating after each one.
Add in the vanilla and mix well.
Slowly add in the dry ingredients on low speed. Mix well.
Chill at least one hour, overnight if possible. (the longer you chill the dough, the easier the dough is to work with)
Preheat oven to 350 degrees.
Cover your cookie sheet with parchment paper or silicone mat.
Make dough balls about one tablespoon in size. (I use my one tablespoon cookie scoop to make the balls.)
Pour some brown sugar in a small bowl. Roll each dough ball in the brown sugar and place them on your prepared cookie sheet.
Bake for eight minutes. Remove from the oven and gently press a kiss in the middle of each cookie. Place back in the oven and bake for an additional two minutes.
Cool thoroughly before storing.
If adding the melted chocolate, break apart the Baker's chocolate pieces and place in a microwave safe bowl. Heat for 30 seconds, and then repeat at 10 second increments until the chocolate is completely melted. Let the chocolate sit for a few minutes.
Line the cookies up on parchment paper. Pour the chocolate into a Ziploc bag and cut the corner off slightly. Drizzle the cookies by go back and forth over the cookies until the desired amount of chocolate is on the cookies.
Let them sit until the chocolate sets.
Notes
Makes about 6 dozen
Jeannie's Tried and True Recipes https://jeanniestriedandtruerecipes.com/

Save