A basic sugar cookie made just for the holidays but can be made at any time of the year!
I recently made these Sugar Cookies using this mitten cookie cutter
for my family for the Christmas season. Each year at Christmas time, we usually make a few traditional cookie recipes and try to add in a new one or two. Our traditional Christmas cookies are:
Peanut Butter Chocolate Kiss Cookies
Christmas Chow Mein Noodle Cookie
Last year our favorite new one we made was the Christmas Peppermint Meringue cookies. It was a new recipe for me, but an oldie…my mom used to always make these at Christmas. Now that she is older, she doesn't bake Christmas cookies anymore. So I had to make them to get my meringue cookie fix. They turned out great! For some reason I was not sure if they would turn out as good…maybe because of the meringue. But I was pleasantly surprised!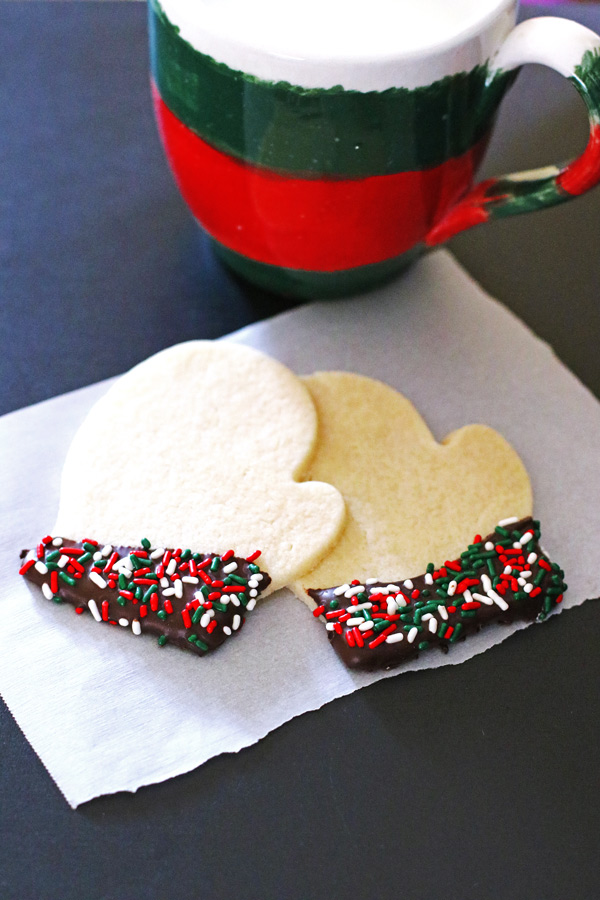 So this year one of our new ones are these Sugar Cookies that look like mittens. Pretty simple to make and decorate….well, as long as you use all the ingredients! Little story here…I made the dough on a day that we had a few things planned…maybe a few too many things planned for one day. So I quickly made the dough so I could chill the dough and make the cookies later in the day. Simple, right?! Ha. So when I went to bake them later I taste tested one. As soon as I took a bite into the cookie, I knew I had missed something… and then it hit me…I had forgotten to add in the sugar! Yes, I didn't put sugar in my sugar cookie mix! That is what happens when you put too much on your plate for the day! So I then carefully made the dough again, making sure the sugar was added in this time. Funny thing is that my kids actually liked the cookies without the sugar! I threw out the first batch and afterwards, my son was asking where the cookies were. He seemed disappointed that I had thrown them out…he said he liked them.
We all make mistakes once in a while with our baking. Thankfully I realized it before we took the time to decorate them.
Do you like to bake often? Or do you have someone on your Christmas shopping list that is into baking? Well, I have a list here of baking gift ideas that would thrill any baker…whether it is you or your favorite baker in your life!
Baker's Gift Ideas
Measuring Spoons
& Measuring Cups
– These measuring spoons and cups are colorful and fun to use!
Baking Sheets
– I really love the way my cookies turn out when using these baking sheets.
Cookie Scoops
– Having a cookie scoop to measure out your cookie dough not only helps with giving you a uniform size to all of your cookies but also saves on time. I have one that is a tablespoon size and a jumbo one that measures out ¼ cup of cookie dough for each cookie. This jumbo one makes the best jumbo sized cookies!
Hand Mixer
– I have this mixer which works great for smaller cookie dough batters, mashing potatoes, etc.
KitchenAid Stand Mixer – I love my stand mixer. It is great to have for bigger cookie dough recipes. I use if often.
Silicone Baking Mat
– These are so nice to have for baking. Easy to clean and your cookies won't stick to the pan. I have two of them an d use them just about every time I bake cookies.
You really can't go wrong with any of the above items. Happy Baking!
~ Jeannie
This post is not sponsored, but you will find affiliate links on this page. The price you pay as a consumer does not change, but I may make a small commission based on your purchase. Thank you for supporting Jeannie's Tried and True Recipes!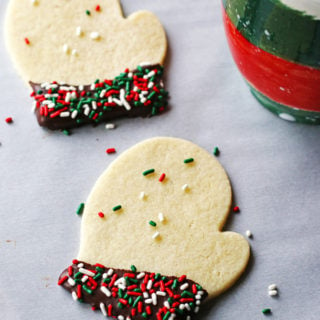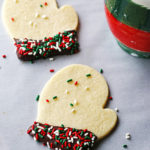 Sugar Cookies
Ingredients
1

cup

unsalted butter

2 sticks, softened to room temperature

1 ½

cups

granulated sugar

¼

teaspoon

salt

1

egg

room temperature

2

teaspoons

vanilla extract

2 ½

cups

all-purpose flour

Baker's semi–sweet chocolate bar

4ounces

Sprinkles
Instructions
Cream butter and sugar until light and fluffy.

Add in the salt, egg and vanilla.

Slowly add in the flour.

Form dough into three balls. Place in a bowl, cover and chill dough at least one hour.

Once the dough has chilled, preheat your oven to 375 degrees.

Cover baking sheet with parchment paper or silicone mat.

Lightly flour your surface for cutting out cookies.

Take out one dough ball at a time and roll out the dough to about ¼" thickness. Cut out the mittens with our cookie cutter and place them onto your prepared baking sheet.

Bake for 8-10 minutes.

Let cookies cool completely.
For Decorating
Break up the Baker's chocolate into pieces and place into a microwave safe bowl. Heat for 30 seconds and then stir. Melt at 10 second increments more as needed, stirring after each one, until chocolate is completely melted. Let it cool slightly.

Dip the bottom of the mitten into the chocolate and add sprinkles. Let sit until completely set.
Recipe Notes
The amount of cookies you make from this recipe depends on the size of your cookie cutter.
Adapted from M&M