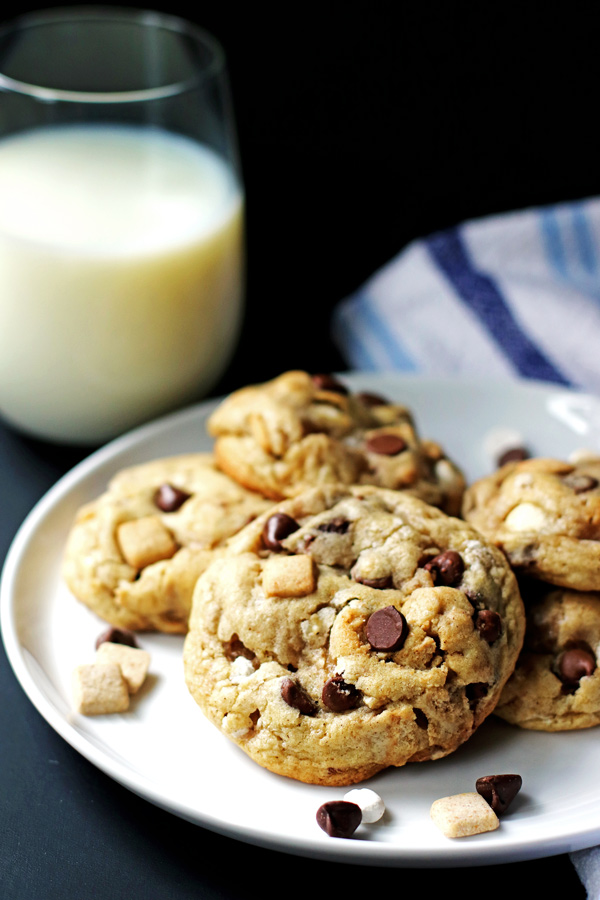 Have you ever had a s'mores? The melted marshmallow from a campfire over a piece of chocolate in between two graham crackers…yumm! You know that campfire treat that so many of us love to eat?! They are hard to resist, aren't they? Well, so are these Jumbo S'mores Cookies! When I made them, my son told me they tasted like a s'mores…
Do you remember when you had your first s'mores? I remember when I was a kid, my parents used to rent a cottage at a beach in Canada and we would have fires on the beach at night. Sometimes we would go swimming at night…which now I am a parent, I don't know if I would send my kids in the lake at night. Anyways…it was so much fun.
We would melt marshmallows on sticks…the more burnt the better in my opinion. My dad liked them so burnt, the marshmallow would be black! Then sometimes we would use the marshmallows for s'mores and that was such a great treat! S'mores are such a great summer time treat to have. Not only are they fun to make but they are so yummy!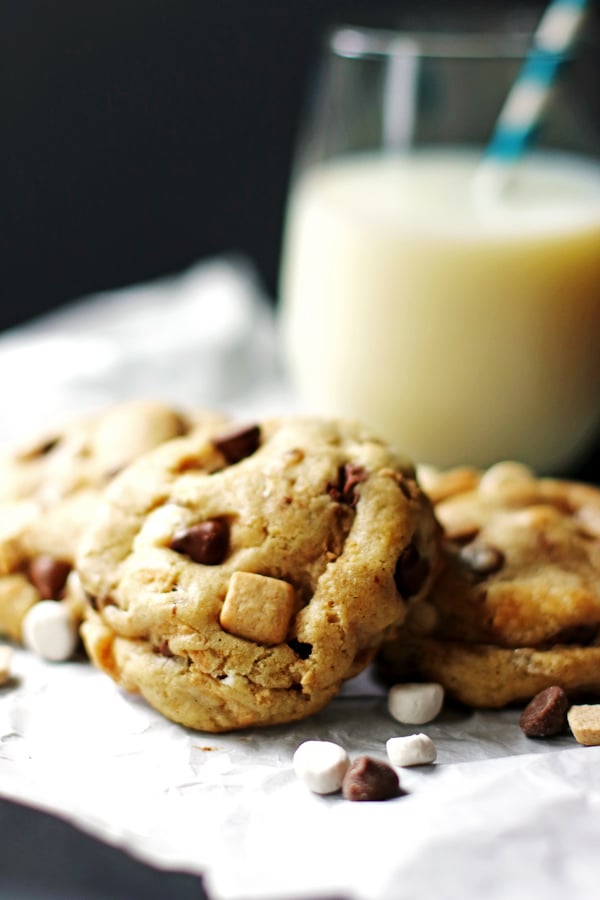 Now that I have a family of my own, we would make s'mores when we went camping when my son was younger. We would camp in a tent and it was a great time taking hikes and taking in all that nature has to offer. We used to go to a park in Ithaca, NY which was beautiful. Only problem with camping for me is I never slept that well in a tent. Not that I wasn't comfortable, sometimes I can have a big imagination and it kept my mind going most of the night! So it has been awhile but we do have great memories of it…maybe we will try it again.
One night we will never forget is when it was a meteor shower. We saw about 30 shooting stars within a couple of hours. It was amazing! So things like that make me think about camping again…but until then, we have a fire pit in our backyard and we have fires there and enjoy our s'mores by the pool and look for shooting stars! If you are going camping or just going to enjoy the outdoors in your backyard…don't forget the ingredients for your s'mores!
These Jumbo S'mores Cookies do taste just like a s'mores so if you have a taste for one but can't make them…these cookies are your answer! I bought a package of Hershey's S'mores Pieces to use in this recipe so it makes them so easy to make. And they are so darn cute! Check out the photo below…it is a mix of mini marshmallows, mini graham crackers and chocolate chips. I also added in about ¼ cup chocolate chips to make them a little more chocolaty!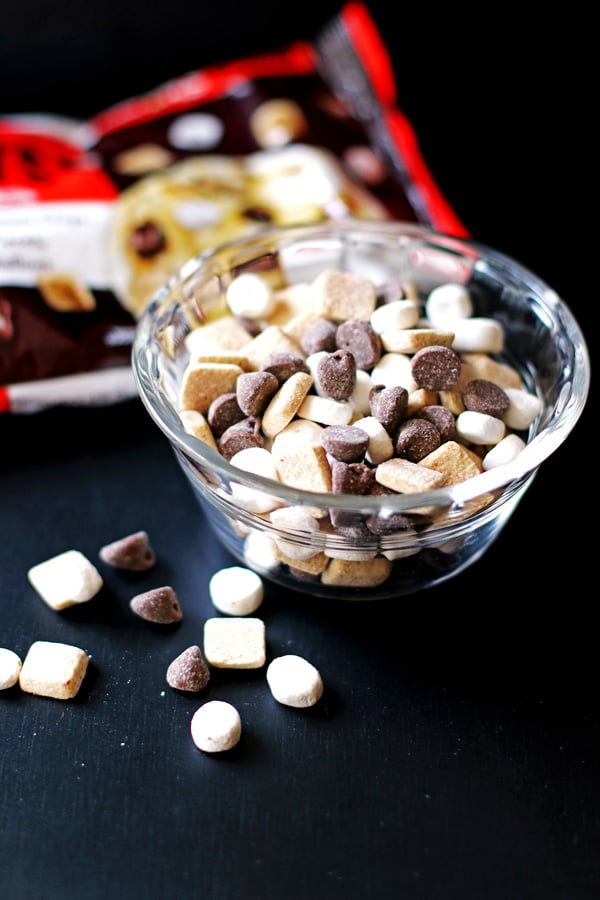 I do chill the dough when making these cookies. I know some people don't like the idea of chilling dough, but to me it is worth it. So many times I would try not chilling the dough and the cookies flatten out. But, when I started chilling my dough, the cookies came out nice and thick.
What are the benefits of chilling dough?…
Your dough is firmer and easier to work with when forming your cookies.
Your dough spreads less, which gives you a thicker cookie.
More flavor in your cookies…the flavors mingle while the dough chills!
You can chill the dough just an hour and that will help, but chilling it overnight is best. Plus, all the mess from making the cookie dough is cleaned up and you bring out your cookie dough and make the cookies in a nice clean kitchen. I don't know why, but I really like that idea! Another benefit of chilling your cookie dough!
I will tell you that the dough will be very hard when you take it out of the fridge. So while the oven is preheating, take out the dough and let it sit about ten minutes to let it soften up a bit.
These are jumbo sized cookies, so make sure you use a large cookie scoop like my OXO Good Grips Large Cookie Scoop
. The one I use measures ¼ cup. Another tip is to only put 6 cookies on your baking sheet at a time so they have enough room. I use these Wilton Cookie Sheets
and they work great for my cookies each time! And, before baking, gently press a few pieces of the S'mores Baking Pieces on each cookie. This makes your cookies look prettier!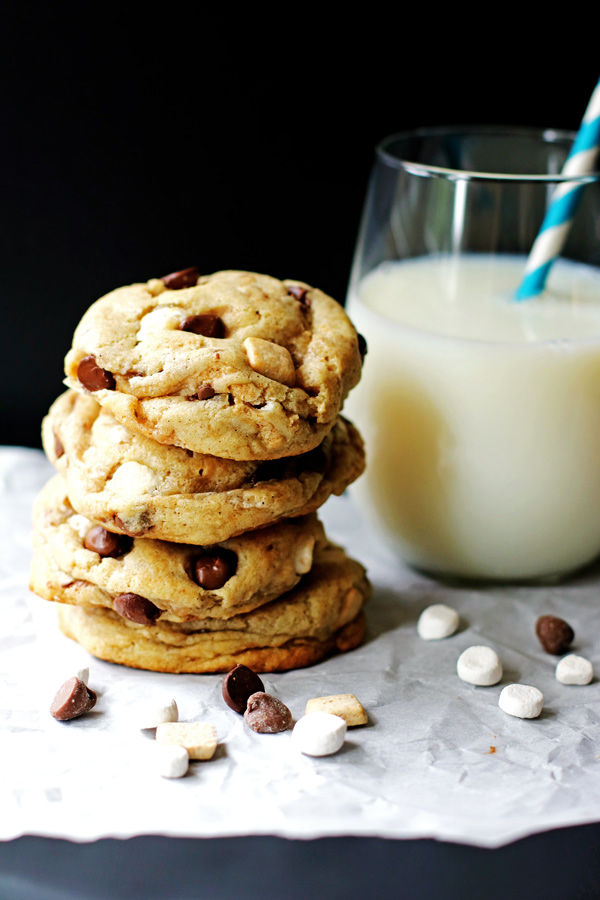 If you love jumbo cookies, try out my Ultimate Peanut Butter Chocolate Chip Cookies…a favorite of mine!
I hope you enjoy these cookies as much as we do! Let me know by leaving a comment….would love to hear from you!
~Jeannie
This post is not sponsored, but you will find affiliate links on this page. The price you pay as a consumer does not change, but I may make a small commission based on your purchase. Thank you for supporting Jeannie's Tried and True Recipes!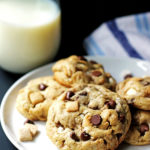 Jumbo S'mores Cookies
Ingredients
1

cup

unsalted butter

2 sticks

1

cup

granulated sugar

½

cup

brown sugar

2

eggs

room temperature

1

teaspoon

vanilla extract

3

cups

all-purpose flour

1

teaspoon

baking soda

½

teaspoon

salt

1

teaspoon

ground cinnamon

1 ½

teaspoons

cornstarch

1

bag of Hershey's S'mores Baking Pieces

¼

cup

chocolate chips

Reserve a few S'mores Baking Pieces to gently place on top of cookies before baking

optional
Instructions
Combine the flour, baking soda, salt, cinnamon and cornstarch in a bowl. Set aside.

In a medium pot, melt the butter on low heat. Do not melt the butter completely…just until it is just about melted. Remove from heat.

Whisk the sugars, eggs and vanilla extract into the butter until well combined.

Slowly add in the dry ingredients to the butter mixture until well blended.

Fold in the S'mores Baking pieces and extra chocolate chips with a spatula or wooden spoon. (I reserve a small amount of the S'mores Baking Pieces to place on top of the cookies before baking. This is optional but just makes the cookies look prettier.)

Cover and chill the dough at least an hour, but preferably overnight.

Preheat oven to 350 degrees.

Take out the cookie dough and let it warm up a little while oven is preheating. (about ten minutes)

Line baking sheets with parchment paper or a silicone baking mat.

Using large cookie scoop (I used ¼ cup size), scoop out dough. Roll them into balls and place them on baking sheet. Only place six at a time as they are jumbo sized cookies.

Gently press a few pieces of the S'mores Baking Pieces on each cookie before baking, optional.

Bake 12-14 minutes. Do not overbake.

Let them cool on baking sheet for 5-10 minutes before removing them from baking sheet.
Recipe Notes
Makes about 18 jumbo cookies.