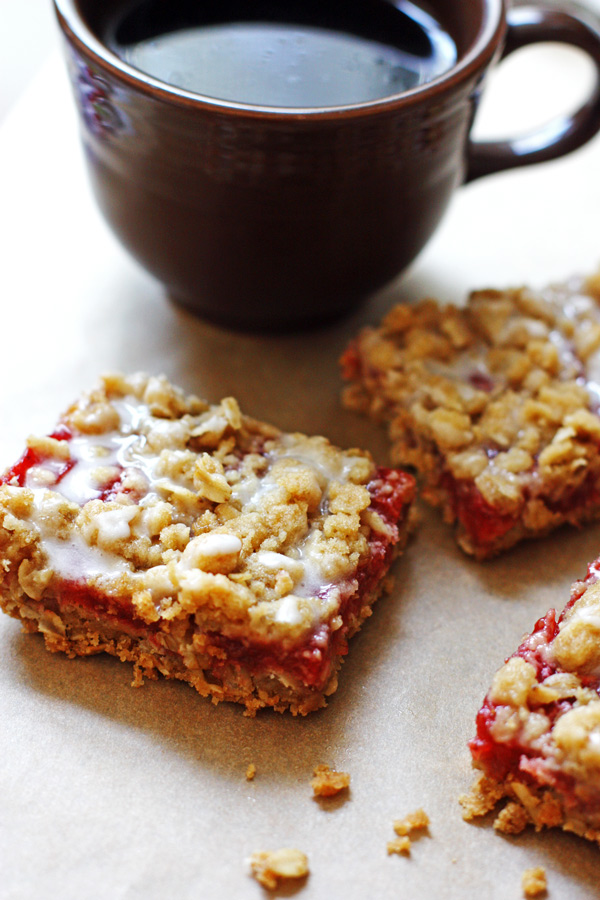 Are you a fan of rhubarb? I remember when I was a kid, my mom made something with rhubarb and from that day on, I was not a fan. But then recently I was at my local farmers market and I saw rhubarb on the table and for some reason it caught my eye and I bought it. I don't normally buy something unless I know what I am going to make with it or… I know I like it. So, it sat in my fridge for a few days as I thought what am I going to do with this?! My family joked about how I bought it and don't like it, but am going to make something for them to eat. Well, once I made this recipe for Strawberry Rhubarb bars, my opinion has changed on baking with rhubarb. Whether you like rhubarb or not, have never tried it, I highly suggest this recipe.
This recipe is like a lot of recipes I love to make, quick and easy to make. The first time I made this recipe it was around 10:30 at night…I had to use the rhubarb before it went bad and dragged myself into the kitchen saying "Why did I buy this?" It was a cinch to make and clean up (and I tend to be a bit messy in the kitchen!)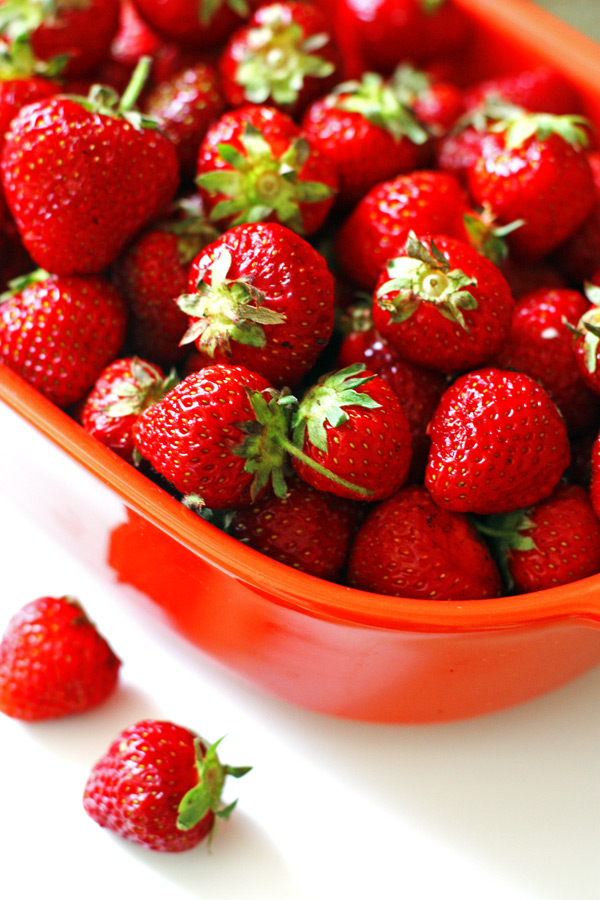 Once you have your strawberries and rhubarb washed and cut up, mix them together with the lemon juice in a pot and cook on medium heat for 8-12 minutes or the fruit is tender. Stir occasionally. Then mix together the granulated sugar and cornstarch and add that to the fruit mixture. Stir constantly and bring the fruit mixture to a boil. Once it reaches a boil, cook for one minute, stirring constantly. Remove from heat and set aside.
Preheat your oven to 350 degrees. Place all the crust ingredients into a bowl. Using a pastry blender or the back of a fork, combine the ingredients until they resemble coarse crumbs. It is really important to have softened butter for this step. Take out 1 ½ cups of the crumb mixture out and place into a small bowl. Press the rest of the crumb mixture into a greased 13×9 baking pan. Use a spatula or the back of a fork to gently press the crumbs down. Pour the fruit mixture over it and spread that over the crust. Sprinkle the remaining crumbs over the top. Bake at 350 degrees for 30-35 minutes until golden brown. Let it cool completely.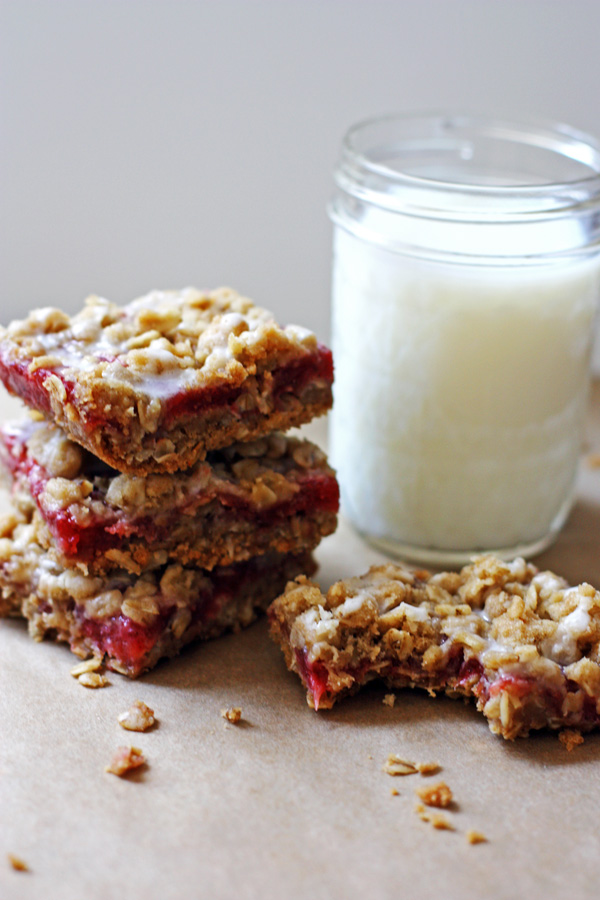 The drizzle is optional. I have made it with and without and both ways it was delicious. If you decide to add it, just mix the powdered sugar and milk until you have a good frosting consistency. Drizzle it over the bars using a pastry bag. If you don't have a pastry bag, here is a little tip. Cut the corner of a sandwich bag just a little, pour the frosting in there, seal up the bag and drizzle. Just make sure you cut the corner a little and seal the bag, as I have learned by making those mistakes in the past! :o)
I will tell you my family, and myself, were so surprised at how much we liked this recipe! Rhubarb had a bad rap in our house, but not anymore. When you mix it with the strawberries…yumm!!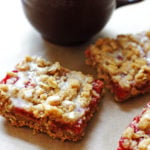 Strawberry Rhubarb Bars
Ingredients
Filling
1½

cups

fresh rhubarb

cut into ½ inch pieces

1 ½

cups

sliced fresh strawberries

1

tablespoon

lemon juice

½

cup

granulated sugar

2

tablespoons

cornstarch
Crust
1 ½

cups

all-purpose flour

1 ½

cups

old fashioned oats

or quick cooking oats

1

cup

firmly packed brown sugar

¾

cup

butter

softened

½

teaspoon

baking soda

¼

teaspoon

salt

Drizzle

optional

½

cup

powdered sugar

1-2

tablespoons

milk
Instructions
Combine the rhubarb, strawberries and lemon juice in a medium saucepan. Cover and cook on medium heat 8-12 minutes or until fruit is tender, stirring occasionally.

Mix together the ½ cup granulated sugar and cornstarch in a bowl. Stir into the fruit mixture. Continue cooking, stirring constantly until mixture comes to a boil. Continue boiling one minute, stirring constantly. Remove from heat and set aside.

Preheat oven to 350 degrees.

Combine all crust ingredients in a bowl. Using a pastry blender or the back of a fork, combine the ingredients until they resemble coarse crumbs.

Reserve 1 ½ cups crumb mixture. Press remaining crumb mixture into a greased 13x9 baking pan using a spatula or the back of a fork. Spread filling over the crust. Sprinkle with the reserved crumb mixture.

Bake 30-35 minutes or until golden brown. Cool completely.

Combine drizzle ingredients in a small bowl until it is a good frosting consistency. Drizzle over cooled bars. (Optional)
Recipe Notes
Adapted from Land of Lakes

Save
Save
Save
Save
Save