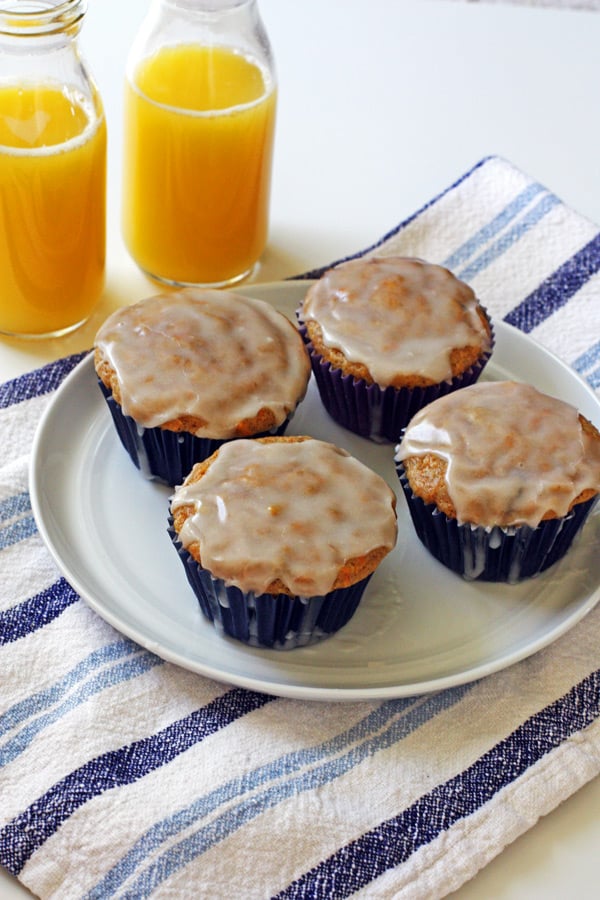 It is spring time which makes us think of certain recipes…like carrot cake. So how about making some Carrot Cake Muffins? They are delicious and moist just like you like your carrot cake to be. They just are in the shape of a muffin instead…and an excuse to have them for breakfast or brunch!
Speaking of brunch, Easter is just around the corner. Really. I can't believe it. Winter didn't seem to be as long as normal this time around. I have lived in New York since I was born so I know what winter can bring. But this past winter was not too bad at all. So the months flew by and now it is almost Easter! Do you have Easter brunch or dinner? My family usually does Easter dinner but I know many people do an Easter brunch. These Carrot Cake Muffins would be great for that.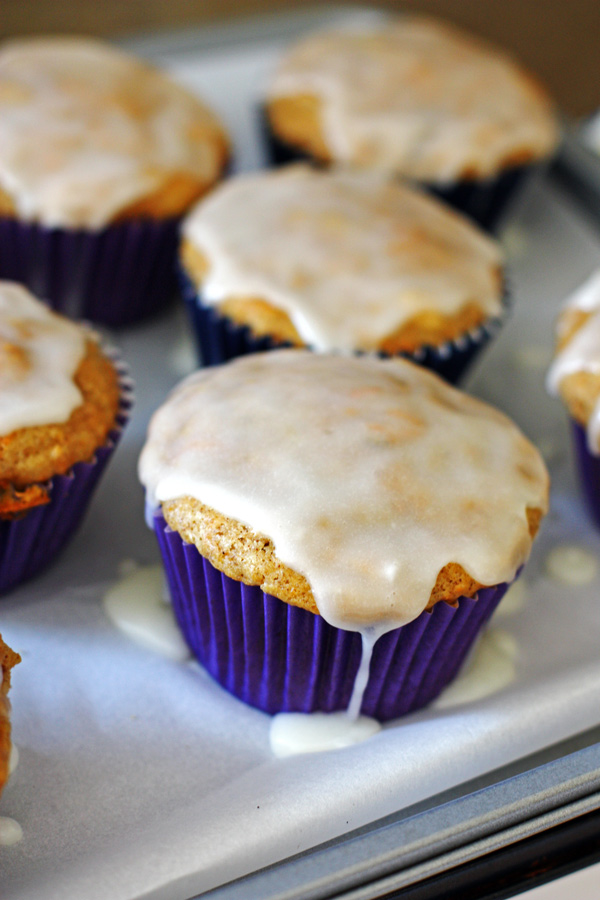 When making this recipe I like to use brown sugar instead of granulated sugar. Brown sugar gives more flavor and moisture than granulated sugar. And to make sure you have a nice moist carrot cake muffin, make sure you shred the carrots yourself. The bags of pre-shredded carrots sold in stores are drier than if you were to shred them yourself. Yes, it is one more step, but worth it. ;o)
I don't use my mixer when making this recipe… just a whisk and a large spoon. And that does the trick to mix everything up just fine. (It was because the first time making them, my mixing bowl was in the dishwasher when I wanted to make these! But you know what, they turned out great doing it that way so that is how I plan on making them each and every time.) A little tip when melting the butter… I like to melt it on low in a pan on the stovetop. This way I can watch it so it doesn't get too hot. I heat it until the butter is just about melted. Then I turn the heat off and stir it until the butter is completely melted. This way the butter is not too hot when you are going to combine it with other ingredients.
Once you have all the ingredients together and ready to go, fill the lined muffin cups to just about the top of each cup. Speaking of muffin cup liners, these cupcake liners from Sweets and Treats are fantastic! These greaseproof liners look beautiful with all the different colors and designs, it is hard to choose just one! When I make muffins, I like to use my OXO Good Grips Large Cookie Scoop
to spoon out the batter. It makes it easier to scoop the batter and also gives a nice round muffin. The scoop I use is a ¼ cup size and works great to fill up the muffin cups. Bake the muffins for 20 minutes. I usually check them with a toothpick to make sure they are done. If it comes out clean, they are done.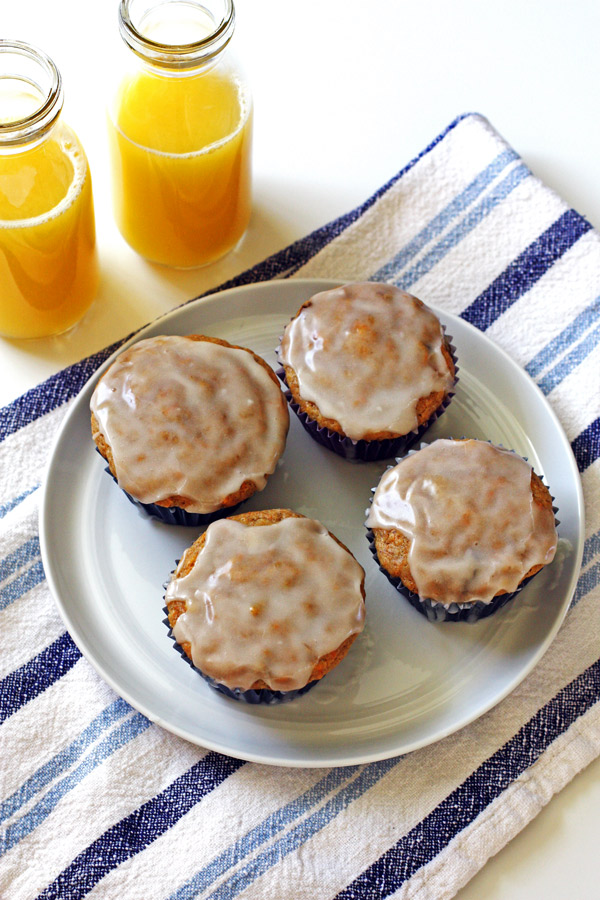 You could have these with or without the glaze…my family likes them with the glaze. When the muffins are just about done baking I start to make the glaze. It's pretty simple. Just heat the butter on low until it is just about all melted. Turn off the heat and stir the butter until it is completely melted. (By doing this, the butter isn't so hot.) Pour the melted butter into your mixing bowl and add the powdered sugar and milk. Mix well until you have the consistency you want. We usually make it so it not runny, but also not too thick. If you want to make it a thicker glaze, then add more powdered sugar. And if you prefer it thinner, add more milk.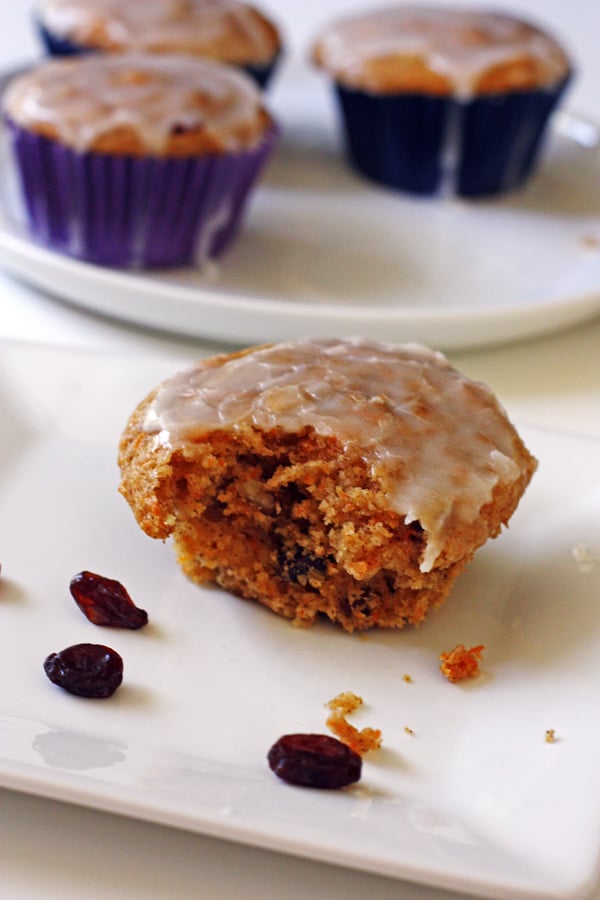 This makes a great dessert or weekend breakfast. Maybe make them for your Easter brunch? Try it and let me know what you think! I also have a fun and easy recipe for an Easter treat made with Rice Krispies cereal. My kids love them. They are my Chocolate Surprise Easter Eggs. So yummy…I have to say they are a favorite of mine too!
This post is not sponsored, but you will find affiliate links on this page. The price you pay as a consumer does not change, but I may make a small commission based you your purchase. Thanks for supporting Jeannie's Tried and True Recipes!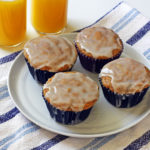 Carrot Cake Muffins
Ingredients
1

cup

milk

room temperature

2

eggs

room temperature

2

tablespoons

applesauce

1 ½

teaspoons

vanilla extract

2

cups

all-purpose flour

2/3

cup

brown sugar

1

tablespoon

baking powder

1 ½

teaspoons

ground cinnamon

½

teaspoon

salt

1

cup

shredded carrots

6

tablespoons

unsalted butter

melted

½

cup

chopped walnuts

¾

cup

raisins
Glaze
2

tablespoons

butter

melted

2

cups

powdered sugar

4

teaspoons

milk
Instructions
Preheat oven to 375 degrees. Place liners in muffin cups.

In a bowl, whisk the eggs, one at a time. Add in the milk, applesauce and vanilla extract. Whisk until all ingredients are combined. Set the egg mixture aside.

In a large bowl, using a spoon, combine the flour, sugar, baking powder, cinnamon and salt. Add the shredded carrots and mix well.

Melt the butter on the stovetop in a small pan. Turn off the heat when it is just about melted and stir until it is completely melted. (This way the butter is not too hot.)

Add the egg mixture and melted butter to the dry ingredients. Stir until ingredients are combined. Mix in the chopped walnuts and raisins.

Spoon batter into prepared muffin cups. Fill to just about the top of each muffin cup.

Bake at 375 degrees for 20 minutes or until toothpick comes out clean.

To make the glaze, combine all ingredients. Drizzle over the muffins while still warm.
Recipe Notes
Makes 12 muffins