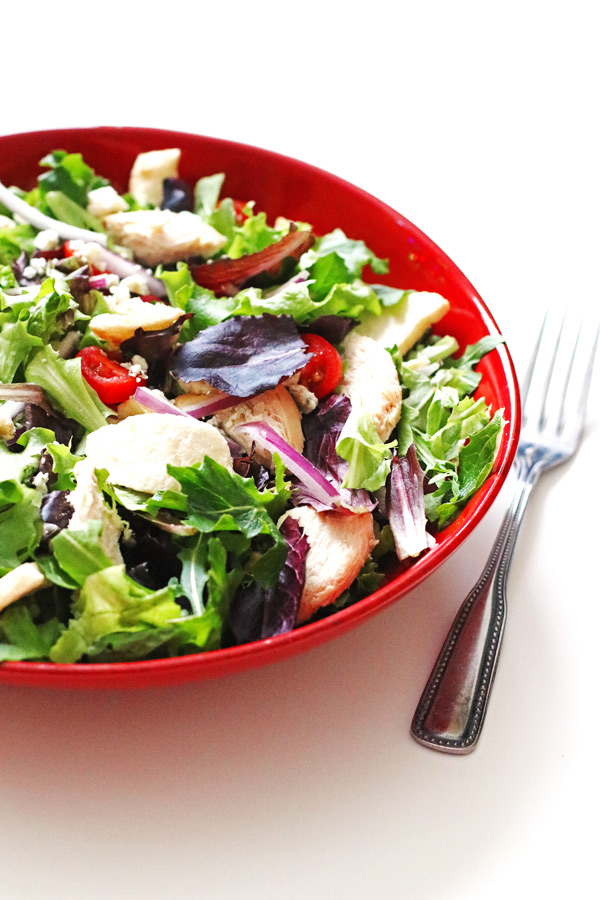 Pin
This is my first "copycat" recipe that I have done on my blog.  We went to Panera Bread after our son gave us a gift card for Christmas.  It was his first Christmas as a working man and he bought us a gift.  That was a nice surprise!  So instead of just my husband and me going, we made it a fun family night.  My husband has Panera Bread at work sometimes and mentioned that this Fuji Apple Salad was really good.  I tried his and I have to agree.  But really, everything we had there was delicious.  I just thought with the new year starting and trying to eat a bit healthier, let's try making this salad at home.
And I am so glad I did make it…it was so good!   We used a rotisserie chicken from the grocery store and sliced that up (minus the skin) instead of cooking the chicken ourselves.  One point for making it even easier!  I like to use rotisserie chickens for some quick dinner recipes.  I have a few good ones if you are looking for some good quick and easy dinner recipes…
The best part about making this salad for dinner is there is not too much prep work to do.  Once your chicken is thinly sliced, get your veggies ready.  Thinly slice up your tomatoes and red onion.  To make slicing up your veggies even easier, you can use a hand held mandoline slicer
.  I just got one for Christmas and love using it to slice up my veggies.  It works especially great with cutting up carrots (for some reason it seems to take me forever to cut up carrots).  It cuts down the cutting time by half.  And who doesn't want a little more extra time not spent preparing dinner, right?
To make this salad, start with placing your salad greens into a large bowl.  Add in the chicken, veggies, apple chips, cheese and pecans.  Give everything a good toss to mix all the ingredients together.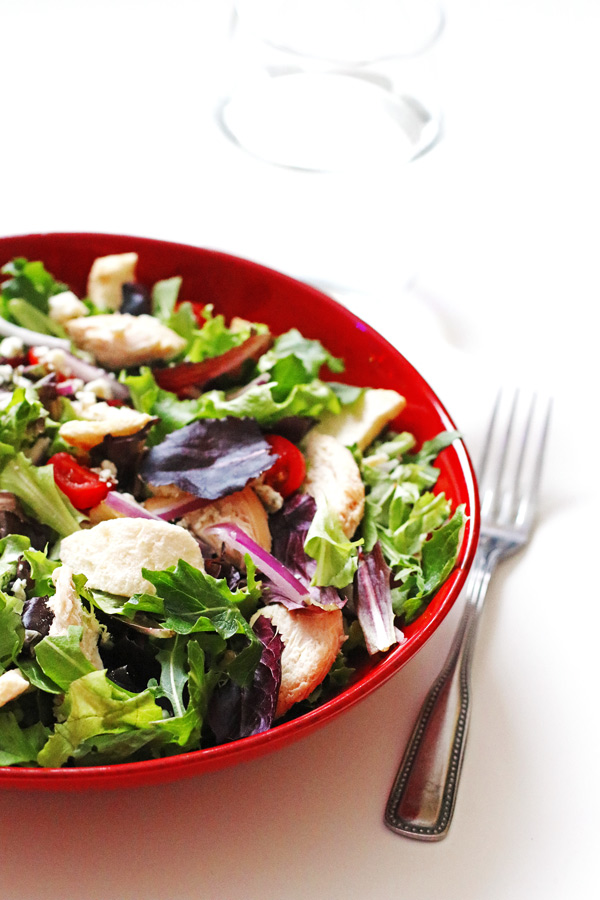 Pin
Next make the White Balsamic Vinaigrette, which can be made in about five minutes. Why make your own vinaigrette?
 It is easy to make.
You know what goes into it.  Have you ever read the list of ingredients on some of the salad dressing bottles in the store?  Usually a long list that includes ingredients that I am not familiar with.  I remember hearing somewhere if you can't read it you probably should not be eating it.
To make it you can just whisk all the ingredients together in a bowl.  When we make our dressing at home, we use a salad dressing mixer bottle that you can just add all your ingredients into and give a good shake and you are done.  It also has measurements on the side of the bottle for other salad dressing ideas.
The recipe for the White Balsamic Vinaigrette is inspired from another blogger, Gimme Some Oven.  (love that name and her blog is great!)  It was such a great addition to the salad.
This is one of my favorite dinner recipes these days.  I hope you give it a try.  Let me know if you do and how you like it.
Next new recipe request from my family is Panera Bread's macaroni and cheese and their turkey chili.  Stay tuned for those!   Are you on Instagram?  Follow me there for all of my recipes!
~Jeannie
This post is not sponsored, but you will find affiliate links on this page.  The price you pay as a consumer does not change, but I may make a small commission based on your purchase.   Thank you for supporting Jeannie's Tried and True Recipes!
Fuji Apple Chicken Salad (Copycat Panera Bread)
Ingredients
Salad Ingredients
1

rotisserie chicken

thinly sliced or 1lb. boneless chicken breast, cooked and thinly sliced

Dark salad greens

about 5 ounces (use more if you prefer)

2 ½ - 3

cups

apple chips

1 ½

cups

thinly sliced tomatoes

½

cup

red onion

thinly sliced

½

cup

crumbled gorgonzola cheese

¼

cup

diced pecans
White Balsamic Vinaigrette Ingredients
½

cup

olive oil

¼

cup

white balsamic vinegar

2

teaspoons

honey

½

teaspoon

salt

¼

teaspoon

black pepper

1/8

teaspoon

garlic powder
Instructions
To make the salad
Place salad greens in a large bowl. Add in the chicken and additional ingredients and toss to mix evenly.

Drizzle the dressing over the salad and serve.

Refrigerate any leftover salad.
To make the vinaigrette
Combine all ingredients in salad dressing bottle and shake until well combined. If you do not have a salad dressing bottle, whisk all ingredients together in a bowl until combined well.
Notes
Adapted from Panera Bread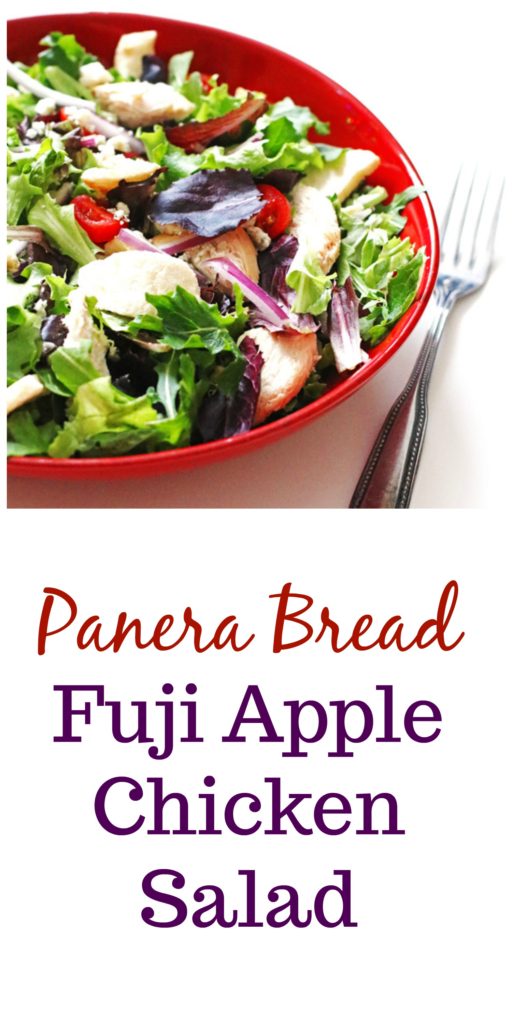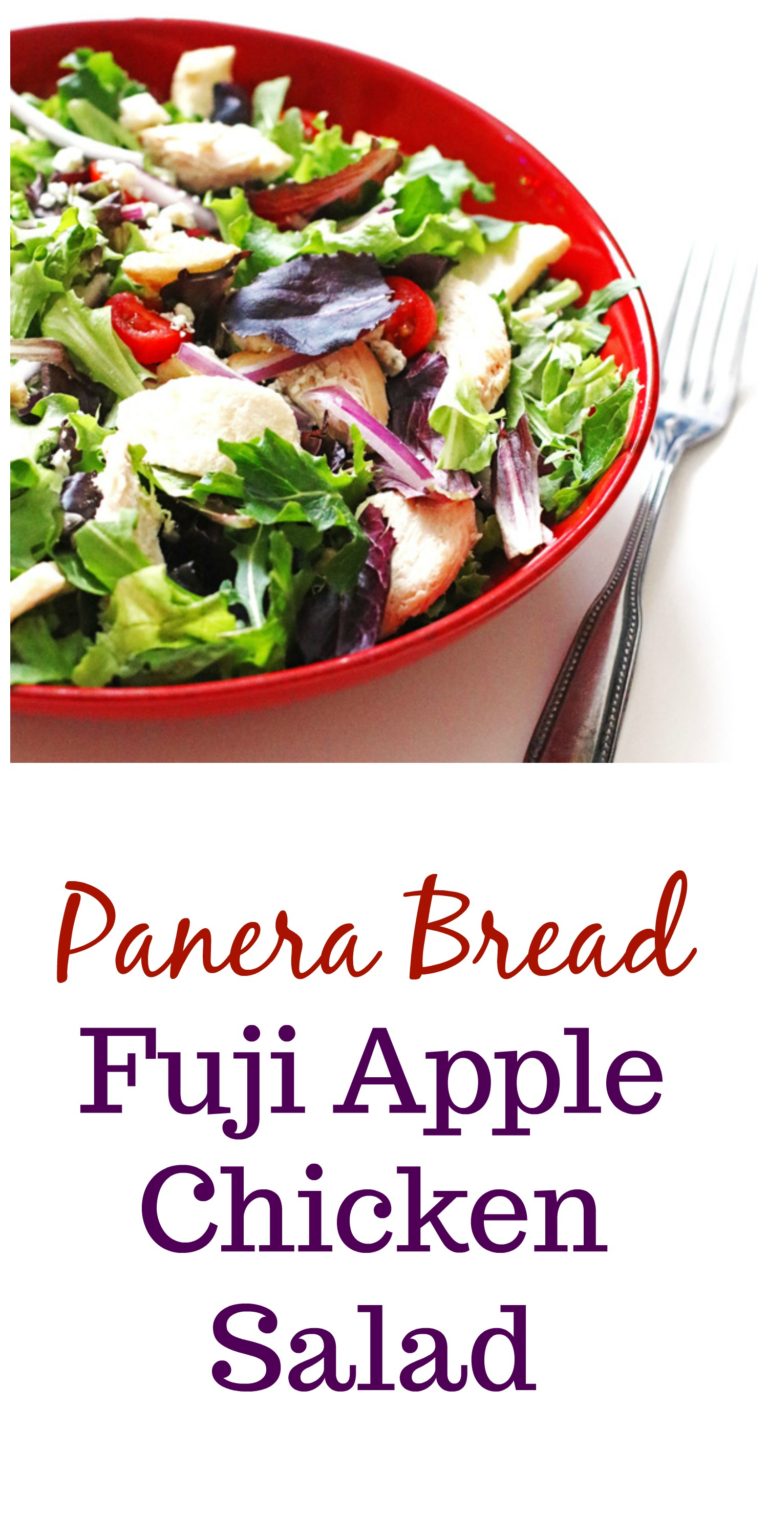 Pin