Did you take your kids out trick or treating and now have so much candy you have no idea what to do with it all? Well, here is an idea of how to use up some of that candy…Halloween Pretzel Rods!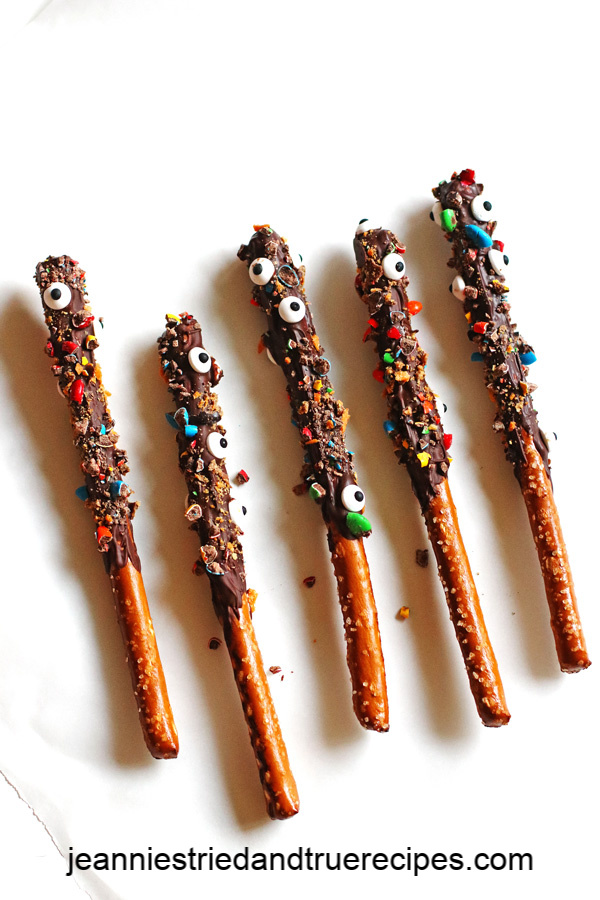 These Halloween Pretzel Rods are quick and easy to make. They are also something that your kids can help you make.
I don't know about you, but we have our daughter's trick or treat pumpkin filled with Halloween candy sitting here in our house. Along with that candy is a bowl filled with leftover candy that we bought for the kids that came for trick-or-treating. We never know how much to buy so we tend to buy more just in case.
So, that leaves us with lots of candy. Too much, really. This recipe for Halloween Pretzel Rods is great to use up some of that candy! This year I had some extra candy eyes so we added them in as well.
My daughter helped me with these this year which was so much fun. A little more messy, but definitely more fun! She is 8 years old and it was a great project for her.
This post is not sponsored, but you will find affiliate links on this page. The price you pay as a consumer does not change, but I may make a small commission based on your purchase.
So, lets get started…
Candy that works best for this recipe:
M&M's, Butterfingers, Reese's Pieces, Heath Bar would all work well.
Candy that has caramel does not work well because the caramel is too gooey.
How to make these Halloween Pretzel Rods:
Crush the candy before melting the chocolate! You want that ready to go once you melt the chocolate.
You want the candy to be coarsely chopped, not really fine. To get the candy crushed like this, use the back of a ladle or large spoon and gently push down on them, doing just a small amount of candy at a time. I would not recommend using a Magic Bullet or blender to crush them. I have tried that and when I did, the candy became too fine.
Crush the candy and set that to the side. Have all the ingredients ready to go so once you have the chocolate melted, you are good to go to make these Halloween Pretzel Rods!
Parchment paper…it is your friend! Use it for easy clean up. Cover your baking sheet with a sheet of parchment paper
for when you are coating the pretzels. You might also want to cover your work area with it to catch the extra candy pieces and melted chocolate.
Break the chocolate bar into pieces and place it in a microwave safe bowl. (I like to use Baker's Semi-Sweet Chocolate Baking Bar.)
Place in the microwave, heat it for 30 seconds and then stir it. Stirring the chocolate helps the little pieces still in there melt with the rest of the chocolate. If all the chocolate is not melted, heat for an additional 15 second increments, stirring after each one, until you have all the chocolate pieces melted.
I prefer chocolate baking bars over chocolate chips for making these Halloween Pretzel Rods :
The chocolate bars do not harden as chocolate chips do. So you can work with it longer.
The chocolate bars have a thinner consistency which is nice for dipping.
You can use chocolate chips for this recipe if you prefer, I just wanted to share what I find works best from my experience. If you are using chocolate chips, melt them the same way. You will need to work quicker though as they cool and harden and that makes it harder to dip the pretzels in the chocolate.
Once the chocolate is melted, pour it into a deeper dish like a Pyrex measuring cup
or a coffee mug.
Dip the pretzel rod into the melted chocolate. It helps to tip the container to the side a little to get more chocolate on your pretzel. Twist the pretzel in the melted chocolate and tap off any excess chocolate. You might want to use the back of a spoon to spread out the chocolate down the pretzel rod.
Then hold the chocolate covered pretzel rod over the bowl with your crushed candy and sprinkle the candy pieces over the melted chocolate. Turn the pretzel rod as you are doing this so that you get all the sides. If using the candy eyes, add them at this time.
Working over the bowl of candy helps so that the excess candy can go back into the bowl. Between working over the bowl and using parchment paper in your work area, the clean up should be pretty easy!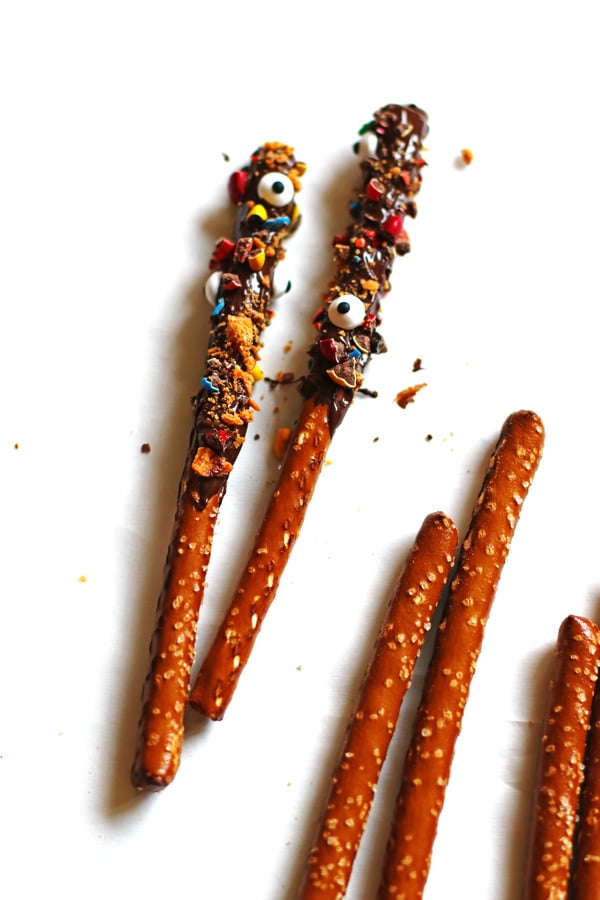 Place the Halloween Pretzel Rods on the covered baking pan and place in the refrigerator so that the chocolate can set. That usually takes about an hour.
If you love sweet and salty, you will love this recipe! Chocolate covered pretzels are one of my favorites!
Another sweet and salty recipe we love to make and is very kid friendly are these Dark Chocolate Pretzel Granola Bars. They make a nice after school snack.
If you make these, let me know how you liked the recipe in the comments below. I love to hear from you!
~ Jeannie
Halloween Pretzel Rods
Halloween Pretzel Rods are a great way to use up all that leftover Halloween candy!
Ingredients
4

ounce

Bakers Semi-Sweet Chocolate Bar

Pretzel Rods (I used about 16)

Candy, crushed (I used M&M's and Butterfingers)

Candy eyes, optional
Instructions
Coarsely crush up candy using the back of a spoon. Place each candy into individual bowls and set aside for later.

Cover baking pan with parchment paper or foil. Set aside.

Place the chocolate in a microwave safe dish and melt for 30 seconds and stir. If it is not completely melted, heat for an additional 15 second increments until you have a thin consistency. Stir after each time you heat the chocolate.

Pour the chocolate in a Pyrex measuring container or coffee mug. Dip the pretzels into the chocolate. (If you need to spread the chocolate down the pretzel more, do that by using the back of a spoon.)

Holding the chocolate covered pretzel over the bowl, sprinkle the candy pieces over the pretzel. (This way any pieces that don't stick will fall back into the bowl.) Turn the pretzel while doing this so that you get each side of the pretzel.

If using edible eyes, press them on while doing the candy.

Place the pretzels on the prepared baking pan.

Chill them for an hour or until the chocolate sets.

Store the pretzels in an airtight container.