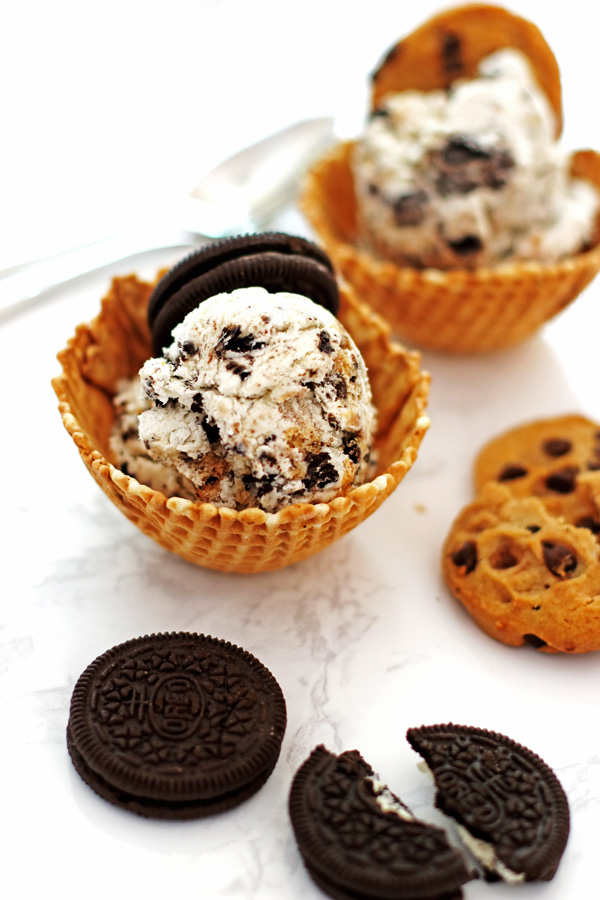 Do you love ice cream? How about cookies? If you answered yes, then you will love this recipe for No Churn Cookie Monster Ice Cream! It is the perfect summer dessert…well , really any season is perfect for a treat like homemade ice cream!
Last year I kept seeing recipe after recipe for homemade ice cream. I didn't buy into it…then.
This summer, for some reason, it interested me more and I wanted to try it. And I am so glad that I did! It was so easy to make and tastes delicious. Plus, it was a fun thing to make for my family.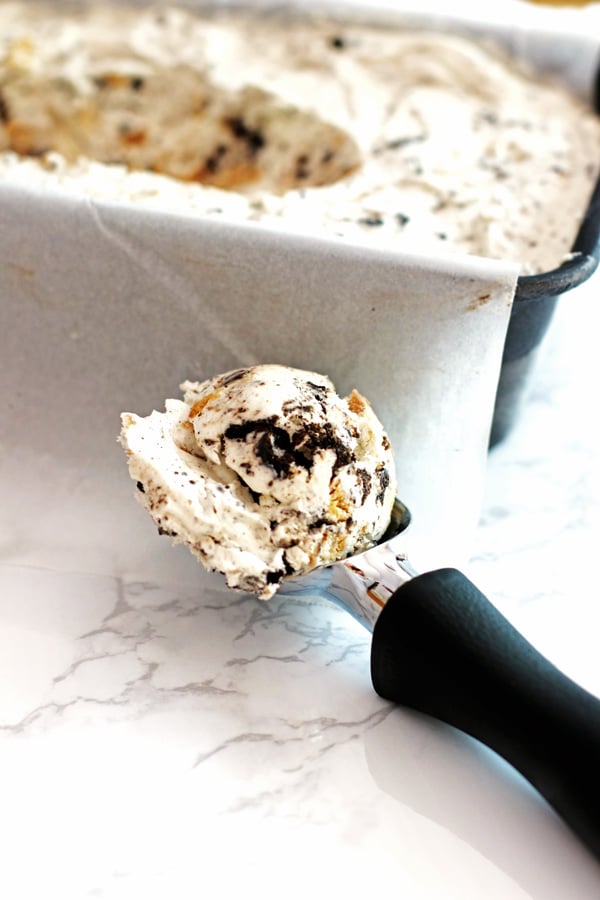 The first time we made it, my husband seemed a bit reluctant. I was having back issues at the time so I needed help getting out my KitchenAid Stand Mixer
from the lower cupboard. I told him I thought this was fun to make ice cream and he sarcastically said "Yes, this is going to be so much fun!" I just needed help with my mixer but guess who stayed in the kitchen and helped me make it right up to putting it into the freezer?…yep, my sweet husband. I am not sure if he admitted it, but he did seem to be having fun making the ice cream!
When you have all your ingredients ready to go, just place them all in a Loaf Pan
covered with parchment paper. Have enough parchment paper hanging over the sides so that you can use that to cover the ice cream when it goes into the freezer. If it doesn't stay together, just use a small piece of masking tape to keep it together.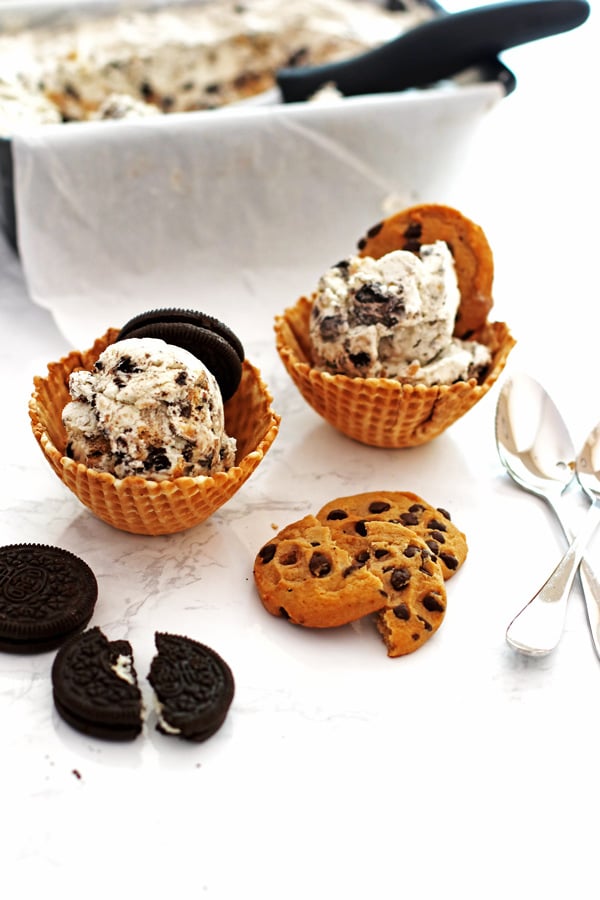 I have to say it was fun to make. My kids were both very interested on how this homemade ice cream was going to taste. We made it at night so they had to wait until the next day…but we couldn't wait until after dinner…we were too curious about it. Sooo it became our afternoon snack that day. Hey, it's summer….ice cream can be eaten at any time of the day then right?!
If you haven't tried making no churn ice cream yet, give it a try. It is so creamy and delicious. You can add in so many different things but we wanted to use cookies because that is our favorite dessert. We couldn't decide on using chocolate sandwich or chocolate chip cookies so we did both. And that is how we came up with the name Cookie Monster Ice Cream. And if you are a chocolate lover like myself, drizzle some chocolate syrup over the ice cream!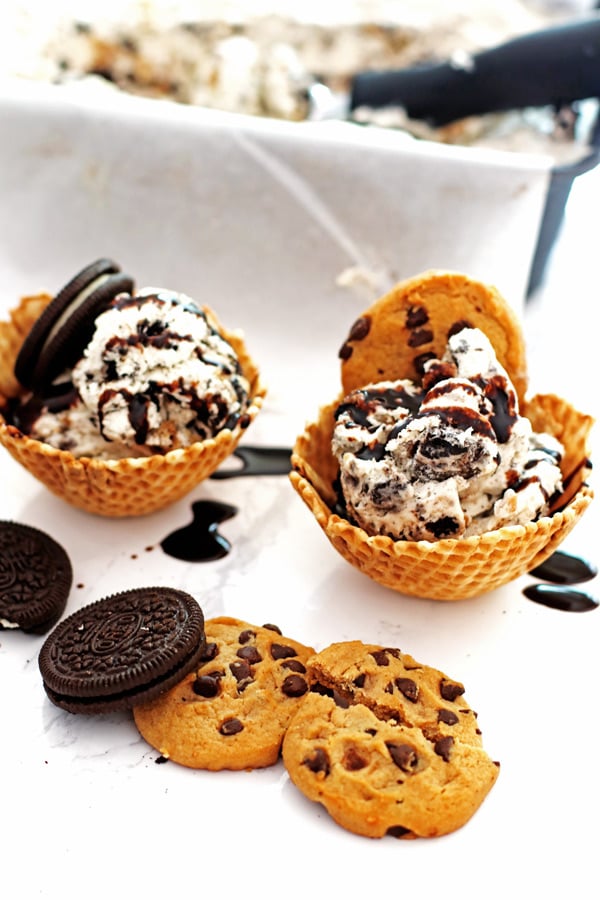 So easy to make, you will have it done in no time. The hard part is waiting until it is waiting until it is ready to eat! I am so glad that I tried it…you will be too!
~Jeannie
This post is not sponsored, but you will find affiliate links on this page. The price you pay as a consumer does not change, but I may make a small commission based on your purchase. Thank you for supporting Jeannie's Tried and True Recipes!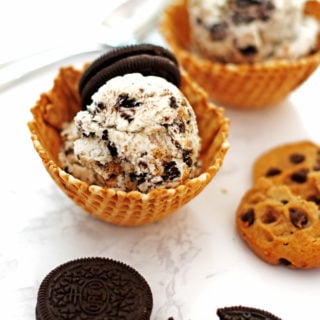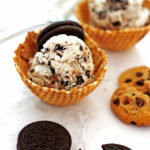 No Churn Cookie Monster Ice Cream
Ingredients
2

cups

heavy whipping cream

1

can

14 ounce sweetened condensed milk

8

chocolate sandwich cookies

broken into small pieces (I used Oreo's)

8

chocolate chip cookies

broken into small pieces

2

chocolate sandwich cookies

finely crushed
Instructions
Crush 8 chocolate sandwich cookies and 8 chocolate chip cookies into small pieces in a bowl. Crush the 2 chocolate sandwich cookies until they are finely chopped in a small bowl. Set both bowls aside.

Place parchment paper in loaf pan. (With extra hanging over the sides to cover with later)

Pour the sweetened condensed milk into a large bowl. Set aside.

Pour the heavy whipping cream into a large mixing bowl. Using your whisk attachment on your mixer, whisk the heavy whipping cream until stiff peaks form (about three minutes).

Fold in about a cup of the heavy whipping cream into the sweetened condensed milk.

Add in the remaining heavy whipping cream and the finely crushed cookie crumbs and gently fold until combined.

Pour half of the cream mixture into your prepared loaf pan. Evenly sprinkle half of the both cookie pieces over the mixture. Repeat this step with the other half of the mixture and cookie crumbs.

Drag a knife through the cream mixture to spread out the cookie pieces.

Fold over the parchment paper to cover the top. (I use masking tape to keep it together.)

Freeze six hours.

Ice cream will keep good in freezer for up to two weeks.