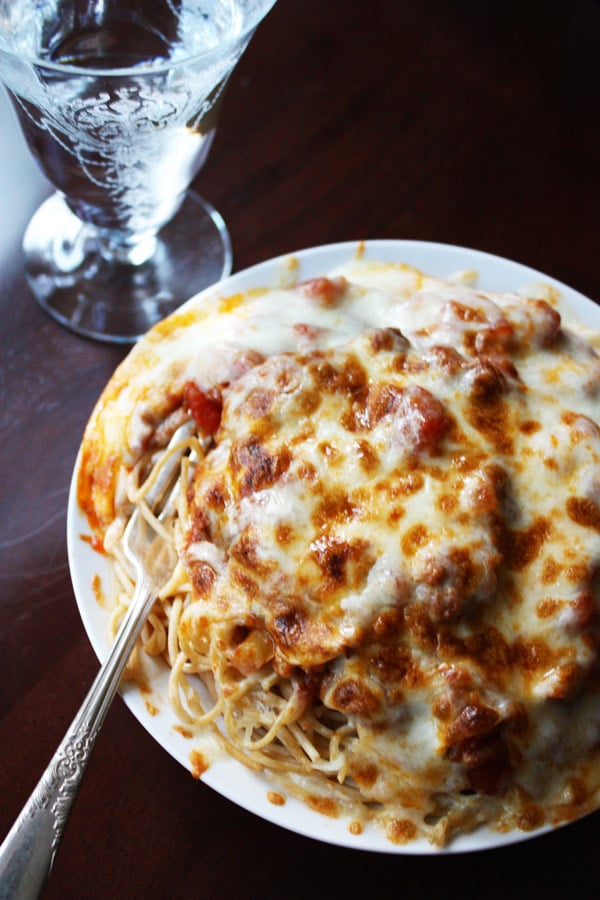 This recipe for Spaghetti Parm is one of our favorite dinners! We originally had this dinner at a local restaurant. It is basically spaghetti with mozzarella cheese melted over it…Ohhhh so good!
For this recipe, make your spaghetti as you like. I use my Crockpot Spaghetti for it. This can be made either as individual dishes or as a complete serving for everyone. Use an oven safe dinner plate or oven safe serving dish depending on which way you go with that. It is easier to use individual plates so that you don't have to divide up the cheese once it is cooked. Either way will work, that is just my suggestion. We all like the mozzarella cheese around here. :o)
Once you have your spaghetti sauce and noodles cooked, preheat your broiler to high heat. Place the cooked noodles on an oven safe plate or serving dish. Then generously cover the noodles with the spaghetti sauce until all the noodles are covered. Spread the mozzarella cheese over the sauce. It is hard to give a measurement because it all depends on the size of your dish that you will be using. I just cover the pasta with the mozzarella cheese. Place the dish in the middle of the oven and broil it for one and a half minutes. The cheese will melt and brown. Be very careful taking the dish out as it will be very hot! You may want to add a little more spaghetti sauce…depending on how much sauce you like.
Serve it from the oven, and enjoy!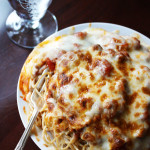 Spaghetti Parm
Ingredients
Spaghetti noodles

I use half of 12 ounce box

2

cups

of shredded mozzarella cheese

Spaghetti sauce

I use my Crockpot Spaghetti sauce recipe
Instructions
Prepare spaghetti sauce.

Cook spaghetti noodles as directed on package.

Preheat broiler to high heat.

Place cooked noodles on oven safe plate or serving dish.

Cover with spaghetti sauce.

Spread shredded mozzarella cheese over sauce.

Place in middle of oven for 1-1/2 minutes.
This post has been linked up at
Wine'd Down Wednesday
.