Pizza night deserves an appetizing introduction. Serving up some tasty appetizers before your pizza makes for a fun and flavorful meal. The right appetizers will set the stage for your upcoming pizza and enhance the entire dining experience.
Selecting the perfect appetizers to serve alongside everyone's favorite pie requires some thought. You want to pick dishes that complement but don't overwhelm the star of the show – the pizza.
We love to make our pizza from scratch - it is the best way to have a family pizza night, and the whole family can help make the pizza. It's the perfect way to get the entire family together, and you can load it up with your favorite toppings to make pizza that everyone will enjoy. If you use fresh pizza dough, be sure to purchase or make an extra ball of dough to make homemade garlic knots or cheesy bread!
We like Buffalo Chicken Pizza, Supreme Pizza, White Pizza with Fresh Tomatoes, and Taco Pizza. (If you don't have dough, you can use pitas to make Veggie Pita Pizzas!)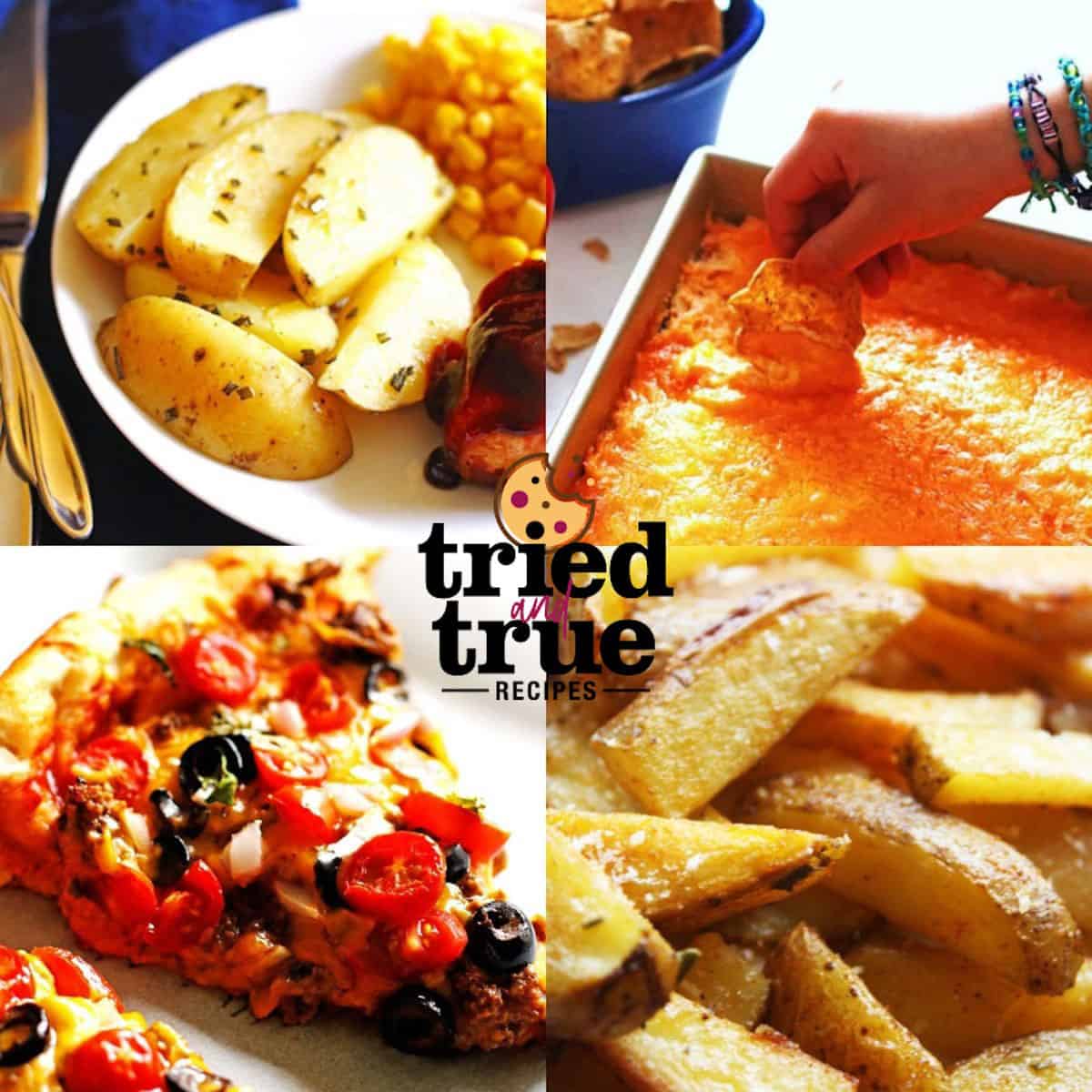 Jump to:
What are Good Appetizers to Serve with Pizza?
From cheesy dips, tomato bruschetta, and Italian antipasto pasta salad to fun finger foods, you can mix and match a few selections for the ultimate start to your pizza party. Here are some of the very best appetizer recipes to kick off your pizza night.
Serve up some garlic knots, baked brie, or antipasto skewers to delight your guests before slicing into the main event. Read on for lots of delicious appetizers to make sure you start your meal off on the tastiest foot possible.
Buffalo Chicken Wing Dip
Buffalo Chicken Wing Dip goes hand in hand with pizza and is a crowd favorite. We also love to make a buffalo chicken wing pizza - a buffalo chicken themed pizza night would be so much fun!
Chicken Wings with Blue Cheese and Fresh Veggies
There is not much better than buffalo wings and pizza - they belong together!
Blue Cheese Salad
Mozzarella Sticks
You can't go wrong with fried mozzarella! They are much easier to buy frozen and heat up, but you can definitely make your own.
Jalapeño Poppers
Potato Skins
Loaded Potato Skins baked up with cheddar cheese, bacon, and green onions or chives are the perfect appetizer for a pizza party. They are one of my favorite appetizers to serve as a Super Bowl snack as well!
Meatballs
Make Italian-style meatballs with marinara sauce or pizza sauce for dipping. You can use your favorite meatball recipe or frozen meatballs from the grocery store to make it easy.
BBQ Meatballs are also a super easy appetizer.
Potato Wedges
I also like to air fry potato wedges and top them with Cajun sparkle seasoning.
French Fries
I personally am a big fan of the cheese fry and pizza combo. If I am splurging, I love splitting a big plate of chili cheese fries with a group - just a few bites are all I need. It is the perfect appetizer to share. At home, we sometimes make Roast Beef Debris Fries topped with melty cheese and green onions, using leftover roast beef debris.
Grilled Potato Slices with Blue Cheese Dip
Sweet Potato Chips
Tortilla Chips and Homemade Salsa
Everyone loves chips and salsa, so you can't really go wrong there! And they are a cheap option.
Stuffed Mushrooms
Serve mushroom caps filled with sausage, cheese, or even spinach dip.
Garlic Knots
Soft dough knots baked with garlic butter, parsley, and parmesan cheese. Serve the garlic knots with a side of marinara sauce for dipping, and you have a perfect appetizer!
Zucchini Fries or Zucchini Chips
Zucchini fries are a healthier option, especially if you make them in the air fryer. Indulge in some crispy vegetables as your appetizer before the pizza main course!
Spinach Artichoke Dip
Served warm with pita chips or vegetables.
Potato Salad
Skewers
Skewers are a great way to make portable appetizers. If you want people to be able to mingle and not have to sit down in one place, skewers or charcuterie cups
Caprese Skewers - Alternate cherry tomatoes, balls of mozzarella cheese, and basil on a skewer with a balsamic drizzle for an easy pizza treat.
Antipasto Skewers - Italian meats, cheeses, olives, and pickled vegetables threaded on skewers are easy to put together and are portable for easy prep. Antipasto is a classic Italian appetizer for pizza, and skewers make perfect pizza appetizers - it's a match made in heaven.
Charcuterie Cups
Bruschetta
Toasted bread topped with fresh tomatoes, basil, olive oil, and balsamic vinegar is a perfect appetizer for pizza.
You can also get creative and make a whipped feta cheese bruschetta to change things up.
Baked Brie
Served warm with fruit compotes, nuts, or honey.
And, my favorite - if it is fall, you can make a pumpkin shaped cheese ball! It's cute, delicious, and festive. The perfect appetizer.
Looking for Desserts or Healthy Side Dishes to Serve with your Pizza?
Check out all of my dessert recipes - we love cookies and chocolate peanut butter pie!